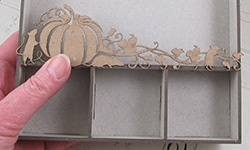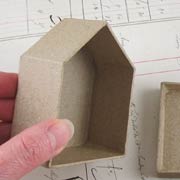 Wow! Not only a new 6×6 Shadowbox (with beautiful artwork by Design Team Member Rhonda Secrist Thomas) but a FLASH SALE, too!
ALL Boxes & Tins are on sale! And psst! That cute Mouse & Pumpkin Borders Set shown with the new shadowbox, at right, is also included in today's Giveaway!
The sale includes things like the ever-popular Small Paper Mache House (shown at left — and more highlights are shown below). The sale ends Friday night, February 10th (2017) at midnight PST! See 'em all! Over 30 options!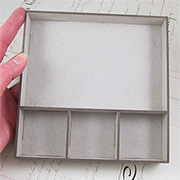 I love what Rhonda did with the new 6×6 Shadowbox! Filled with so many little treasures (in that row of cubbies, which can be used across the top, down the side, or across the bottom of your shadowbox). And all of those pretty pink posies! (And pink and black and silver chipboard silhouettes!)
Here's a preview from Rhonda's Blog Post:
There are so many wonderful items to choose from in this month's Cinderella Kit. Decisions, decisions. Do I go with the pitiful Cinderella being pushed around, or the magical beauty taking on her destiny? How about both!
And luckily I was using this 6×6 Shadowbox as my base which gave me lots of room for plenty of details and embellishments. And I've always been a huge fan of pink and black.
I didn't want all of my chipboard silhouettes to be the usual "black" so I decided to do some with a bit of color. I used a couple of shades of pink from Tim Holtz Distress Paint Line and for my black silhouettes I used more Distress Paints in Black Soot and Tarnished Brass. It gave a bit of dimension and character to my shapes.
I always like dimension and one favorite "tool" from my creative kit is to use adhesive foam to make images stand out, and also some stand out further than others like the black silhouettes below.
Vintage pocket watches are a great way to create a mini magical creative spot. I used an authentic one but Tim Holtz also has a wonderful faux version.
I love the mix of Lilac Cream Variegated Tiny Paper Roses with other flowers, and a Tiny Metal Mouse peeking out (in the pocket watch). (And of course, the clock about to strike midnight!)
Read more in Rhonda's blog post and see everything she used to create her lovely artwork in her supply list!


Hooray for the Cinderella Shadowbox Giveaway!
Beside the basic structure:
– 6×6 Shadowbox
I'm also including this flurry of pink, silver & black items in the Giveaway package:
– Small Cinderella Silhouettes Set (ok… they don't arrive pink, but Rhonda's artwork shows them painted pink in the close-up at left!)
– Large Once Upon a Time Book Charm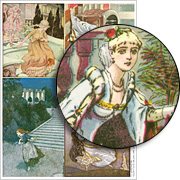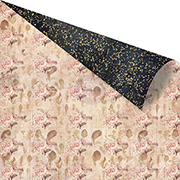 – Wild & Free Let's Be Wild, Cosmic Love & Lights and Into The Wild Scrapbook Papers (used as background papers throughout Rhonda's shadowbox… and that last one listed is also shown at right)
– Midnight #1 Collage Sheet
– 1 Inch Pale Pink Paper Roses
– Fairy Godmother Wand
– Thin Looped Pink Dresden Borders
– Metal Shoes w Louis Heels.
Oh, yes: The Mouse & Pumpkin Borders Set I promised! It looks so great painted black and silver.

And peeking out behind that pumpkin border, you can just see a bit of Cinderella's skirt as she is running from the ball, from the Cinderella Silhouettes Set (with a colorful frosting of Sweet Pea Flower Soft. (Yes, both of those are included in the Giveaway, too!)
See photos of everything from Rhonda's project (including the subset in this Giveaway) in her supply list.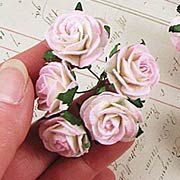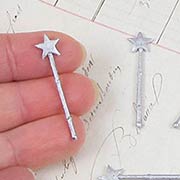 To enter the Cinderella Shadowbox Giveaway drawing all you have to do is leave a comment BELOW on this blog post TODAY OR TOMORROW (the deadline is 11:59 pm PST, FRIDAY, February 10, 2017)!
And tell me: What will you make from your 6×6 Shadowbox?
Don't forget to leave your (hello! correct) email address, too, so I can contact the winner; your email address does not need to be made public. Note: I'm offering free shipping, too, but only within the USA. International shipping will still apply.
Please be patient! Spammers try to post crap here a lot so comments are moderated. So if you don't see your post in the comments section, be patient and check back in a few hours before re-posting it, please!
After midnight, I'll randomly pick the winner (via Random.org). So check your mailbox on Sunday morning to see who won and for the next Giveaway and Newsletter!
Hey, who won the Cinderella Kit Plus Extras Giveaway? That would be Emily D! Congratulations! Check your email for more info.
Posted by Leslie, February 9th, 2017