What? A new kit AND a new FREE gift? Yes, it's true!

In honor of the all the new pink & floral papers being announced today for the Cinderella theme, I'm giving away a set of the new Distressed 6×6 Color Packs with all orders! The colors are grand (not too pastel and really pretty). Note: if you order one, that will be a second set coming your way! ALL ORDERS on Sunday, Monday AND Tuesday, February 5th through 7th (2017) will receive one of these paper sets FREE! More info


Cinderella Kit (and Coaches, Shoes…)
Wow! What a beautiful Cinderella Coach by Design Team Member Caroline Ouzts-Hay!
Caroline went to town decorating the new Cinderella Coach Album with ribbons, Dresden, paper flowers, resin cast from silicone molds… and gilded with the new Nuvo Gilding Flakes – Radiant Gold!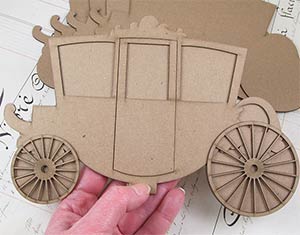 And if you look down that large photo at right (to the two close-ups at the bottom) you'll see a new bronze shoe (against the gilded casting from a silicone mold, and surrounded by pretty paper flowers, pearls and Dresden) and birds and a crown, also cast from resin — and pleated seam binding across the top of the coach. You can see photos and links to all the items in Caroline's Supply List.
AND if you go visit Caroline's blog, you can enter a drawing to win that decorated album! (Plus some extra trims she is adding, too!) Be sure to come back here, as there's another Giveaway (below) to win lots of the raw supplies to make your own version!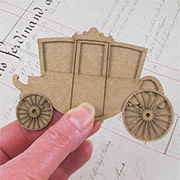 The album Caroline used is a larger version of a miniature coach album that's in the new Cinderella Kit (scroll down a bit to see a photo of the whole kit). This petite album (just 4″ wide) still has wheels that can turn and a door that can open, like its larger cousin.
This kit also includes TWO collage sheets!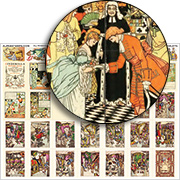 Tiny Cinderella Booklets Collage Sheet – New!
There are 2 tiny accordion-fold books on this sheet. Plus 6 tiny postcards, and 3 characters from a Cinderella paper doll set. The books fold up to a finished size of 1-1/2″ wide x 1-3/4″ tall (a bit big for 1:12 scale, unless you think of them as coffee table books). Or buy the sheet as a digital file and print at half scale for a truly 1:12 scale book.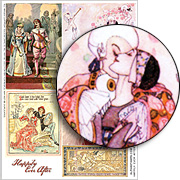 Happily Ever After Collage Sheet
Sweet, romantic images, including the happy lass peering out the window in Caroline's album.
The kit includes 3 full 12″ x 12″ sheets of scrapbook paper (one is the pink one that's also included in the Distressed 6×6 Color Pack, but only sold as full sheets in the kit).


I love the Serendipity Anticipation Scrapbook Paper (it's extra heavy-weight, and has aged patterns on both sides that would be a good base for either coach).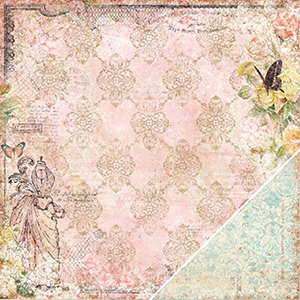 There's also a sheet of Dark Red Victorian Floral Scrapbook Paper, with a mottled pattern that I can see used as thin strips like ribbon to edge or mat one of the other papers.
Finally: 3 charms! For what's the tale of Cinderella without a shoe (and a very pretty one this is), a wand, and a fairy tale book! (The smaller one in the photo below is the one in the kit.)
More info and lots more photos are on the Cinderella Kit page. And tons of coordinating supplies are below and on the site (including a larger size of that cute Once Upon a Time Book Charm).

Highlights of Today's New Goodies – ALL on Sale! View All (lots more to see!)

Hooray for the Cinderella Kit Plus Extras Giveaway!
Let's start with THE NEW KIT! That includes 2 collage sheets (one used in Caroline's artwork), a chipboard mini coach, 3 sheets of scrapbook papers and 3 charms!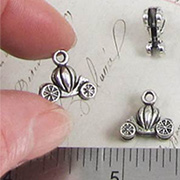 Next: a Silver Pumpkin Carriage Charm (back in stock… and so dang cute!)
Then, one of the Distressed 6×6 Color Packs.
Finally, these items from Caroline's Cinderella Coach Supply List:
– Cinderella Coach Album (yes, the full size album used in Caroline's artwork!)
– Always & Forever and Little Love Clippings Scrapbook Papers
– Bronze High Heel Shoe Charms (so pretty how Caroline surrounded one of these with gold filigree on the side of her coach)
– Small Pale Pink and White Mulberry Blossoms
– Tiny Mixed Size Flat-Back Pearls
Just click this link to see all the items in Caroline's Supply List.
To enter the Cinderella Kit Plus Extras Giveaway drawing all you have to do is leave a comment BELOW on this blog post TODAY OR TOMORROW (the deadline is 11:59 pm PST, MONDAY, February 6, 2017)!
AND tell me: How will you decorate your Cinderalla Coach? (Either size — there will be 2 in this Giveaway package!)
Don't forget to leave your (hello! correct) email address, too, so I can contact the winner; your email address does not need to be made public. Note: I'm offering free shipping, too, but only within the USA. International shipping will still apply.
Please be patient! Spammers try to post crap here a lot so comments are moderated. So if you don't see your post in the comments section, be patient and check back in a few hours before re-posting it, please!
After midnight, I'll randomly pick the winner (via Random.org). So check your mailbox on Thursday morning to see who won and for the next Giveaway and Newsletter!
Hey, who won the Romantic Stationery Caddy Giveaway from Thursday's newsletter? That would be Cynthia Penney! Congrats! Check your email for info.
Posted by Leslie, February 5th, 2017