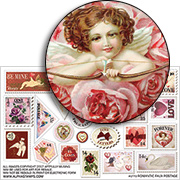 FREE GIFT! Note: In honor of Laura Carson's lovely Romantic Stationery Caddy using this new Romantic Faux Postage Half Sheet (also designed by Laura), ALL ORDERS on Thursday, Friday AND Saturday, February 2nd through 4th (2017) will receive one of these collage sheets FREE!
BONUS: check below in the Giveaway for a chance to win one of these new collage sheets AND lots of supplies from Laura's artwork!
FLASH SALE! What? A new sale, too?! There are some super cute new Ceramic Beads today, so the ENTIRE Ceramic Beads Section is On Sale! Sale ends Saturday night, February 5th!

Almost time for Valentine's Day! Laura Carson has created a Romantic Stationery Caddy that would be a beautiful gift (for a loved one… or for yourself)! We announced these 3 sizes of House Shrines with Doors before the holidays, and I love how Laura pushed it forward to a Valentine theme (and a practical purpose). You can see 2 more projects using these shrines in the blog.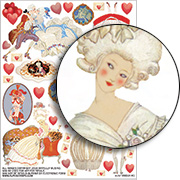 Laura created 2 more collage sheets and a digital set with bubbly (!), romantic Rococo period images (ok… more like an Art Deco interpretation of Rococo, which just makes them more fun and witty). Included are couples, women, men, cupids and other complementary embellishments.
Here's a preview from Laura's Blog Post:
Every once in a while I like to make something that is both lovely and functional. When I saw this House Shrine with Doors kit, I thought it would make a great stationery caddy that you could keep for yourself or gift to a loved one or a special friend.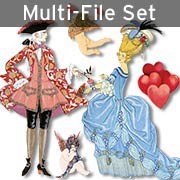 With Valentine's Day right around the corner, I chose to go with a Rococo period romantic theme. The images I've used are from my NEW Amour Collage Sheets. There is also a NEW companion Digital Image Set which contains all of the images from the collage sheets and more. The beautiful papers that so perfectly complement the image's color scheme are from the Amour 6 x 6 Paper Pad and some of the Amour Scrapbook Papers.
I've filled the cabinet with custom paper, envelopes, handmade cards, gift tags, envelope seals, and faux postage stamps. You could also add real postage, address labels and a pretty pen.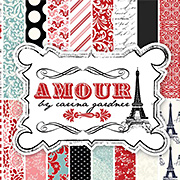 To expand the storage space, I added a bin to the back and pockets inside the doors. I used the bin to store the custom stationary and envelopes. The pockets inside the doors were perfect for storing gift tags.
The seals are made using an image from the Amour #1 collage sheet. After cutting out the image, I ran it through my Xyron machine to turn it into a sticker. You could also use the hearts on the collage sheet to make additional seals.
Read more on Laura's blog post and see everything she used to create her lovely artwork in her supply list!


Hooray for the Romantic Stationery Caddy Giveaway!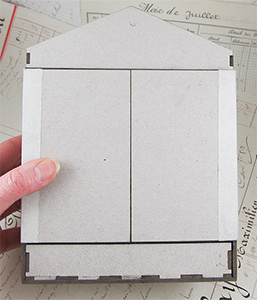 Fun! This feels like shopping. Beside the obvious:
– House Shrine with Doors
I'm also including the Amour 6×6 Paper Pad with tons of bright patterns that are used all over the shrine.
I love all the hardware Laura used on this storage cabinet… like the Chambrey Antique Drawer Pulls Set (yes, everything I'm mentioning in this intro IS in the Giveaway!)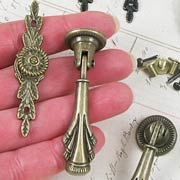 Hm… what should I pick next? The 2 New Amour Collage Sheets!
Oh, of course: The Romantic Faux Postage Half Sheet I promised! (This is the collage sheet that's FREE with all orders from now through Saturday! Plus lots of the little postage stamps in the drawer of the cabinet are from this sheet.)
See photos of everything from Laura's project (including the subset in this Giveaway) in her supply list.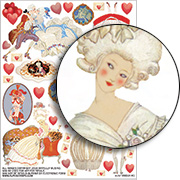 To enter the Romantic Stationery Caddy Giveaway drawing all you have to do is leave a comment on this blog post TODAY OR TOMORROW (the deadline is 11:59 pm PST, FRIDAY, February 3, 2017)!
And tell me: What will you make from your House Shrine with Doors? A shadowbox shrine? A stationery caddy? Something else?
After midnight, I'll randomly pick the winner (via Random.org). So check your mailbox on Sunday morning to see who won and for the next Giveaway and Newsletter!
Hey, who won the Gothic Mirror Giveaway!? That would be Sylvia L! Congratulations! Check your email for more info.
Posted by Leslie, February 2nd, 2017