Oh, that Nichola! She is so versatile! From a dark Magic Mirror on the Wall to some fun & silly pins for Valentine's Day, she's got it all covered! Let's dive into the first project, the beautiful mirror shown at left:
Starting with the new Gothic Mirror With Drawer! Whether for a standing mirror in a dollhouse or a prop for a collaged scene, this can be decorated from Shabby Chic to dark and Gothic! (I'd say! I love how Nichola has transformed it, mainly via paint.)
The drawer has 2 pre-drilled holes for knobs. The mirror can swivel. (The mirror can be used upside down from the orientation in the photos.)
The finished size is approx. 6" tall x 3-7/8" wide x 1-3/4" deep. The oval in the center of the mirror is 2-1/4" wide x 3" tall.
From Nichola's blog post:
You know the story, the Wicked Queen gazes into her magic mirror to ask "Who's the fairest of them all?"
The idea of a magic mirror isn't made up. They have a long history with documented usage as far back as 3000 B.C., and are found in both Western and Eastern cultures.
Mirror gazing is a method of 'scrying'. It can be used for fortune telling, inspiration, spiritual guidance and prophecy. The viewer gazes into a reflective surface (like water, crystal balls, mirrors) and with focused meditation/trance interprets the visions or symbols that appear to them.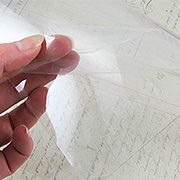 While the mirrors appear dark, and there is some fear that surrounds them, it is worth noting that there is also a belief that they can be protective, reflecting/deflecting evil or negativity.
Black volcanic glass called 'obsidian', is a traditional material used for scrying mirrors… but we can fudge our way around that. I simply cut a piece of Clear Plastic slightly larger than the frame opening. Make sure that the plastic is free from dust and coat ONE SIDE with black paint. You want complete coverage so you may need a second coat. Then glue into place with the UNPAINTED SIDE facing outwards. You should have a nice glossy surface for divination! Note: A piece of decorative paper on the back will protect the painted surface and look much neater.
Good tips on making that mirror! See more photos in Nichola's blog post. And be sure to come back to enter today's Giveaway — that includes EVERYTHING in Nichola's supply list!

Next up: these fab, quick-and-easy pins! Nichola obviously had fun making lots of these pins. And check her blog post as she's giving away a little collage sheet with images to use in the center 1″ circle!

Highlights of Today's New Goodies – ALL on Sale!


Large Bronze Curved Feathery Filigree


Basswood Strips
Hooray for the Gothic Mirror Giveaway!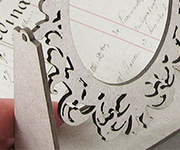 Yes, I said it! EVERYTHING in Nichola's Magic Mirror on the Wall Supply List is included in today's Giveaway!
I'm only highlighting 4 of the 7 spiffy items in the supply list/Giveway:
– New Gothic Mirror With Drawer (well, of course!)

– Raw Brass Fancy Fleur de Lys (I spy 2 of them, above and below the mirror)
– Round Brass Knobs – Set of 6
– Tiny Mixed Size Flat-Back Pearls (a bit of paint and they've become metal studs)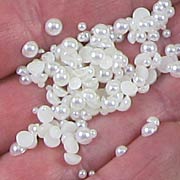 Just click on this Supply List link for photos and links to everything in Nichola's artwork, which is also all of the Giveaway items!
To enter the Gothic Mirror Giveaway drawing all you have to do is leave a comment BELOW on this blog post TODAY OR TOMORROW (the deadline is 11:59 pm PST, MONDAY, January 30, 2017)!
AND tell me: What will you make with your Gothic Mirror With Drawer?
Don't forget to leave your (hello! correct) email address, too, so I can contact the winner; your email address does not need to be made public. Note: I'm offering free shipping, too, but only within the USA. International shipping will still apply.
Please be patient! Spammers try to post crap here a lot so comments are moderated. So if you don't see your post in the comments section, be patient and check back in a few hours before re-posting it, please!
After midnight, I'll randomly pick the winner (via Random.org). So check your mailbox on Thursday morning to see who won and for the next Giveaway and Newsletter!
Hey, who won the Pretty in Red Giveaway? That would be Arminta Miles! Congrats! Check your email for info.
Posted by Leslie, January 29th, 2017