What? A new FREE Gift Kit! It's getting close to Valentine's Day (and there are some spiffy new papers perfect for a romantic project with cream and red colors below) AND Design Team Member Laura Carson has a sparkly new project today with lots of glitter… so a Hearts & Flowers & Glitter FREE Gift Kit.
This group all started with those iridescent heart beads (one in my hand in photo at left… and another in the lower right of the larger photo). The are so lively that I kept adding more and more colors to this mix as they pick up and reflect the colors so beautifully. So you'll get a little packet of mixed beads, like the photo at right. AND a little bottle of glitter! (It's one part of the recipe from the Winter Snow Glitter Mix… packaged in one of the 12 Tiny Glass Bottles). These mini kits are FREE for ALL orders, now through MONDAY NIGHT, January 30, 2017!
BONUS: check below in the Giveaway for info on a FLASH sale related to Laura's artwork and the Giveaway!


Wow! Just what we need on a cold, grey Winter's day! I love this Pretty in Red Triptych by Laura Carson! (Yes, it is a triptych… see below in the Giveaway section for 2 more of the panels… and a chance to win EVERYTHING in Laura's supply list!!)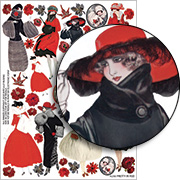 Starting with a new collage sheet (also by Laura): Pretty in Red. Those festive vintage babes, some in (most in?) bright red will add a splash of color to lots of projects. (Psst… you may notice that some of these ladies were also used in last Sunday's Winter Park project — a couple of them were sitting in the sleigh.)
Here's a preview from Laura's Blog Post:
The inspiration for this triptych were the lovely ladies dressed for winter, which you will find on my new Pretty in Red collage sheet — the red is a nod to Valentine's.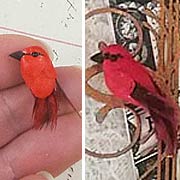 To complement the color scheme of their coats, I've used silver, grey, red and white, papers and embellishments.
In addition to the winter ladies, the new collage sheet also contains coordinating flowers and leaves which I have used as embellishments.
Just as with the previous Winter Park project, I added lots of icy sparkle using Twinklets Diamond Dust.
Read more on Laura's blog post and learn how she built up her layers on the triptych pieces!


Hooray for the Pretty in Red Giveaway!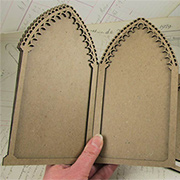 Yes! I'm giving away EVERYTHING in Laura's Pretty in Red Triptych supply list! From the triptych shrine to the paper to the trims… see photos of all of them in her supply list.
FLASH SALE! Since Laura's artwork includes so many snowflakes: ALL Christmas Charms are on sale for 40% off! The sale ends TOMORROW night, January 27th!

To enter the Pretty in Red Giveaway drawing all you have to do is leave a comment BELOW on this blog post TODAY OR TOMORROW (the deadline is 11:59 pm PST, FRIDAY, January 27, 2017)!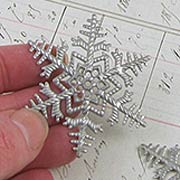 And tell me: What would you make from this group of snowflakes and brightly costumed ladies?
Don't forget to leave your (hello! correct) email address, too, so I can contact the winner; your email address does not need to be made public. Note: I'm offering free shipping, too, but only within the USA. International shipping will still apply.
Please be patient! Spammers try to post crap here a lot so comments are moderated. So if you don't see your post in the comments section, be patient and check back in a few hours before re-posting it, please!
After midnight, I'll randomly pick the winner (via Random.org). So check your mailbox on Sunday morning to see who won and for the next Giveaway and Newsletter!
Hey, who won the Winter Park Giveaway!? That would be marge luttrell! Congratulations! Check your email for more info.
Posted by Leslie, January 26th, 2017