What's New Today? Image Sets by Laura Carson and Tiny Trims!
Reminder: ALL Valentines & Romance Collage Sheets are on sale for 50% off! The sale ends THIS Wednesday night, January 25th!


It's a beautiful day at Winter Park. The sunshine turns the park into a magical place as the sun bounces off the ice crusted trees and structures.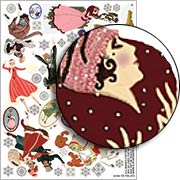 Skaters are taking advantage of the break in wintry weather enjoying skating on the park's frozen pond; some are more graceful than others. (Note: I love the reflections of the skaters in the "ice" — see the bottom of the large photo at left.)
The fountain's cascading sprays are frozen in place creating a beautiful ice sculpture and trees are dressed in glistening ice.
To compliment this project, I created a new collage sheet, Ice Follies, and a new digital image set, Winter Park.
A fancy horse drawn sleigh chauffeuring fashionable ladies passes by (see the wide image below). The sleigh was the inspiration for this project, which is one of the images on the new collage sheet. You'll find out about these cuties (in the sleigh) in my next project.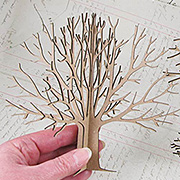 Looks like some have used the break in weather to shop. (Note: see the image in the Giveaway section below for one of the shoppers.)
The overall dimension of this piece is 24″ x 16″. You might be thinking that it's large but the good news is it made of multiple pieces that you can easily store separately. Because it's modular, it also makes it easy to tackle as much or as little of the project as you like.

In the video tutorial I'll be covering:
– How to assemble the pieces
– Creating dimension with paper
– How to suspend paper images
– Making Icicles
– Snow
– Frozen pond with skaters
– Building a fountain
Highlights of Today's New Goodies – ALL on Sale! View All

Hooray for the Winter Park Giveaway!
I picked out bunches of supplies used in Laura's artwork to include in today's Giveaway:
– New Ice Follies Collage Sheet
– Baby Its Cold Outside Collage Sheet (for those shoppers!)
– 3D Chipboard Tree – 6 Inch
– Cottage Base – 9x9x1
– Creative Paperclay
– Twinklets Diamond Dust – 3oz Jar (for icicles! and pretty much all over the place!)
– 1/8 Inch Red Satin Ribbon (used as reins on the sleigh… plus it's on sale!)
– Lavabo Fish & Basin Wall Fountain Set (way in the background, covered in ice — also on sale!)
Whew!
Just click on this Supply List link for photos and links to everything in Laura's artwork, including all of the Giveaway items listed above!
To enter the Winter Park Giveaway drawing all you have to do is leave a comment BELOW on this blog post TODAY OR TOMORROW (the deadline is 11:59 pm PST, MONDAY, January 23, 2017)!
AND tell me: What will you make with all of the prize items? What inspires you most from Laura's tutorial?
Don't forget to leave your (hello! correct) email address, too, so I can contact the winner; your email address does not need to be made public. Note: I'm offering free shipping, too, but only within the USA. International shipping will still apply.
Please be patient! Spammers try to post crap here a lot so comments are moderated. So if you don't see your post in the comments section, be patient and check back in a few hours before re-posting it, please!
After midnight, I'll randomly pick the winner (via Random.org). So check your mailbox on Thursday morning to see who won and for the next Giveaway and Newsletter!
Hey, who won The Crafty Goblin Collage Sheet Giveaway? That would be Kathy Bumb! Congrats! Check your email for info.
Posted by Leslie, January 22nd, 2017