Note: most of the links on this post no longer work, as we moved to a new Web site in 2018. But you can try searching on the same names (as links below) on the new site.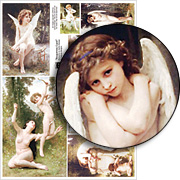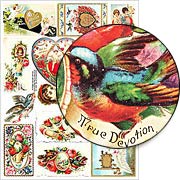 Reminder: Valentines & Romance Collage Sheets are ON SALE
ALL Valentines & Romance Collage Sheets are on sale for 50% off! The sale ends Wednesday night, January 25th! Extra time in case you're a bit late getting starting on Valentine's Day projects!
That includes the two shown at right: Bouguereau Cupid Collage Sheet and Victorian Sentiment Collage Sheet
Go see 'em all… over 40 to choose from!


You may remember the wonderful Captain Nemo's Organ Room project that Guest Designer Jessica Armstrong created a few months ago? See those wee little books all tossed about by the chaos of that tentacle coming through the porthole? Well, Jessica is back with new a collection of collage sheets for making such tiny books — and has provided a video tutorial (she shares tips that make churning out books so easy)!
And Jessica was so thoughtful to include a whole sheet of Brothers' Grimm Book Covers, to coincide with our Snow White Kit this month!
Here's a preview from Jessica's Blog Post:
I've been a busy little bee working studiously away making teeny tiny 1″ little books! Lots of little covers to pick from, in various themes. And each one has a different thickness and is one inch high and can be made into an openable book.
There's also a more plain set of books, which I really love because you can sneak them easily into so many scenes! I've snuck some fancier ones in there, too, though.
There's 45 books per sheet, which gives you tons of books to work with.
And now you can learn how to use book cover sheets to make your own miniature openable books with this little tutorial!
Psst! There's more than just (!) tiny books, too! See below for some tiny (and not so tiny) birds and bees… and some creepy labels to get a head start on Halloween!


Hooray for the The Crafty Goblin Collage Sheet Giveaway!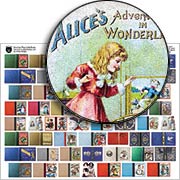 Yes! ALL NINE new collage sheets by Jessica! Not only covers to make tiny books, but birds, bees, labels…
Bonus: a couple more tiny book covers:
– Victorian Tiny Little Books Collage Sheet (From Christmas standards like A Christmas Carol to classics like Little Red Riding Hood and particularly Victorian titles like Edward Lear's A Book of Nonsense.)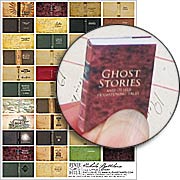 – Little Library Collage Sheet (Adorably tiny book covers. Sized for the Set of Miniature Books but will also fit tiny tomes approx 7/8″ to 1″ tall. These covers include a little extra width on the front and back covers (to fold under as a book flap or to trim off). Also: includes titles for a library of Jane Austin, Potter-ish potions, or Grimms' Fairy Tales.)

AND some tiny props from the Valentine's Sale:

– Tiny Little Valentines Collage Sheet (kitschy '50s valentines, shopping bags, candy boxes… AND includes parts to make heart-shaped candy boxes, too!)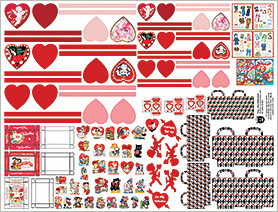 To enter The Crafty Goblin Collage Sheet Giveaway drawing all you have to do is leave a comment BELOW on this blog post TODAY OR TOMORROW (the deadline is 11:59 pm PST, FRIDAY, January 20, 2017)!
And tell me: Out of that flurry of collage sheets, which would you use first? Do you have a project in mind already?
Don't forget to leave your (hello! correct) email address, too, so I can contact the winner; your email address does not need to be made public. Note: I'm offering free shipping, too, but only within the USA. International shipping will still apply.
Please be patient! Spammers try to post crap here a lot so comments are moderated. So if you don't see your post in the comments section, be patient and check back in a few hours before re-posting it, please!
After midnight, I'll randomly pick the winner (via Random.org). So check your mailbox on Sunday morning to see who won and for the next Giveaway and Newsletter!
Hey, who won The Mirror Cracked Giveaway? That would be Jennie Ingram! (And I love her comment: "Oooh, I'd love to do something like a Lady of Shalott theme!") Congratulations! Check your email for more info.
Posted by Leslie, January 19th, 2017