Note: most of the links on this post no longer work, as we moved to a new Web site in 2018. But you can try searching on the same names (as links below) on the new site.
What's New Today? Metal Minis and Valentine's Day!
We aren't terribly pink and frilly over here, but there are some new things that work beautifully for Valentine's Day (and also for projects year round): like… A new Valentine Packages Collage Sheet by Betsy Skagen that she used in an adorable Sorting Valentines at the Postal Station project (using a Millinery Cabinet for the sorting table). Check out her blog post for more info.
AND… there are lots of new cast metal miniatures today, and an idea for painting one pink is shown below (it may be hard to see but there are 2 tiny overlapping hearts on the front of that box). Easy peasy to spray paint them before decorating! More info below on all the new minis and: I just put that entire section on sale at 25% off! The cast metal minis sale ends Monday night, January 16th.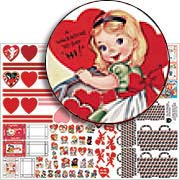 Another New Sale: Valentines & Romance Collage Sheets
ALL Valentines & Romance Collage Sheets are on sale for 50% off! The sale ends Wednesday night, January 25th! Extra time in case you're a bit late getting starting on Valentine's Day projects!
Hey, that includes the new Valentine Packages Collage Sheet! Plus those cute Valentines on Betsy's sorting table (photo above) are from the Tiny Little Valentines Collage Sheet — part of the sale! Go see 'em all… over 40 to choose from!


The Mirror Cracked… Or Something Like That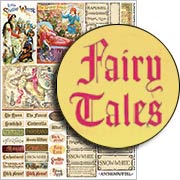 Design Team Coordinator Miz Bella (Kim Ayers) has made a dark (yet fun) project about the Evil Queen's Mirror (using a few bits and bobs from the Snow White Kit… see the Giveaway below for a more complete list of supplies AND and chance to win them). Check the Giveaway, too, as there's another pretty picture of the inside of the tin.
As Bella says in her blog post:
The Evil Queen is getting along in years, and with it brings her paranoia that she's losing her looks. Constantly nagging the Mirror day after day to tell her who is the fairest in the land really started to grate on the Mirror's last nerve.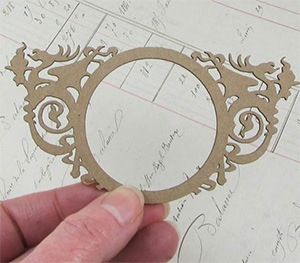 It was just too much, and to buy itself some peace, the mirror told the old bat that it was Snow White, and then burst itself into a million different pieces to get some long deserved relief.
I love all the dark, brooding colors (offset by the mica flakes). A little alcohol ink goes a long way and gives the Round Frame with Dragons a mysterious (and definitely not simple chipboard) appearance. And the red apples mixed into the bouquet are a nice "poison apple" touch. See below for more details on supplies and/or check out Bella's blog for more photos.

Highlights of Today's New Goodies – ALL on Sale! View All

Hooray for The Mirror Cracked Giveaway!
Yay! ALL of these items from Bella's Supply List: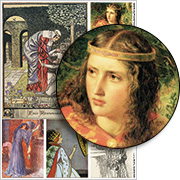 – Evil Queens Collage Sheet
– Fairy Tale Titles Collage Sheet
– Blank Altoids Tin
– Round Frame with Dragons
– Altoids Dragons Insert
– Red Apples – 1:12 Scale
– Stitched Leaf Ribbon – Moss Green
– Tiny Mixed Size Flat-Back Pearls
– Alcohol Inks – Pitch Black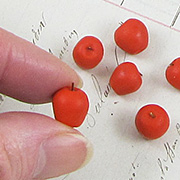 To enter The Mirror Cracked Giveaway drawing all you have to do is leave a comment BELOW on this blog post TODAY OR TOMORROW (the deadline is 11:59 pm PST, MONDAY, January 16, 2017)! And tell me: What will you make with all of the prize items? A similar dark and moody tin like Bella's?
Don't forget to leave your (hello! correct) email address, too, so I can contact the winner; your email address does not need to be made public. Note: I'm offering free shipping, too, but only within the USA. International shipping will still apply.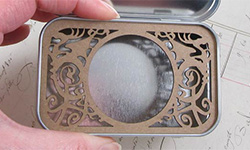 Please be patient! Spammers try to post crap here a lot so comments are moderated. So if you don't see your post in the comments section, be patient and check back in a few hours before re-posting it, please!
After midnight, I'll randomly pick the winner (via Random.org). So check your mailbox on Thursday morning to see who won and for the next Giveaway and Newsletter!
Hey, who won the Pretty Trims for Fierce Snow White Giveaway? That would be Elizabeth H! Congrats! Check your email for info.
Posted by Leslie, January 15th, 2017