What's New Today? Ornament!
That's historical ornament (squirelly, scallopy, doodly, busy ornament!) Check below for new silicone molds, new double layer windows, and new metal filigree! More info below.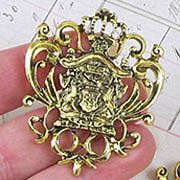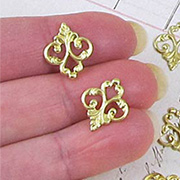 FLASH SALE! ALL Metal Filigree is On Sale at 40% off!
That includes 3 new metal filigree pieces being announced today (each is very pretty… and bargain priced even before the sale)! Like the Raw Brass Fancy Fleur de Lys shown at left.
AND that NEW Crowned Crest Filigree – Gold at right is also included in today's Giveaway! The sale ends Saturday night, January 14th at midnight PST! See 'em all! Over 70 options!


That clever (and busy) Design Team Member Rhonda Secrist Thomas has made TWO projects for today, both with this month's Snow White theme! (And both made with a Blank Altoids Tin.)
One is at right (Snow White, the Warrior (!)), and scroll down to see another in a wide photo (The Evil Witch Outside).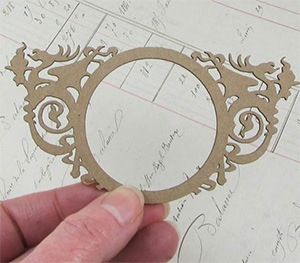 Rhonda used the Round Frame with Dragons over an Altoids Tin for the main structure of Snow White, the Warrior (with an image in the center from the Evil Queens Collage Sheet — hey, all's fair in art: you can make the evil queen be Snow White if you want to)!
Here's a preview from Rhonda's Blog Post: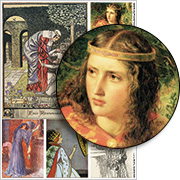 Did you know that Snow White was actually a bad ass warrior? True, we all love the traditional story of her gentle ways and her little dwarf friends, but let's really think about this. Why did the Evil Queen envy her so much? It wasn't just because she was the "fairest of them all".
Yes, she had a natural beauty that all noticed, and was dearly loved by the seven dwarfs and all her woodland friends, but she was also extremely strong both mentally and physically. So she was a huge threat to the Evil Queen.
You can see it in her eyes and stance. Don't mess with Snow White!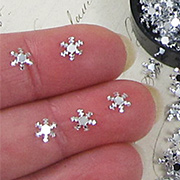 I wouldn't mess with her! I'd like to highlight some pretty details: the little snowflakes at the bottom of that photo at right (a slice of a polymer cane and newish tiny silver snowflakes).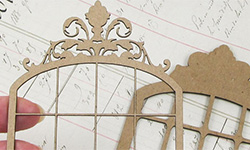 And check out the Giveaway below for a chance to win goodies she used in both projects!
Moving on to the second project shown below: The Evil Witch Outside. I love how this turned out, with the glittery finish Rhonda gave to the new Ornate Double Layer Window!
Read more (and see lots more photos) in Rhonda's blog post. And here's her Supply List for both projects.


Hooray for the Pretty Trims for Fierce Snow White Giveaway!
I picked out these supplies used in Rhonda's artwork to include in today's Giveaway:
– Double Layer Window – Ornate
– Round Frame with Dragons
– Evil Queens Collage Sheet
– Blank Altoids Tins
– Tiny Mixed Size Flat-Back Pearls
– Polymer Clay Cane – 10mm Lacy Snowflakes
– 5mm Thin Silver Snowflakes
– Light Blue Birds – Set of 2
– Tiny Paper Roses – Pink Cream Variegated
Just click on this Supply List link for photos and links to everything in Rhonda's artwork, including all of the Giveaway items listed above!
Bonus: one of the new Gold Crowned Crest Filigree! (As mentioned above… and one of the filigree items on 40% off sale!)

To enter the Pretty Trims for Fierce Snow White Giveaway drawing all you have to do is leave a comment BELOW on this blog post TODAY OR TOMORROW (the deadline is 11:59 pm PST, FRIDAY, January 13, 2017)!
And tell me: What will you make with these prize items? Any inspiration from Rhonda's two projects?
Don't forget to leave your (hello! correct) email address, too, so I can contact the winner; your email address does not need to be made public. Note: I'm offering free shipping, too, but only within the USA. International shipping will still apply.
Please be patient! Spammers try to post crap here a lot so comments are moderated. So if you don't see your post in the comments section, be patient and check back in a few hours before re-posting it, please!
After midnight, I'll randomly pick the winner (via Random.org). So check your mailbox on Sunday morning to see who won and for the next Giveaway and Newsletter!
Hey, who won the Grimm's Fairy Tarot Giveaway? That would be Susan B! (And I love her comment: "Anything Tarot tends to draw me in. I've been musing about using characters from Agatha Christie novels for a Tarot. Poirot might be The Magician. Miss Marple as The High Priestess…") Congratulations! Check your email for more info.
Posted by Leslie, January 12th, 2017