Eek! Isn't this the cutest little cottage you've ever seen? And made from an Altoids Tin! AND Shannon has provided a tutorial for that roof!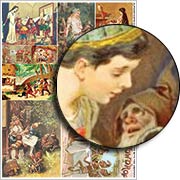 The Dwarfs' Cottage Altered Tin by Design Team Member Shannon Cooper is just perfect: all tucked into the small size of an Altoids Tin, it has a scene inside (behind one of the new insert frames), a little image behind a window at top to make you think there're an attic, hand-made stones (complete with moss and tiny flowers), faux wood trim, and a shingled roof.
"I fell in love with the scalloped insert frames from earlier this year, erm… last year, and was excited to see the new Fairy Tale Frames Inserts for Altoid Tins.
"I used an image from the Snow White with the Dwarves Collage Sheet and the blank tin from the January Kit to construct the Dwarfs' wee cottage, which has to be a much more pleasant place than a prince's boring old castle. Plus, tiny houses are the way to go.
"The entire cottage is made from just three things: the tin, cardboard, and Creative Paperclay. The stones and wood beams are sculpted from the paper clay and the roof pieces and tiles are cut from cardboard. Super easy!"
Back to "What's New Today?": Shingles! Not the hand-made shingles in Shannon's fab art, but pretty close (plus a response to requests for more styles of the smaller chipboard shingles).
And check out the Giveaway below for preview pics of Shannon's tutorial (and a chance to win almost everything she used)!
Read more (and see lots more photos and that tutorial) in Shannon's blog post. And here's her Supply List.


Hooray for the Dwarfs' Cottage Giveaway!
I picked out some supplies used in Shannon's artwork to include in today's Giveaway:
– Fairy Tale Frames Altoid Inserts Set
– Decorative Windows Set 1:24
– Blank Altoids Tin
– Fairy Tale Titles Collage Sheet
– Snow White with the Dwarves Collage Sheet
– 8×8 Heavy Chipboard
– Creative Paperclay
– Leafy Green Underbrush
– AND one of the (back in stock) Tim Holtz Paper Distresser Tools!
Just click on this Supply List link for photos and links to everything in Shannon's artwork, including all of the Giveaway items listed above!
To enter the Dwarfs' Cottage Giveaway drawing all you have to do is leave a comment BELOW on this blog post TODAY OR TOMORROW (the deadline is 11:59 pm PST, FRIDAY, January 6, 2017)!
And tell me: Will you try your hand at making a little cottage? With Paperclay stones or wood trim? Or a custom roof with shingles? (All explained in Shannon's blog.)
Don't forget to leave your (hello! correct) email address, too, so I can contact the winner; your email address does not need to be made public. Note: I'm offering free shipping, too, but only within the USA. International shipping will still apply.
Please be patient! Spammers try to post crap here a lot so comments are moderated. So if you don't see your post in the comments section, be patient and check back in a few hours before re-posting it, please!
After midnight, I'll randomly pick the winner (via Random.org). So check your mailbox on Sunday morning to see who won and for the next Giveaway and Newsletter!
Hey, who won the Snow White Kit Plus Giveaway? That would be Lou Anne! Congratulations! Check your email for more info.
Posted by Leslie, January 5th, 2017