What's New Today? New Kit, Brothers' Grimm Collage Sheets SALE and Mirror Frames for that Evil Queen!
Happy New Year! New year, new theme! In honor of the new Snow White Kit, ALL Brothers' Grimm Fairy Tales Collage Sheets are on sale for 30% off (including the new collage sheets)! That's over 40 options! Sale ends this Tuesday night, January 3rd! Plus there is new art by Design Team Member Kristin Batsel!

The new year just seems like a good time for a fairy tale. We had so much fun with the Little Red Riding Hood Kit a couple years ago that another Brothers' Grimm story seemed like a good option…
The January kit is Snow White. (Actually, a lot of the new chipboard items being announced this month are more about The Evil Queen (and her mirror — "Mirror, mirror, on the wall…") than Snow herself…)
I designed a new set of Fairy Tale Frames Altoid Inserts (a big set, each with 2 options for layered label holders). ONE of the frames (plus its 2 matching label holders) from the new set is in this kit. You can stack up both of the label holders or just use one over the insert (and maybe use the other on the outside of the Altoids Tin cover).
PLUS a Blank Altoids Tin to use with that chipboard insert!
This kit also includes TWO new collage sheets!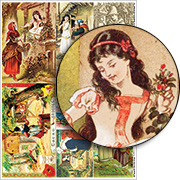 Poison Apple Collage Sheet
More than just the poisoned apple here: also images of the pretty laced bodice that the Evil Queen tried to kill Snow White with before almost succeeding with the apple (the illustrators may have had a bit of confusion over the years, as some images show ribbons or belts instead of a laced bodice… maybe they were trying to show fashions that were in favor at the time they illustrated the story).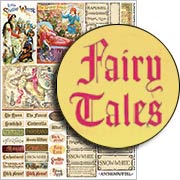 Fairy Tale Titles Collage Sheet
Lots of options: Snow White, Rapunzel, Sleeping Beauty, Cinderella, Red Riding Hood (most of those in German, too) and more generic phrases like "Fairy Tales", "Enchantment" and "Once Upon a Time." Plus some by request, specific to Snow White: "Poison Apple" and "Bitch, please!"
Speaking of text options for the labels: I love that altered tale that Kristin Batsel made (at right)! From Kristin's blog:
Snow White had it hard: a wicked stepmother who was so totally consumed with being the fairest of them all that she was willing to do anything to make that happen, including poison apples. Who wants to deal with that?
Here's an altered Altoids tin I decorated to celebrate Snow White refusing that bad apple. I used an old image (Snow White with blonde hair!) and a fairy tale insert frame to highlight the scene. Silver tinsel, silver glitter, snowflake sequins and Diamond Dust help to make this look like a frosty scene. Can't you just imagine Snow White's refusal: "Bitch, Please!" She is definitely not interested.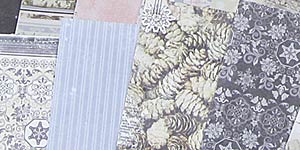 AND the kit includes 1 sheet each of all 12 designs from the Winter Wishes 6×6 Paper Pad (A pretty winter/snowflake themed set… yet with enough woodgrain, pine cones and black to work with the darker themes in the Snow White tale.)
And there's even a set of Tiny Mixed Size Flat-Back Pearls in the kit, but I'm running out of space! More info and lots more photos are on the Snow White Kit page.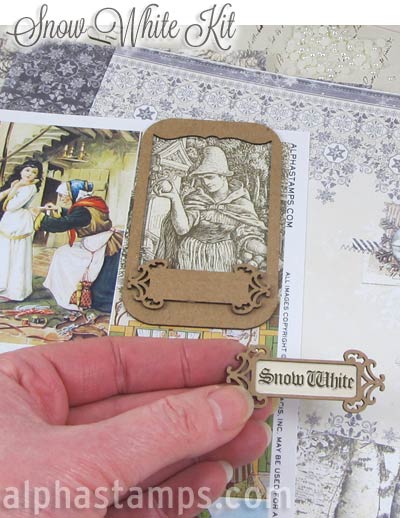 Hooray for the Snow White Kit Plus Giveaway!
Let's start with THE NEW KIT! That includes 2 collage sheets, a set of chipboard inserts, an Altoids tin, scrapbook papers and pearls!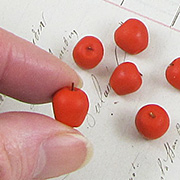 Next: Red Apples (don't you need a poison apple?)
Then, these items from Kristin's Snow White's Refusal Supply List:
– 7mm Round Red Cabochons (that Kristin used as an apple)
– Evil Queens Collage Sheet (Kristin made a clever change by changing the chalice of poison to an apple)
– Giant Snowflakes – Silver
– Mini Snowflake Sequin Mix
– Twig Vine Garland
Just click this link to see all the items in Kristin's Supply List.
To enter the Snow White Kit Plus Giveaway drawing all you have to do is leave a comment BELOW on this blog post TODAY OR TOMORROW (the deadline is 11:59 pm PST, MONDAY, January 2, 2017)! And tell me: What image would you put in that fairy tale frame in your Altoids tin?
Don't forget to leave your (hello! correct) email address, too, so I can contact the winner; your email address does not need to be made public. Note: I'm offering free shipping, too, but only within the USA. International shipping will still apply.
Please be patient! Spammers try to post crap here a lot so comments are moderated. So if you don't see your post in the comments section, be patient and check back in a few hours before re-posting it, please!
After midnight, I'll randomly pick the winner (via Random.org). So check your mailbox on Thursday morning to see who won and for the next Giveaway and Newsletter!
Hey, who won the Naughty or Nice Giveaway? (I know… seems ages ago!) That would be Cheryl Lee! Congrats! Check your email for info.
Posted by Leslie, January 1st, 2017