Note: most of the links on this post no longer work, as we moved to a new Web site in 2018. But you can try searching on the same names (as links below) on the new site.
It's day FIVE of this
week
of
While the Cat's Away Sales
!
Before I tell you all about today's Bezels, Pendants & Cabochons theme, a quick catch-up on what was added to the sale yesterday:
– The Vintage Sewing & Cooking Collage Sheets section is On Sale at 40% off! (44 options, from crazy '50s housewives to Victorian tea parties.)
– And the Kitchen & Sewing Miniatures section is On Sale at 20-50% off! (This is a big group — over 90 items, including 3 new ones! — and has all kinds of useful little props, like glasses, teapots & tiny jars.)
More info in the blog.
This is the final day of new items being added to the sale. A few things have already sold out but I'm leaving this week's sale up through TOMORROW night (New Year's Eve).

Back to today's theme: Bezels, Pendants & Cabochons!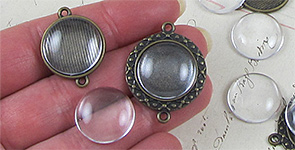 – Pendant Bezels & Settings – Cast Pewter On Sale at 40% off! This also includes the NEW settings and cabs shown at right!
– Pendants & Settings – Plated or Raw Brass On Sale at 40% off!
– Cabochons On Sale at 40% off!
– Pendants/Ornaments Collage Sheets On Sale at 40% off! (So you have some images sized to fit all those items above!)
Plus, check the Sale Section for lots of new charms (and other items) just put on Clearance Sale!
Half Price Shipping on ALL orders (for orders shipping to USA) now through Saturday, December 31st. Only $2.95! Plus our normal offer of FREE shipping on orders over $100 still continues, too! More info


More info on the Holiday Closure & After-Christmas SALE PLUS half price shipping through 12/31/16!
And please remember: Our offices are now closed. The whole "While the Cat's Away" theme is 'cause I'm the only one here! For more info about shipping (which will start when the staff are all back on 1/3/17) and the sale in general, please see the While the Cat's Away overview page.
A final note: Even though our offices are closed, orders for DIGITAL Collage Sheets and Digital Images are still fulfilled in real time!
Posted by Leslie, December 30th, 2016