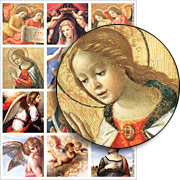 I know… getting to be crunch time for gifts! This should help: I just put ALL Christmas Collage Sheets AND Angels and Saints Collage Sheets on Sale at 40% Off! That's 135 options!

There's still time to download some digital images or collage sheets for making last-minute gifts… like the Celestial Squares Collage Sheet shown at right (psst: the 2-1/2″ square images in that sheet will also fit the Chipboard Ornament Layers).

The sale ends MONDAY night, December 19th.

We have 2 lovely Christmas projects today, both using the Chipboard House Ornament Kit, by Design Team Members Laura Carson and Nichola Battilana! Let's start with Laura's project…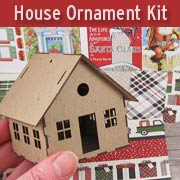 Laura's Christmas Tree with Cutaway Winter Scene is so clever! It's a house inside a tree! And check out that wide photo below for how cute it is close-up, too: love the texture on that frosty (glittery) roof and the icicles!
"It's a quiet night as snow falls on a little cabin in the woods. Deer, drawn to the soft light filling the windows and the warmth of the cabin stand motionless in the snow.
"I wish I had more time this holiday season as I think a series of these in different heights would look so lovely arranged on a fireplace mantel. Instead I paired them with my Jeweled Trees from a previous season.
"I added sparkle to the house and snowflakes
on the outside decor using Twinklets Diamond Dust. The cute trees and reindeer are acrylic beads and the snow is faux white suede paper."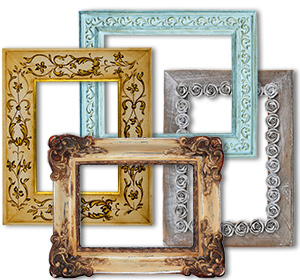 Laura shares instructions on how to build the cone-shaped tree and how to cut out the window to see inside to the house. Plus she uses her new Vintage Frames Set for the frame to finish off the edges of that window.
Read more (and see lots more photos) in Laura's blog post. And here's her Supply List.

Next up: have you been following that crazy-optimistic Nichola's blog? She is doing a project every day from December 1st though 24th! I'm highlighting her Winter Cottage from a few days ago as it's super cute (and it's another fab example using the house kit).
"The house itself measures just 2-3/4″ tall, 2-1/2". It's itty!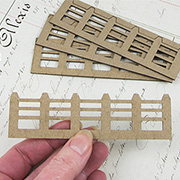 "My favourite part of this little doodad is the tuft of raw wool smoke coming out of the chimney. Can't you just smell the wood fire?!"
Beside the house itself, here's a link to lots of the little trims Nichola used that were designed to fit the house. Plus I also spy an 8mm star on the front door. And I bet there's at least a pound of glitter!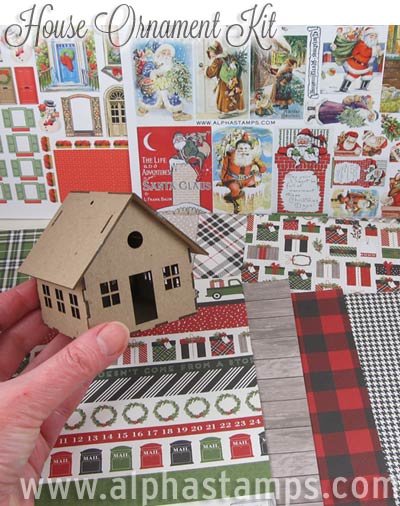 Hooray for the Chipboard House Kit & Collage Sheets Giveaway!
Ok… I may be failing today at naming the Giveaway, but it is filled with goodies you'll want to play with. Starting with a Chipboard House Kit so you could choose to mimic either of the art projects shown above.
AND… in honor of the 40% off Collage Sheet Sale, YOU get to choose FIVE collage sheets! (And just in case you're stuck on a project RIGHT NOW: you can choose to have your 5 collage sheets emailed as pdf files instead of receiving them with the house kit.)

To enter the Chipboard House Kit & Collage Sheets Giveaway drawing all you have to do is leave a comment BELOW on this blog post TODAY OR TOMORROW (the deadline is 11:59 pm PST, FRIDAY, December 16, 2016)!
And tell me: Which of the Christmas or Angels collage sheets are your picks!? Note: I know you may be pressed for time right now so please tell me at least one of your FIVE picks now (and I'll follow up with the winner to get the rest of their choices).
Don't forget to leave your (hello! correct) email address, too, so I can contact the winner; your email address does not need to be made public. Note: I'm offering free shipping, too, but only within the USA. International shipping will still apply.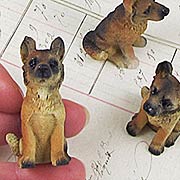 Please be patient! Spammers try to post crap here a lot so comments are moderated. So if you don't see your post in the comments section, be patient and check back in a few hours before re-posting it, please!
After midnight, I'll randomly pick the winner (via Random.org). So check your mailbox on Sunday morning to see who won and for the next Giveaway and Newsletter!
Hey, who won the Double Kits Giveaway? That would be Susan Nelson! Congratulations! Check your email for more info. Plus, I'm including a German Shepherd Puppy Dog!
Posted by Leslie, December 15th, 2016