I know.. so evil! I tell you about Christmas ornaments then I begin with a clock tower??
But Lora has been such a busy bee… she made TWO projects for today (more than that if you count both sides of the clock tower and FOUR ornaments)! See the wide photo below for the flipside of the clock tower (in a lovely shade of lime green).
I will let Lora tell you about her clock tower first: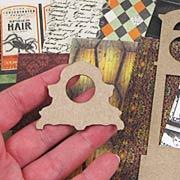 My husband is an accomplished wood and metal worker. He has built everything from beautiful guitars to door hinges. So what is truly awesome for me is his ever changing, always fascinating scrap boxes. He has one for metal and one for wood. I love going out to his workshop and trolling through all the wonderful possibilities that lay in those boxes.
Because I am such a house freak, I tend to look for stuff I can turn into a house shape of some kind.
A couple of weeks ago, I found a longish piece of 2×4 that I decided to turn into a clock tower.
A lot of the supplies I used were from the Halloween Clock Kit including all of the papers (except the orange door and that was a bitty piece of scrap….you can make your door any old color you like!)
It was a lot of fun coming up with different ways to embellish the clocks from the Victorian Chipboard Shapes Sets.
I love the little lady peeking out of the grandfather clock at the rat on the bookcase!
What the heck is she doing in there, anyway?


The arch over the door (on that lovely GREEN tower at left) I made with scrapbook paper and chipboard. You can see a mini tutorial on how I made this HERE.
Here's the link for everything in Lora's Clock Tower supply list!


OK! Now let's talk about CHRISTMAS ORNAMENTS! I cannot believe how close we are to Thanksgiving weekend, so these quick and stylish ornaments are perfect timing.
Oh the possibilities! A couple of great ways to use the new Simple House Ornament Shapes!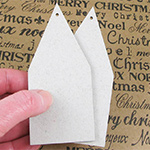 You can stack them together to make a thicker ornament like the ones pictured here, or use them individually. Most of the papers I used were from the St. Nicholas 8×8 Paper Pad.
The wee tree comes from the Retro Bottle Brush Tree Set (wrapped up in some Glass Christmas Seed Bead Garland).
The snowflakes I found kicking around a box of old scraps. but the Large Snowflake Sequin Mix would look awesome.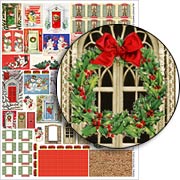 I love the red doors on the house ornaments… they're from the Tiny House Trims Collage Sheet.
See more photos from BOTH of Lora's projects in her blog post.

UPDATE: Lora has posted more ornaments for 2018 here!


New Collage Supplies – ALL on Sale!


Glass Christmas Seed Bead Garland
Posted by Leslie, November 10th, 2016