We've reorganized the kitchen miniatures sections!
And since Laura Carson has created a wonderous Dracula's Hearse with Blood Cocktail Mini Bar in Coffin, I've picked the Food & Beverages Section to put on FLASH SALE! 25% off today and tomorrow only! (Sale ends Monday night, November 7, 2016.)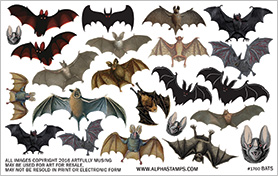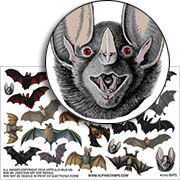 NEW FREE Collage Sheet!
In honor of Design Team Member Laura Carson's artwork using this collage sheet (also designed by Laura), ALL ORDERS through Monday, November 7th (2016) will receive one of the new Bats Collage Sheets FREE!

Wow… Laura is so imaginative! Not only a red and black hearse for Dracula (and his bride), but that travelling mini bar (in a coffin)!
(There's a photo of the lid of the coffin below left (with a cool coat of arms that's a combo of a collage sheet image with a chipboard crest — and for more photos of the coffin see the wide photo below AND the close-up of the mini bar down in the Giveaway section.)
Laura made a new Dracula Collage Sheet with all kinds of vampire goodies. Included are Dracula, his bride, faithful raven butler (Belvedere) and wolf driver (Farnsworth). In addition are lots of bits and bobs to deck out a coffin blood bar and a set of curtains that are sized to fit the funeral coach.
Plus that new Bats Collage Sheet (already mentioned above, and also created by Laura) has tons of bats and bat heads.
I'll let Laura introduce her story:
Dracula and his new bride are on their way to Grimsley Village to spend their honeymoon at the Buzzard Bed and Breakfast.
There is no mistaking Dracula's hearse as it flies by using bat wing power, sporting a red "D" on the windows and Dracula's insignia curtain clips.
Inside is the coffin lined with red and black suede. On the lid of the coffin is the Dracula family crest flanked by silver vampire bats hanging on the edges of the coffin lid.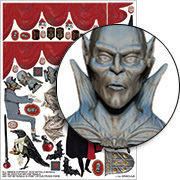 With a shortage of young maidens in the area, they make a short stop for refreshments and are attended by their faithful raven butler Belvedere and wolf chauffeur Farnsworth.
Dracula and his bride prefer to fly when traveling which leaves the coffin free to transport necessities, in this case a collapsible blood bar stocked with anything a blood sucking creature would want; there's bottled Dracula's Reserve, Chateau Vlad, Dracula's Kiss, Type O and Type AB. On tap is Blood and Hair of the Dog Beer, the latter being Farnsworth's favorite.
I am quite fond of Belvedere. 🙂
See lots more photos and a video tutorial on Laura's blog post. Here's her full Supply List, and check below as the Giveaway includes lots of these items!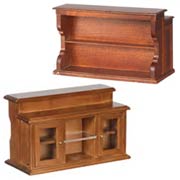 It was something about Laura's inspired mini bar in a coffin… that reminded me of a dollhouse scale bar I've been coveting. So I decided it was a sign and here it is! Love both sides (shelving is different on each side). And I can imaging it as a desk or storage or a bookcase… interesting bookcase I might say.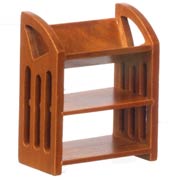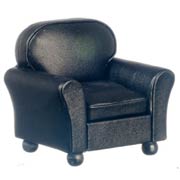 And since I was perusing furniture… I came upon these leather club chairs (in brown and black). They look soooo comfortable. Sipping scotch in a British club (which of course wouldn't allow women). They're only 3-1/4″ tall, so may be quite a bit smaller than you'd imagine.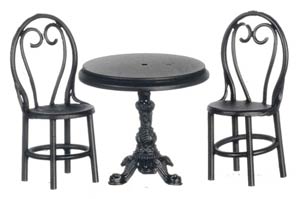 Then I found this book buggy (at right). Perhaps not quite as upscale but a nice, quirky piece for a dollhouse library.
Finally, this bistro table set. I really like the table (very heavy… no fear of it toppling over no matter how many metal or glass little props you add). Another table perfect for some wine.
It's an alcoholic group today.


Hooray for the Dracula's Hearse Giveaway!
I decided to focus on just the bar itself (as there are so many cool things in Laura's artwork… if I didn't contain myself to one small section I'd lose my mind)! So here are items I chose (and a repeat of Laura's full supply list for links to these and to everything she used):
– Dracula Collage Sheet (new)
– Bats Half Sheet (new)
– 1:24 Bookcase (Did you recognize it? It's inside the coffin)
– 6 Inch Coffin Box
– Black Woodgrain Scrapbook Paper
– Bright Red Suede Paper
– Black Suede Paper
– Kitchen Glassware Set – 16 Pieces
– Metal Candelabra or Light Fixture
– Mini Chipboard Crest Signs (on the coffin lid)
– Miniature Wine Bottles
– Mini Glass Carafe Set
– Pewter Spider Charm
– Small Swivel Drawer Handle
Just click on this Supply List link for photos and links to everything in Laura's artwork, including all of the Giveaway items listed above!

To enter the Dracula's Hearse Giveaway drawing all you have to do is leave a comment BELOW on this blog post TODAY OR TOMORROW (the deadline is 11:59 pm PST, MONDAY, November 7, 2016). And tell me: What wil you make with all of those items in the prize package?
Don't forget to leave your (hello! correct) email address, too, so I can contact the winner; your email address does not need to be made public. Note: I'm offering free shipping, too, but only within the USA. International shipping will still apply.
Please be patient! Spammers try to post crap here a lot so comments are moderated. So if you don't see your post in the comments section, be patient and check back in a few hours before re-posting it, please!
After midnight, I'll randomly pick the winner (via Random.org). So check your mailbox on Thursday morning to see who won and for the next Giveaway and Newsletter!
Hey, who won the Autumn Throne Giveaway? That would be Laural! Congratulations! Check your email for more info.
Posted by Leslie, November 6th, 2016