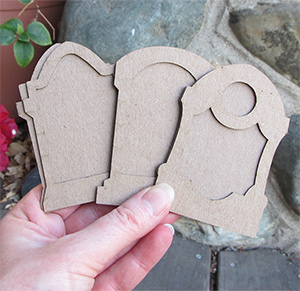 Congratulations to Christine Diller, winner of the "Best in Show" prize ($100 of Art Supplies) for the Chipboard Reliquaries Swap!
I love how much texture is on Christine's pieces… and to think they're only flat chipboard as the base!
See a larger photo of Christine Diller's artwork shown at right!


It only seems fitting that the week before Halloween is filled with orange and black artwork. FUN orange and black artwork! And a tutorial by Design Team Member Shannon Cooper on creating fun to make (and fun to play with) Halloween Clock Spinners!
Shannon obviously had a blast playing around with the different combinations on the Halloween Clock Spinners Collage Sheet. From the little door that opens to show the devil (an articulated, poseable devil — from the Halloween Jumping Jacks Collage Sheet) at far right, to the photo below showing options for spinning the witch (who is atop the photo at right) to 2 options of spinning moons.
The Halloween Clock Spinners Collage Sheet (oh how I love thee!) has lots of images that will work with the grandfather clock and I had a frightfully good time changing out the rotating part. So fun!
Note: that chipboard grandfather clock Shannon is referring to (artfully painted to look vintage — covered in Shannon's tutorial) is available in a chipboard set and also as part of the Halloween Clocks Kit. AND since today's Giveaway includes EVERYTHING in Shannon's supply list, the winner will have 2 grandfather clocks to decorate!

And Shannon went on to make ANOTHER clock (see below), this time with a door she wrote on as part of a shadowbox!
While I was feeling all vintage Hallowe'enie, I kept on crafting and assembled a little shadowbox to hang on the wall.
I used wool roving for the wind, shaping it with my hands and then covering the wispy pieces with a glue/water mixture, then letting it dry. The leaves were punched from really nice crepe paper!


Five little pumpkins, sitting on a gate.
The first one says, "Oh my it's getting late."
The second one says, "There's witches in the air."
The third one says, "But we don't care!"
The fourth one says, "Let's run and run and run!"
The fifth one says, "Let's have some fun!"
Then oooooo went the wind and OUT went the light!
Five little pumpkins rolled out of sight!
Read more of Shannon's fun in her blog post. And be sure to come back to enter today's Giveaway!)


Hooray for the Black & Orange for Halloween Giveaway!
Yes, I said it! EVERYTHING in Shannon's Spinning Clock and Five Little Pumpkins Shadowbox Supply List is included in today's Giveaway!
I'm only highlighting 4 of the 16 items in the supply list/Giveway via the photos at right:
– New Heavy Double-Sided Crepe Paper – Orange Tangerine
– Black Dresden Border Sampler Set
– Moonlit Spider Web Network Scrapbook Paper
– Tiny Dot Dresden Borders – Matte Orange

To enter the Black & Orange for Halloween Giveaway drawing all you have to do is leave a comment BELOW on this blog post TODAY OR TOMORROW (the deadline is 11:59 pm PST, FRIDAY, October 28 2016)!
And tell me: What will you make with the prize? And/or: Are you dressing up for Halloween?
Don't forget to leave your (hello! correct) email address, too, so I can contact the winner; your email address does not need to be made public. Note: I'm offering free shipping, too, but only within the USA. International shipping will still apply.
Please be patient! Spammers try to post crap here a lot so comments are moderated. So if you don't see your post in the comments section, be patient and check back in a few hours before re-posting it, please!
After midnight, I'll randomly pick the winner (via Random.org). So check your mailbox on Sunday morning to see who won and for the next Giveaway and Newsletter!
Hey, who won the Burrow Clock Giveaway? That would be Gretchen! Congratulations! Check your email for more info.
Posted by Leslie, October 27th, 2016