It's always so fun to see multiple projects made from the same product. We have a treat today as 3 Design Team Members have made grandfather clocks, and each is so different from the next.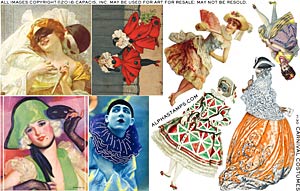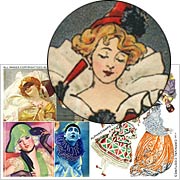 NEW FREE Collage Sheet!
In honor of Laura Carson's new Moonlight Serenade 3D Grandfather Clock (see below for the costumes theme), ALL ORDERS through Monday, October 24th (2016) will receive one of the new Carnival Costumes Collage Sheets FREE!

Laura Carson has made a beautiful (and colorful) commedia dell'arte clock (and really unexpected, as I had not imagined a diamond-patterned, Pierrot themed clock).
Let's start with THE CLOCK. It's a kit to put together a 3D clock, with lots of options (for example, you could use clear plastic for the inset/cut-out in the tall door as faux glass, so you can see a pendulum or a miniature scene inside — in that section where laura has a blue diamond-pattern and Pierrot serenading the moon). Note: this clock is 11″ tall (see below for Nichola's clock using a 7-1/2″ tall version.)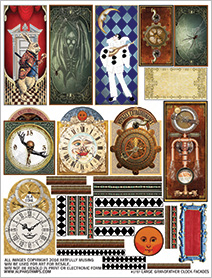 Laura designed a new new collage sheet with FOUR themed facades to decorate a grandfather clock: Alice in Wonderland, The Moon, Halloween and Steampunk.
There's so much going on here… I'll pick the pendulum and the pendulum weights to start (see the right side of the large photo at right).

Laura uses 2 of the new Mini Glass Tube Pendants as weights (filled with micro beads). And she shows how to punch holes to hang the pendulum (and 2 pendants, each hanging on chains). Clever: behind the pendulum is a set of the Mini Silver Wind Chimes, painted gold a glued together (as chimes).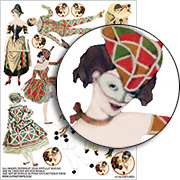 Here's a bit from Laura's blog post, but you'll want to spend some time there, as she provides tips on construction of the clock in her blog post, too.
I thought I would take a short break from Halloween projects with this moon themed 3D grandfather clock. To me, clocks lend themselves to all kinds of creative possibilities and themes, which caused me much angst in trying to decide which way to go before I settled on the moon theme. No doubt you'll see me do something else with this clock in the future.
See tons more photos on Laura's blog post, and here's her full Supply List.

Wow! I love this Miniature Weasley Burrow Clock by Nichola Battilana (I think Shannon was right when she said Nichola is made of magic.)
Note: Nichola used the smaller 1:12 scale grandfather clock (Laura and Betsy both used the larger version.)
Do you know this clock from Harry Potter? "The clock owned by the Weasley family which individually monitored each of their whereabouts. Located in the living room at The Burrow, the clock had nine golden hands, one for every member of the household."
I've only used three spoons as the hands on the face. (It really should be 9 golden hands if you want absolute authenticity.) Any more seems to get a bit thick where they overlap. If you wanted to add more, I would suggest cutting the handles and placing them 'just-so' to circumvent the issue of over thickness.
There is a drawer that fits into that bottom area of the clock. After applying so many layers of filler and gesso it becomes a bit of a tight fit. I like the idea of the Weasley's tucking things into every available space so I've used this area for storage. Paper scrolls, Half Scale Wine Bottles that look just like little potion vials, Pumpkin Pods and a Mini Black Cauldron are all crammed into that little space.
Read more (and see more photos) in Nichola's blog post. And here's her Supply List.
Psst! Check below, too, 'cause EVERYTHING in Nichola's supply list is included in today's GIVEAWAY!

Oh, a Christmas clock! Here is the third adorable project for today (by Betsy Skagen): Twas the Night Before Christmas Mouse Clock.
Twas the night before Christmas and all through the house, not a creature was stirring, not even a mouse.
Hold it right there. Wrong. Wrong. Wrong!
Obviously Mr. Moore didn't take time to actually check on the mice. All he had to do was remove the grandfather clock face to see what the mice were really up to.
I love the clever reversal she's made, with the clock seeming all buttoned-up and quiet on the outside, but the busy mice decorating their house inside. There seems to be a bit of a mouse theme today…
Read more (and see a tutorial on adding some extra shelving in the large central compartment) in Betsy's blog. And here's her Supply List, too.

Highlights of Today's New Goodies – ALL on Sale!

Hooray for the Burrow Clock Giveaway!
Yes, you heard me right: EVERYTHING from Nichola's Miniature Weasley Burrow Clock Supply List is included in today's Giveaway!
From the clock itself to the spoons, cauldron and the pendant to fill with "magical time glitter"! Even the little brass filigree bits that Nichola painted to look like green patina!

To enter the Burrow Clock Giveaway drawing all you have to do is leave a comment BELOW on this blog post TODAY OR TOMORROW (the deadline is 11:59 pm PST, MONDAY NIGHT, October 24, 2016). And tell me: kind of clock will you make?
Don't forget to leave your (hello! correct) email address, too, so I can contact the winner; your email address does not need to be made public. Note: I'm offering free shipping, too, but only within the USA. International shipping will still apply.
Please be patient! Spammers try to post crap here a lot so comments are moderated. So if you don't see your post in the comments section, be patient and check back in a few hours before re-posting it, please!
After midnight, I'll randomly pick the winner (via Random.org). So check your mailbox on Thursday morning to see who won and for the next Giveaway and Newsletter!
Hey, who won the Mini Metals Giveaway? That would be Kim R! Congratulations!
Posted by Leslie, October 23rd, 2016