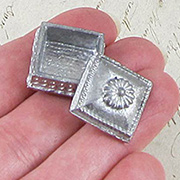 NEW Cast Metal Miniatures Section!
AND on sale;!! 25% off through MONDAY night!
Beside the adorable new items (like that clock at left and below, in a prepping & painting cast metal tutorial by Lora!) there are old faves on sale, too! Like the Miniature Square Metal Box with Lid shown at right. And check below for a big bunch of new metal minis, too!
See more and sale ends Monday night, October 24th (2016).


We've got THREE art projects today. And I'm starting off with a great tutorial on prepping and painting cast metal by Design Team Member Lora Mahaffey!
I knew Lora would be the right person to ask for this tutorial. She is so knowledgeable about jewelry techniques (and has the patience and steady hands for such tiny things). Here's a bit from Lora's blog post:
First of all, with pot metal, which is what this clock is made out of, you need to give it a good scrubbing with something like Dawn or (if you wear gloves) Trisodium Phosphate, or TSP. Dawn is the mildest option, but basically you need to do this to get the mold release compound off of the metal or nothing you put on it will stick.
Having started life in a mold, there are some bits and raw edges that can be filed off to give the clock a smoother look. I used a couple of jewelry files to do a bit of this, but this thing is so tiny that I ended up leaving it (for the most part) as is. I filed off the most obvious sticky-outy bits but the other don't show up much and basically disappear when the paint goes on, so don't worry too much about it.
Read more of Lora's tutorial in her blog post. And be sure to come back as you can win one of these metal clocks in today's Giveaway!)

Staying with the miniature cast metal theme, look at that amazingly tiny dollhouse by Design Team Coordinator Miz Bella (Kim Ayers) using the new Tiny Metal Dollhouse! I just had to include the photo showing the house next to a 7/8″ tall Miniature Book (covered with an image from the Little Library Collage Sheet) so you get an idea of how tiny it is.
Note that there is tiny furniture inside the dollhouse (that you can view from the back of the house… see the photo at right).
Other noteables: I love the tiny path through the lawn that Bella made by scratching off a bit of the ReadyGrass. Plus the whole dollhouse fits inside a Mini Glass Dome!
Read about Bella's process (and see more photos) in her blog post.

Ok… maybe you're not brave enough to tackle a metal miniature… Here is the third adorable project for today (by Design Team Member Nichola Battilana): A Miniature Chipboard Stage in which some weirdos put on a show. 🙂
"What a stage really needs are it's players. So I printed out the Little People Collage Sheet at 50%, fussy cut those suckers, and added wings. Note: I'm not entirely certain where that devilish fellow in the centre popped up from… he just sort of snuck in there!"
You can get an idea of the size of the stage from the photo of Nichola holding it on far left; the "box" part of the theatre (without the apron in front) is just 1″ deep. Read more (including some behind the scenes banter) in Nichola's blog. And here's her Supply List, too.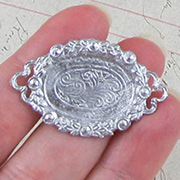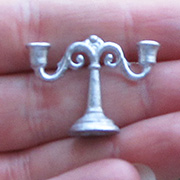 Hooray for the Mini Metals Giveaway!
Ok… this one is special. There are so many cool new options in the Cast Metal Miniatures section (plus the items that were already on the site… 26 in all) that YOU get to pick! Your choice of 5 items from the new section is today's Giveaway!
I'm sneaking in one more new one AND one more old one (photos at right): Metal Candelabra or Light Fixture and Oval Metal Tea Tray… but those are just suggestions.

To enter the Mini Metals Giveaway drawing all you have to do is leave a comment BELOW on this blog post TODAY OR TOMORROW (the deadline is 11:59 pm PST, FRIDAY, October 21 2016)!
And tell me: WHAT FIVE ITEMS WOULD YOU PICK? Here's the link to the Cast Metal Miniatures section again.
Don't forget to leave your (hello! correct) email address, too, so I can contact the winner; your email address does not need to be made public. Note: I'm offering free shipping, too, but only within the USA. International shipping will still apply.
Please be patient! Spammers try to post crap here a lot so comments are moderated. So if you don't see your post in the comments section, be patient and check back in a few hours before re-posting it, please!
After midnight, I'll randomly pick the winner (via Random.org). So check your mailbox on Sunday morning to see who won and for the next Giveaway and Newsletter!
Hey, who won the Old Cemetery Giveaway? That would be Kim Lucak! Congratulations! Check your email for more info.
Posted by Leslie, October 20th, 2016