New artwork (by Two Design Team Members!), new goodies, and…
NEW Colorful Coffins FREE Gift!
I was inspired by Design Team Member Nichola Battilana's glorious Miniature Funeral Carriage and went looking for something in the same vein (ha). These are just silly fun. Well constructed little coffins, though (and you can paint or paper over the colorful designs if you'd like a different look). Each has a lid and is covered inside and out with printed paper.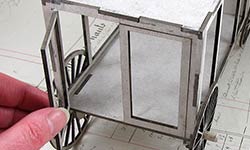 Wow! I've been wanting a carriage like this for ages. This one is laser-cut from heavy chipboard. It comes complete with the wheels and dowels for axles. The finished size is 9-3/4″ long (including the wheels) x 4″ wide x 5-1/2″ tall (and can accommodate a 6″ long coffin). See that little photo above as an idea of the mini size (and this is in 1:12 scale).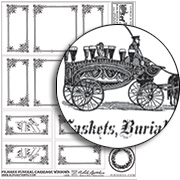 Plus, see those vintage-looking windows (in the photos of Nichola's finished artwork)? Nichola made a new Filigree Funeral Carriage Windows Collage Sheet so you can reproduce those windows if you order it on clear transparency.
On to Nichola's beautiful artwork and I'll let her explain:
"Something a little dark but (I think) lovely today. A miniature funeral carriage, inspired by beautiful Victorian horse drawn hearses.
"The Funeral Coach base is a chipboard kit. Inside I've slipped a 6 Inch Coffin Box.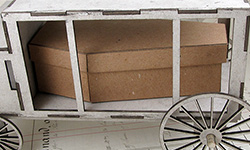 "Makers note: I actually didn't include the coffin lid and simply used the main box upside-down. I trimmed the coffin height down as I was considering adding flowers, or a traditional funerary wreath to the top and was thinking of the available space.
"The whole carriage is painted it matte black and gussied up with LOADS of black dresden borders. (I think I have a serious dresden fetish. It's like Franks Red Hot. I put that s**t on everything!)"
Ha! Read more about Nichola's project (and see lots more pretty pictures) in her blog post. And be sure to come back as EVERYTHING from Nichola's Supply List is included in today's Giveaway!)

Wow! Here is the first of two projects today by Design Team Member Caroline Ouzts-Hay. I love, love, LOVE these candles (using the recentTim Holtz Day Of The Dead #1 Cling Stamp Set), and check out how easy it is to stamp and color onto candles: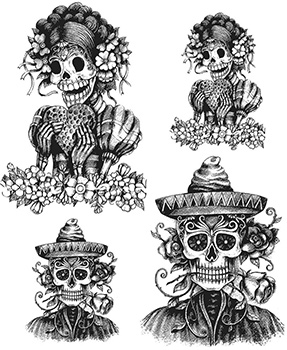 "I stamped in black ink onto white tissue paper. Then I gently colored the images (with Prismacolors). When you slightly heat the wax on the candle, the tissue paper sticks and virtually disappears except for the colored bits."
On to the second project by Caroline: Time Stands Still for No Man, using the Halloween Clocks Kit.
Beside the goodies in that kit, Caroline added a chipboard Creepy Tree, a bat (from the Creepy Critters Shapes Set) and Skeletons. It looks like the skeletons are hiding their nakedness (?) behind those clocks!
See everything Caroline used in her Supply List. And be sure to visit Caroline's blog for lots more info and photos on BOTH of her projects.

New Collage Supplies – ALL on Sale!
Hooray for the Funeral Carriage Giveaway!
Yes, you heard me right: EVERYTHING from Nichola's Miniature Funeral Carriage Supply List is included in today's Giveaway!
Bonus: A set of the Black Triangular Chipboard Banner Pennants! Those would be the perfect size to make the Spooky Halloween Banner that Kristin created for the kit announcement earlier this month.
To enter the Funeral Carriage Giveaway drawing all you have to do is leave a comment BELOW on this blog post TODAY OR TOMORROW (the deadline is 11:59 pm PST, FRIDAY, October 14 2016)!
And tell me: How will you decorate your Funeral Coach? And/or: those fun projects by Caroline also announced today: which of those is most inspiring for making some last-minute Halloween artwork?
Don't forget to leave your (hello! correct) email address, too, so I can contact the winner; your email address does not need to be made public. Note: I'm offering free shipping, too, but only within the USA. International shipping will still apply.
Please be patient! Spammers try to post crap here a lot so comments are moderated. So if you don't see your post in the comments section, be patient and check back in a few hours before re-posting it, please!
After midnight, I'll randomly pick the winner (via Random.org). So check your mailbox on Sunday morning to see who won and for the next Giveaway and Newsletter!
Hey, who won the Mausoleum Giveaway? That would be Megan Warren! Congratulations! Check your email for more info.
Posted by Leslie, October 13th, 2016