So much to see today! New art (with faux copper roof tutorial!), new goodies! And…
ALL Gypsy & Playing Cards Collage Sheets are 40% off — through MONDAY night (TOMORROW, October 10, 2016)! That's a big section (40 sheets) AND includes the new collage sheets by Laura announced on Thursday! Also includes popular items like the Tiny Magic Books & Potion Labels, Gypsy Fortune Teller #1 and Magical Books #1 Collage Sheets shown at left.


Reminder: Chipboard Reliquaries Swap Art Due!
Hey, you get an extra day as I forgot about Monday's postal holiday when I planned the swap. So you have until TUESDAY, October 11th to get your swap art in the mail to Caroline, who also made that cute sample at right!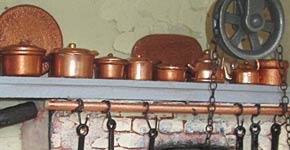 Do you remember that beautiful vintage kitchen Design Team Member Rhonda Secrist Thomas made a few month's ago? We asked what technique from her project you all would like a follow-up tutorial on. The most votes was for the aged copper pots & pans. And today we have both that tutorial and how to use embossed foil to make a copper roof! See the wide photo below for a preview of the before and after.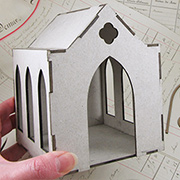 Do Not Disturb The Dead: They Will Haunt Your Dreams is a fabulous (and spooky) tomb made from the new Chipboard Mausoleum Kit.
The kit is a combo package of 3 parts (also available separately)… Rhonda used all the parts:
– Chipboard Mausoleum Set (I'm holding it in the photo above; the set also includes overlays for the window and door on the front)
– Turrets – Set of 4 (just like it sounds… 4 tiny little turrets sized for the 4 corners of the roof; you can't see the front of the turrets in the photo at right, but check out that cute owl in a close-up below)
– Gothic Window Overlays for Mausoleum (overlays for the 6 windows on the sides)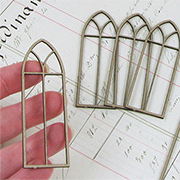 Now back to the spooky… from Rhonda's post:
There's a spot in the woods behind Marie's kitchen. It's a mausoleum surrounded by an old gate.
It's been there for a really long time and it creeps me out so bad. Sometimes at night, when the mysterious lights are flickering inside, it looks like there's someone in there. But it's sealed up really tight and no one can get in or out.
It has an eerie copper roof and if you stare at it long enough, you can see the faces that have formed while the weathering verdigris has set in and still continues…
Read more of Rhonda's story, and see more photos (and that tutorial) on Rhonda's blog post, and see her full Supply List.
Psst! Check below, too, 'cause lot of items from Rhonda's supply list are included in today's GIVEAWAY!


Hooray for the Mausoleum Giveaway!
I picked out a (short but very sweet) group of supplies used in Rhonda's artwork to include in today's Giveaway:

– Chipboard Mausoleum Full Kit – new!
– Small Architectural Finials
– Small Brick Wall Texture Sheet – new!
– Small Ceramic Horned Owl Bead
– Tiny Tombstones Shape Set – new!
– LED Tea Light
– Miniature Rusty Picket Fence
Just click on this Supply List link for photos and links to everything in Rhonda's artwork, including all of the Giveaway items listed above!
To enter the Mausoleum Giveaway drawing all you have to do is leave a comment BELOW on this blog post TODAY OR TOMORROW (the deadline is 11:59 pm PST, MONDAY NIGHT, October 10, 2016). And tell me: How would you decorate your mausoleum? Spooky for Halloween? Maybe some faux stained glass windows for Christmas?
Don't forget to leave your (hello! correct) email address, too, so I can contact the winner; your email address does not need to be made public. Note: I'm offering free shipping, too, but only within the USA. International shipping will still apply.
Please be patient! Spammers try to post crap here a lot so comments are moderated. So if you don't see your post in the comments section, be patient and check back in a few hours before re-posting it, please!
After midnight, I'll randomly pick the winner (via Random.org). So check your mailbox on Thursday morning to see who won and for the next Giveaway and Newsletter!
Hey, who won the Gypsy Fortune Teller Giveaway? That would be Lana! Congratulations! Check your email for more info.
Posted by Leslie, October 9th, 2016