New art (with video tutorial!), new goodies, new FREE gift! And…
ALL Gypsy & Playing Cards Collage Sheets are 40% off — through MONDAY night (October 10, 2016)! That's a big section (over 40 sheets) AND includes the new collage sheets by Laura announced today! Also includes popular items like the Tiny Magic Books & Potion Labels, Gypsy Fortune Teller #1 and Magical Books #1 Collage Sheets shown at right.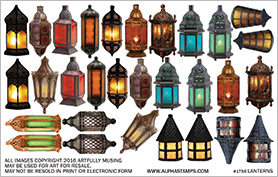 FREE Lanterns Collage Sheet!
In honor of Design Team Member Laura Carson's Madam Rue Gypsy Fortune Teller, ALL ORDERS on Thursday, Friday AND Saturday, October 6th through 8th (2016) will receive one of these new collage sheets FREE! This sheet contains 15 different lanterns with two of each style of lantern for a total of 30 images and was designed by Laura!

I took a color cue from Laura and today's new items are full of saturated hues for Autumn!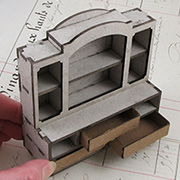 Wow! Believe it or not, this entire project started with that wee hutch at left (just 4″ wide). Laura obviously loves fortune tellers and tents (like this earlier one), and has made this new fortune teller tent full of color and textures (and lots of props)!

I love this tent lit up, too. See the wide photo below to see what I mean. Laura cleverly used washers (painted gold) as borders (covers?) around the holes in the base platform, that are sitting around each bulb in the Mini Globe String Lights. (And don't fret: Laura explains how she made the holes, and built everything you see, in her tutorial.)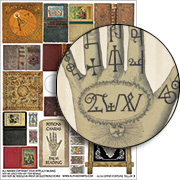 Here comes another Halloween project,
although I'm thinking gypsies are never out of season.
For those who have built or are building the
Halloween Carnival, this is a piece you might want to add to your display.
My choice of a jeweled toned color palette comes from looking at pictures of gypsy caravans where I noticed bright colors, fabrics, beading, fringe and bling.
What did I love the most about this project?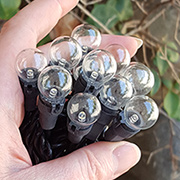 I think the mini globe lighting is right at the top. I wish I could go back to some of my older pieces and use the lighting.
It would also look cool with the Mad Scientist Lab from earlier in the summer.
I also love the furniture which is made from either a kit or from unfinished wood items. My particular favorite is the 3 Panel Hutch sitting on top of a Library Table. The furniture pieces could easily work standalone or as part of another one of your projects.
Don't sweat the details as there is a video tutorial where I'll walk you through creating Madam Rue's tent.
See everything Laura used to create Madam Rue Gypsy Fortune Teller in her Supply List. And be sure to visit Laura's blog for lots more photos and that tutorial. (And check below as lots of items from Laura's artwork are included in today's Giveaway!)

Hooray for the Gypsy Fortune Teller Giveaway!
I decided to focus on this table from Laura's project. I've picked out the obvious items shown here, plus the table that's underneath it all!
Here's the list of items included in the Giveaway:
– Gypsy Fortune Teller #3 Collage Sheet (the tarot cards on the table, and the square top tablecloth — and the book covers) – New!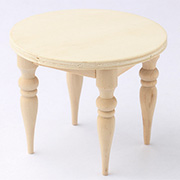 – Unfinished Round Table – Spindle Legs
– 10mm Square Glass Bottle with Lid
– 12x8mm Green Glass Rectangular Beads
– American Crow
– Black 3-Piece Candleholder Set
– 16mm Clear Glass Marble
– Fancy Swirl Bead Caps (the base of the crystal ball)
– Iridescent Crescent Moon Beads (one is sitting on a green bead as a bottle stopper)
– Gold Dark Mix Sweeper Fringe – New!
Wow!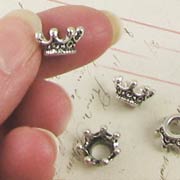 Just click on this Supply List link for photos and links to everything in Laura's artwork, including all of the Giveaway items listed above!
Bonus: A set of the back in stock Tiny Antique Silver 3D Crowns!
AND as I've just put them on Clearance Sale: A set of the Bronze Suitcase Latches!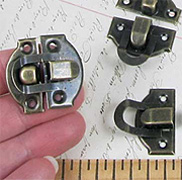 To enter the Gypsy Fortune Teller Giveaway drawing all you have to do is leave a comment BELOW on this blog post TODAY OR TOMORROW (the deadline is 11:59 pm PST, FRIDAY, October 7 2016)!
And tell me: What will you make with this mix of items? And/or: What is most novel or useful to you from Laura's tutorial?
Don't forget to leave your (hello! correct) email address, too, so I can contact the winner; your email address does not need to be made public. Note: I'm offering free shipping, too, but only within the USA. International shipping will still apply.
Please be patient! Spammers try to post crap here a lot so comments are moderated. So if you don't see your post in the comments section, be patient and check back in a few hours before re-posting it, please!
After midnight, I'll randomly pick the winner (via Random.org). So check your mailbox on Sunday morning to see who won and for the next Giveaway and Newsletter!
Hey, who won the Wonderfully Wicked Giveaway? That would be Kimberly Laws! Congratulations! Check your email for more info.
Posted by Leslie, October 6th, 2016