New art, new goodies! It's almost October (can you believe it?) so I've added a NEW Collage Sheet Sale and a new FREE Gift, both with October in mind!
ALL Halloween Collage Sheets are 40% off — through FRIDAY night (September 30, 2016)! WOW! That's a huge section (148 sheets) so grab all those spooky witches, goblins and skeletons you need right now for Halloween projects! Includes popular items like the Witchy Little Labels & Ephemera and Spooky Windows Collage Sheets shown at right.

NEW Fuzzy Fall Fiber Set FREE Gift! In honor of autumn, just around the corner, I've made up little gift sets from the same fibers in this beautiful new Fuzzy Fall Fiber Set! Nice! A new set of soft, fuzzy fibers, just in time for Halloween or all fall/harvesty projects. This set is less black, more tan than the Halloween Fiber Set (but still includes lots of green, orange and purple). These sets are FREE for ALL orders, now through TUESDAY NIGHT, September 27, 2016!

Once again, Design Team Member Laura Carson
does not disappoint! She has made two tombs (shrines really):
These tombs are my memoriam to Edgar Allan Poe and Marie Antoinette; both gothic, one darker and serious and the other humorous.
With Poe I featured images of people and animals from his literature. For Marie, I decided to feature her head, which under the circumstances I thought was appropriate. I envisioned her with gothic makeup and a crazy hairdo made from cotton balls.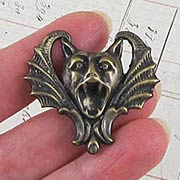 I pulled cotton balls apart in long sections. Next, I glued the sections to her paper hair until I felt like it was full enough. It would be easy to shape it into a pouf or any other style you might like.
Be sure to read more on Laura's blog post. I think the dyed purple cheesecloth draped behind the oval portrait frame adds the perfect contrast to this subtly colored piece.

Moving on to Poe… sigh. Laura, this is such a beautiful shrine! Beside his beloved, Annabelle Lee, see the wide photos below for the full effect with all of the pieces together.
A pretty and easy addition to the Annabelle Lee reliquary is the new Cherub Pendant. I'm sure these pendants will be handy for Christmas projects, too.
I dressed up the top with tea dyed
cheese cloth and flanking each side of the pediment are angels from the Facade Architecture Collage Sheet. The picture of Poe comes from the the Just Poe Collage Sheet and the frame is from the Ghostmore Image Set. At the bottom is a fence made from a Chipboard Gothic Border Trim and painted black. Behind the fence is a piece of Baroque Black Dresden.
Read more step-by-step instructions, and see more photos in Laura's blog post, and see her full Supply Lists: Edgar Allan Poe Tomb and Marie Antoinette Tomb.


Wow! Next up is The Charnel House by Design Team Member Shannon Cooper, a spooky Halloween book made from the chipboard tombs (and a lot of other goodies). Beside that fun collage at left, see the wide photo below, too. I love all the texture on these pages. The scrapbook papers from the Miniature Reliquaries Kit are a good start (like the Ancient Stucco Scrapbook Paper in the background at left), then Shannon built up layers of collage sheet images, die-cut chipboard pieces, charms, watercolor pencils, stamps, Dresden trim, markers, paint, and ink.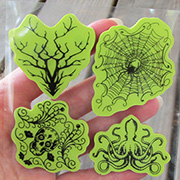 I bet you didn't recognize the children from the Little Imps Collage Sheet as those creepy kids at left!
"These tiny ghouls are ready for some devilment, don't you think? They are a little more frightening with stringy hair and bloodshot eyes, made from a bit of fiber and shimmering red Stickles. Again I chopped off parts of some collage images and added others; so many parts, so little time (before Hallowe'en is here)!"
And the stamps from the 4 Halloween Corners Cling Stamp Set were used all over the place, to add texture and shadows.
Good job, Shannon! Read more, and see more photos on Shannon's blog post, and see her full Supply List. Psst! Check below, too, 'cause tons of goodies from Shannon's supply list are included in today's GIVEAWAY!


Hooray for the The Charnel House Giveaway!
I picked out a bunch of supplies used in Shannon's artwork to include in today's Giveaway:
– Gothic Arch Tomb
– Creepy Tree – 5 Inch
– Lock Spiders – Set of 3 (see how Shannon used it in the tomb window?)
– 4 Halloween Corners Cling Stamp Set
– Ancient Stucco Scrapbook Paper
– Black Dresden Border Sampler Set
– Little Imps Collage Sheet
– German Expressionist Horror Collage Sheet
– Poe Story Elements Collage Sheet
Just click on this Supply List link for photos and links to everything in Shannon's artwork, including all of the Giveaway items listed above!
Bonus: see those 3 scrapbook papers at the bottom of the photo at right? I'm included those, too! They were announced last Thursday and I think they look great together (and for Halloween): Black Woodgrain Scrapbook Paper, Mysterious Skeleton Damask Scrapbook Paper and Barber Shoppe Razor Scrapbook Paper.
AND as I've just put them on Clearance Sale: One of the Bronze Bird on Branch Charm! Check out some other birds just put on clearance.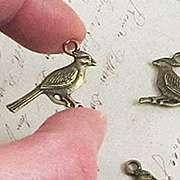 To enter the The Charnel House Giveaway drawing all you have to do is leave a comment BELOW on this blog post TODAY OR TOMORROW (the deadline is 11:59 pm PST, MONDAY NIGHT, September 26, 2016). And tell me: How would you build up texture on your chipboard tombs? Shannon used watercolor pencils, stamps, Dresden trim, markers, paint, and ink (beyond flat papers)…
Don't forget to leave your (hello! correct) email address, too, so I can contact the winner; your email address does not need to be made public. Note: I'm offering free shipping, too, but only within the USA. International shipping will still apply.
Please be patient! Spammers try to post crap here a lot so comments are moderated. So if you don't see your post in the comments section, be patient and check back in a few hours before re-posting it, please!
After midnight, I'll randomly pick the winner (via Random.org). So check your mailbox on Thursday morning to see who won and for the next Giveaway and Newsletter!
Hey, who won The Hanging Tree Tunnel Book Giveaway? That would be Jackie PN! Congratulations! Check your email for more info
Posted by Leslie, September 25th, 2016