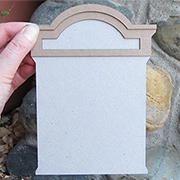 Design Team Member Betsy Skagen took two of the tomb shapes announced earlier this month and turned them into The Hanging Tree Altered Art Tunnel Book. Wow. This is a a great idea (and haunting book) and Betsy also provides a tutorial on how to make the pages (with doorways that get gradually smaller) and how to bind them, too.
I love all the textures and bits of layers from later in the book that you can see through the doorways. See the wide photo below for a bigger view that might help you see what I mean. (And check out Betsy's blog post for larger photos.)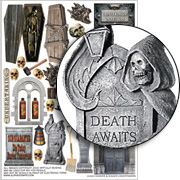 Also note that lantern with a working light in the lower right of the photo at right. Betsy shows how to hide the wires from the lantern in a little wooden coffin that folds together (a paper coffin that looks like wood).

Here are the lyrics that inspired the project:
Are you, are you
Coming to the tree?
Wear a necklace of rope,
Side by side with me.
Strange things did happen here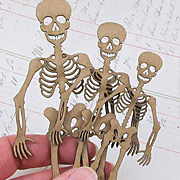 No stranger would it be
If we met at midnight
In the hanging tree
See everything Betsy used to create The Hanging Tree Altered Art Tunnel Book in her Supply List. And be sure to visit Betsy's blog for lots more photos and that tutorial. (And check below as lots of items from Betsy's artwork are included in today's Giveaway!)


Hooray for The Hanging Tree Tunnel Book Giveaway!
I decided to focus on this page spread from Betsy's book. I've picked out the obvious items shown here, plus a few just glimpsed through the doorway.
Here's the list of items included in the Giveaway:
– Round Roman Pediment Tomb
– Triangular Greek Pediment Tomb
– Spiderweb Gate
– Decorative Windows Set 1:24
– Creepy Tree – 5 Inch
– Rust Damask Wallpaper Scrapbook Paper
– Mysterious Plaid Sheet Music Scrapbook Paper
– Black Mini Paper Blooms
– Stitched Leaf Ribbon – Black
– Cadaver & Digger Undertakers Collage Sheet
Just click on this Supply List link for photos and links to everything in Betsy's artwork, including all of the Giveaway items listed above!

To enter The Hanging Tree Tunnel Book Giveaway drawing all you have to do is leave a comment BELOW on this blog post TODAY OR TOMORROW (the deadline is 11:59 pm PST, FRIDAY, September 23 2016)!
And tell me: What will you make with your 2 tomb shapes?

Don't forget to leave your (hello! correct) email address, too, so I can contact the winner; your email address does not need to be made public. Note: I'm offering free shipping, too, but only within the USA. International shipping will still apply.
Please be patient! Spammers try to post crap here a lot so comments are moderated. So if you don't see your post in the comments section, be patient and check back in a few hours before re-posting it, please!
After midnight, I'll randomly pick the winner (via Random.org). So check your mailbox on Sunday morning to see who won and for the next Giveaway and Newsletter!
Hey, who won Play Amongst the Crypts Giveaway? That would be Mary Mac! Congratulations! Check your email for more info.
Posted by Leslie, September 22nd, 2016