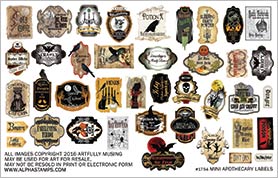 New FREE Collage Sheet! What? A new sheet by Design Team Member Laura Carson, with tons of cool, custom (spooky) labels for tiny bottles!
These Mini Apothecary Labels are from Laura's Pretty Potions and Poisons Apothecary sized small for tiny bottles!
ALL ORDERS on Thursday, Friday AND Saturday, September 15th through 17th (2016) will receive one of these new collage sheets FREE! More info


Chipboard Reliquaries Swap!
A reminder about our current swap… and swap sample artwork at right by Design Team Member (and our swap hostess) Caroline Ouzts-Hay! I love the ruffled edging Caroline made from seam binding (and the texture over the chipboard overlay made from Dimensional Snow! (Really… under that dark blue paint is snow.)
Sign up by Monday, September 19th. And you could win $100 of Art Supplies from Alpha Stamps! Learn more.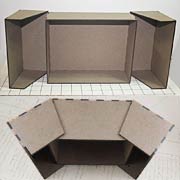 NEW Split Front Box – Large! Remember the Split Front Box from Kristin Batsel's Freak Show? This is a larger version! Approx. 9″ wide x 7″ tall x 3″ deep when closed.
And Laura Carson has made an amazing Mini Apothecary with this new box! (Ok… "mini" might be confusing. But Laura's apothecary is mini compared to the large one she made a couple years ago.)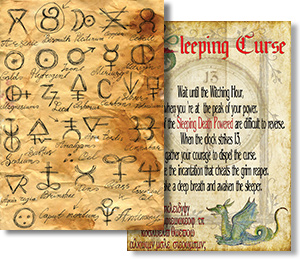 Laura designed a large group of new collage sheets and digital image sets with book covers and pages for making magical books to fill your apothecary.
"With a library filled with magical books, you'll need a special bookstand with a mechanical gizmo that lets you decipher hidden text and tricky spells.
"In the video I'll show you various bookmaking techniques, using my new collage sheet images and other materials.
"I've written a series of spells, enchantments, and potions to incorporate into small handmade books. Well except for the "Witches Brew" by Shakespeare. Some are dark and some are light, something for everyone.

"Of course you can't have an apothecary without bottles. In the video I'll the various types of spray paints I used to color and texture the bottles.
"Checkout the bowl held by two dragons (colored brown and shown in photo at left). Guess what, it's half of a ping pong ball."

I borrowed an image at right (from Laura's video tutorial) to show a "before and after" shot of the chipboard dragons on the front doors/covers of the box. Such a cool idea to just use some chunky yarn to add veins to the wings, before adding color and texture.
See everything Laura used to create her Mini Apothecary in her Supply List. And be sure to visit Laura's blog for lots more tips and photos and that video tutorial. (And check below as lots of items from Laura's artwork are included in today's Giveaway!)


Hooray for the Mini Apothecary Giveaway!
Ok… I had to focus on a little section so I didn't lose my mind. I picked the inside of this door. I particularly like the little niche in the book sitting on top. And the clever use of pen niibs as the legs for the candle holder.
So even keeping to this small section, here's the list of items from Laura's Supply List included in the Giveaway:
– Split Front Box – Large – New
– Magical Books #1 Collage Sheet – New
– Magical Books #2 Collage Sheet – New
– Magical Book Pages Collage Sheet – New
– Large Bronze Oak Leaf Acorn Bead Cap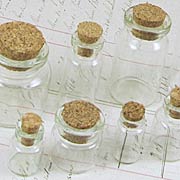 – Small Amber Bottles with Corks
– Halloween Green Texture Scrapbook Paper
– Sage Asian Floral- Brass Skull & Cross Bones Charms
Scrapbook Paper
– Apothecary Labels #2 Collage Sheet
– Dark Rusty Red Suede Paper
– Potion Bottles Sampler Set (!)

AND since I pointed them out above, 2 more things:
– Ceramic Winged Dragon Bead
– Halloween Fiber Set (used for the veins on the chipboard dragon's wings)
Just click on this Supply List link for photos and links to everything in Laura's artwork, including all of the Giveaway items listed above!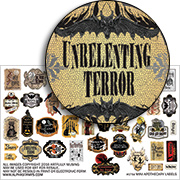 Bonus: One of the Mini Apothecary Labels FREE Gift Sheets!

To enter the Mini Apothecary Giveaway drawing all you have to do is leave a comment BELOW on this blog post TODAY OR TOMORROW (the deadline is 11:59 pm PST, FRIDAY, September 16 2016)!
And tell me: What will you make with your Split Front Box? AND with all this swag?

Don't forget to leave your (hello! correct) email address, too, so I can contact the winner; your email address does not need to be made public. Note: I'm offering free shipping, too, but only within the USA. International shipping will still apply.
Please be patient! Spammers try to post crap here a lot so comments are moderated. So if you don't see your post in the comments section, be patient and check back in a few hours before re-posting it, please!
After midnight, I'll randomly pick the winner (via Random.org). So check your mailbox on Sunday morning to see who won and for the next Giveaway and Newsletter!
Hey, who won Sweet Retro Christmas Cabinet Giveaway? That would be Catharine McCammon! Congratulations! Check your email for more info.
Posted by Leslie, September 15th, 2016