Quick announcement before the new Miniature Reliquaries Kit and Swap (!):
Halloween Theme Section (20% to 50% off! Yes! Tons of Halloween goodies: scrapbook papers, ribbons, chipboard shapes, charms, beads, stencils, Dresden borders, stickers…) To give you a chance to stock up for the swap, this section will stay on sale through Monday, September 19th (that is the same date as the deadline to sign up for the swap). But many items in there are being discontinued, so when they're gone, they're gone!

Miniature Reliquaries Kit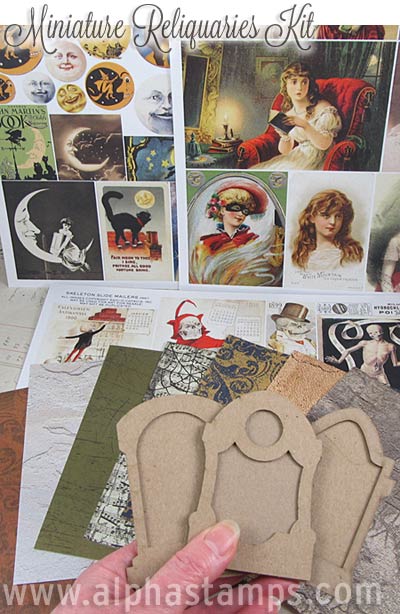 Ooh! It's time for some Halloween projects! This kit started with some sketches of Paris cemetery tombs that became the 3 chipboard Miniature Reliquaries in the kit (note: there are some larger tombs being announced today, too). There are also 3 collage sheets, with images from spooky skeletons to sweet Man in the Moon illustrations (and 7 scrapbook papers as backgrounds).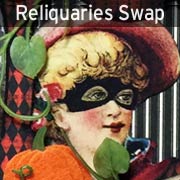 AND there is a Chipboard Reliquaries Swap using the Miniature Reliquaries in this kit! So if you'd like to join the swap, you'll have everything you need in this kit (save signing up and paying for return postage; you can do both those things on the Chipboard Reliquaries Swap page)!
Back to this kit, let's start with Miniature Reliquaries: 3 ATC-sized chipboard shapes (each is 2 pieces: a solid back and a matching shaped overlay/frame). The one with a round niche at the top will fit an 18mm cabochon.
Next up in this kit are 3 collage sheets: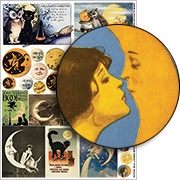 – New How Sweet the Moon. Aw… these are sweet indeed! Vintage images, mainly from postcards, of the smiling Man in the Moon, along with cats, owls, sweethearts, and pumpkin-headed children? Note: the smaller silhouetted images are sized to fit 18mm cabochons (the same size as the round inset in the top of one of the Miniature Reliquaries).
– New Romantic Victorian Halloween Women Collage Sheet. Not just for Halloween, but these lovely ladies would make a good image to frame in an ATC or a Miniature Reliquary.
More info, photos and artwork are on the Miniature Reliquaries Kit page. And even more artwork using the Miniature Reliquaries is on the swap page AND in the Gallery!


Lora Mahaffey's Haunted Pub Signs
Before I let Lora tell you about her inspiration for these wonderfully creative signs, a little info on the new Tomb Sets they're made from: There are 3 sets, each is a heavy chipboard base with a medium-weight chipboard overlay (so the pediments or window frames have more dimension). One is shown below with one of the Miniature Reliquaries (for size comparison).
"I love the charming signs you see in the UK hanging from the buildings advertising various wares, restaurants and pubs. Most of them are suspended by wrought iron brackets and so many of them are funny, odd and eccentric. My favorite pub in England is in the beautiful and pretty dang old city of York. It's a tiny place in an authentic Norman building constructed in 1180. (!!!) You wend your way up a very dark, narrow stairway that suddenly opens up into a beautiful and kind of creepy (but smallish) pub that cranks out some of the best food in the city. The beams up there are from a ship that sailed the seas eight hundred years ago.
The place is called The House of Trembling Madness. Gotta love it.
And the icing on the cake, or the foam on the beer, is that to get to the stairway you have to walk through the most amazing beer shop I've ever seen. It's a beer drinker's Nirvana.
And they have a really cool sign… "
See all of the parts in the Haunted Pub Signs Supply List. Visit Lora's Blog for more details, tutorial and photos. AND be sure to come back as today's Giveaway includes EVERYTHING in Lora's supply list!
(Psst! See that skeleton sitting on the wooden base over on the bottom left of that large photo? Lora did a tutorial on how to make an articulated skeleton!)

Hooray for Dark Nellie's Giveaway!
Psst! That variation (shown at right) of how to mount/hang the pub signs is covered in Lora's blog post!
Today's Giveaway starts with… THE NEW KIT:
Miniature Reliquaries Kit (includes ELEVEN items!)!
And then everything in Lora's Haunted Pub Signs Supply List! I know… a crazy amount of supplies! Just the new items in Lora's list include:
– Triangular Greek Pediment Tomb
– Round Roman Pediment Tomb
– THREE Scrapbook Papers
– Small Rose Buds – Orange
– Tiny Paper Roses – Orange
Just click on this Supply List link for photos and links to everything in Lora's artwork, which is also what's in the Giveaway! (Plus the new kit!)

To enter Dark Nellie's Giveaway drawing all you have to do is leave a comment BELOW on this blog post TODAY OR TOMORROW (the deadline is 11:59 pm PST, MONDAY NIGHT, September 5, 2016). And tell me: What will you make with the TWO Tombs and/or Miniature Reliquaries Kit (both in the Giveaway)? And will you enter the swap?
Don't forget to leave your (hello! correct) email address, too, so I can contact the winner; your email address does not need to be made public. Note: I'm offering free shipping, too, but only within the USA. International shipping will still apply.
Please be patient! Spammers try to post crap here a lot so comments are moderated. So if you don't see your post in the comments section, be patient and check back in a few hours before re-posting it, please!
After midnight, I'll randomly pick the winner (via Random.org). So check your mailbox on Thursday morning to see who won and for the next Giveaway and Newsletter!
Hey, who won the Don't Go Near the Apothecary Giveaway? That would be cg! Congrats! Check your email for more info.
Posted by Leslie, September 4th, 2016