It all starts so subdued (in a Laura Carson over-the-top kinda way)… with a dark and stormy night, complete with lightning. With pumpkins at the doors and vines trailing up the walls of a Mad Scientist Laboratory!
It's that time of the year when I get my Halloween groove on and bring you new spooky projects. The first one of the season is a new addition to last year's Halloween Village, a Mad Scientist Laboratory.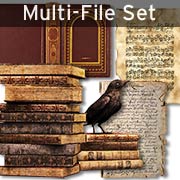 It's sort of a mix of Dr. Frankenstein's laboratory, meets old 50s and 60s Science Fiction movies with a touch of steampunk.
Yes, indeed! Laura has created 2 new collage sheets (one of those two is actually a set) AND 2 new large sets of digital images… Gizmos and dials, chemicals in bottles, signage, old books and papers, and parchments with odd scientific plans.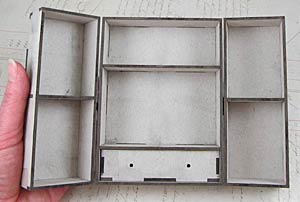 And if you look below at that wider photo, over on the right side of the room is the new Apothecary Cabinet for Larger Bottles! Filled to overflowing with books, bottles (including 3 colored bottles sitting in the new Flask Stand), Laura has put it to good use. I think it will be a great little cabinet for all kinds of scenes. The "larger" in the name means bottles up to 2″ tall (not that large, but pretty large compared to dollhouse scale). This new cabinet has nice big sections for bottles and whatnot, including sections for bottles in the 2 doors.


There's Dr. Derange himself, over on the far left… in front of a table and blackboard filled with formulas and experiments.
Zooming in on that Apothecary Cabinet again (and in the close-up below) there are three Blue Glass Mason Jars on top, along with a skull in a tall glass dome and a raven in a round glass dome.

My favorite mechanical minion created by Dr. Derange is that one-eyed fellow at left, with a Bronze Steampunk Diving Helmet and one of the 12mm Glass Cat Eyes as his eye/head!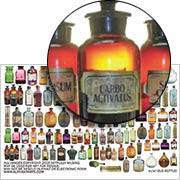 See everything Laura used in her Supply List. More info, lots more photos, AND a video tutorial are in Laura's blog post. Plus come back and enter the Giveaway below for lots of items from that supply list!
FREE GIFT! Note: In honor of Laura's Mad Scientist Laboratory, ALL ORDERS TODAY & TOMORROW, August 28th and 29th (2016) will receive one of the new Old Bottles Collage Sheet FREE! (This mini collage was designed by Laura, and is packed full of all kinds of old bottles in two sizes.)

Highlights of Today's New Goodies – ALL on Sale!


Apothecary Cabinet for Larger Bottles

Mad Scientist Laboratory Digital Set Download

Mad Scientist Laboratory Collage 2-Sheet Set

Old Books & Papers Digital Set Download

Round Black Knobs – Set of 6 See all FOUR new styles of tiny knobs!

Books, Letters, Music & Parchment Collage Sheet

Mini Green Pumpkins – Set of 4

Flask Stand – 3 Hole

Hooray for the Mad Scientist Laboratory Giveaway!
I picked out a big bunch of things from Laura's Supply List:
– Apothecary Cabinet for Larger Bottles New
– 12mm Glass Cat Eyes
– 12mm Setting Bronze Steampunk Diving Helmet
– Ghoulish Green Mini Resin Jar
– Mini Foam Brain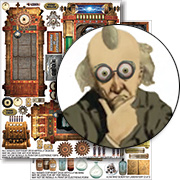 – Mad Scientist Laboratory Collage 2-Sheet Set New
– Haunted House Black Chipboard Set
– Flask Stand – 3 Hole New
– Tiny Round Bottles
– Twig Vine Garland New
Just click on this Supply List link for photos and links to everything in Laura's artwork, including all of the Giveaway items listed above!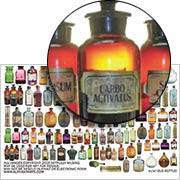 Bonus: One of the Old Bottles Collage Sheets!

To enter the Mad Scientist Laboratory Giveaway drawing all you have to do is leave a comment BELOW on this blog post TODAY OR TOMORROW (the deadline is 11:59 pm PST, MONDAY NIGHT, August 29, 2016). And tell me: What technique or clever use of a non-art supply from Laura's project would you like to try? And/or what Halloween project would you make with the goodies in the Giveaway!
Don't forget to leave your (hello! correct) email address, too, so I can contact the winner; your email address does not need to be made public. Note: I'm offering free shipping, too, but only within the USA. International shipping will still apply.
Please be patient! Spammers try to post crap here a lot so comments are moderated. So if you don't see your post in the comments section, be patient and check back in a few hours before re-posting it, please!
After midnight, I'll randomly pick the winner (via Random.org). So check your mailbox on Thursday morning to see who won and for the next Giveaway and Newsletter!
Hey, who won Freak Show Giveaway? That would be Carolyn Sullivan! Congratulations!
Posted by Leslie, August 28th, 2016