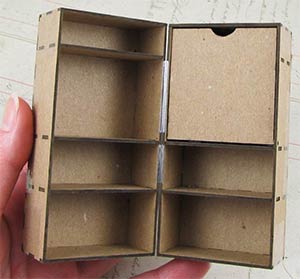 We have an embarrassment of riches today — THREE project all using miniature steamer trunks and all so different (and so well executed). Two of the project were created using the new 4 Inch Chipboard Steamer Trunk: A tiny kit (laser-cut chipboard) to put together a mini version of the Chipboard Steamer Trunk – Large Size. Love the tiny desktop that folds down!
Let's start with a nostalgic trip to Paris, by Guest Designer Angie Cook! I love what Angie did with the trunk (and suitcase and chair). You'll note that the new steamer trunk comes with a shelf on the left side (opposite side from the drop-down desktop), but Angie chose to omit that shelf to make space for a post to hang tiny clothes hangers. Good idea!
Angie's trunk uses papers from the Tiny Suitcase Kit, plus lots of little accessories like postcards, a scrapbook, a passport, keys, and a hat box from the earlier Steamer Trunk Parts Collage Sheet.
Good job, Angie! Read more on Angie's blog post, and see her full Supply List.


Next up (for a complete change of pace!) is Packing for a Trip to Transylvania by Teri Calia. Wow! Feeling like a Halloween project?! This should give you lots of inspiration.
Teri started by gluing TWO of the Corner Room Boxes together (to make an "L" shaped room — trust me… or check out her blog… so many cool things to show from her project that I can't fit all the photos in!) Luckily the walls that form the corner can be configured on the left or right side of the platform. Plus Teri shows how she filled in some gaps then papered over the whole thing so you can't tell it's two room boxes underneath.
I love how she recolored all the furniture (those pieces started out stained in various wood tones). AND THAT MARTINI! Ack! On a table with a raven atop a skull — brilliant!
Next thing to note: there are now 3 sizes of tiny suitcases (so you can stack them up or just have more 1:12 scale sizes to play with.
And, the new Armchair with Red Velvet Upholstery — love it! Teri also recolored this one (as it was stained mahogany) but that red upholstery works perfectly with the red "velvet" drawers Teri made for her steamer trunk, using the new Red Suede Paper.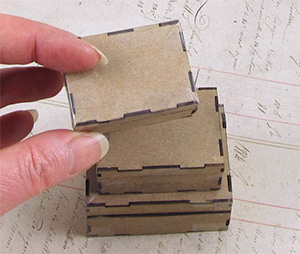 Here's some info from Teri's blog post:
When I build a miniature scene in a room box, I like to add the pieces I plan to use slowly and move them around until I find just the right balance… I usually glue everything down, but, this time I decided to use Museum Wax to fix the pieces in place so I could redecorate later if I want to.
By the way, I created a collage sheet with drawers for the new Steamer Trunk but I ended up using them inside out because they clashed with my black and white damask exterior paper, lol.
Even more info and photos are in Teri's blog post. See everything Teri used in her Supply List.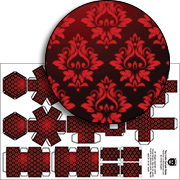 FREE GIFT! In honor of Teri's Packing for a Trip to Transylvania, using the new Tiny Little Damask Boxes Half Sheet, ALL ORDERS on Sunday and Monday, August 21st and 22nd (2016) will receive a Tiny Boxes & Suede Trim FREE Gift Kit including one of these new mini collage sheets, AND a little square of the new Black Suede Paper! A bit hard to see as the boxes are so dang tiny, but I'm holding a little strip of the suede paper as a hat box handle (over on the far right). More info

It's true… we still have one more steamer trunk to admire! This clever and funny Houdini Steamer Trunk by Design Team Member Betsy Skagen uses the original Chipboard Steamer Trunk (which, by the way, is on sale). I love the barbie doll legs sticking out! And how clever is that: that rabbit in the top hat is covered in Dimensional Snow! See Betsy's blog post for more info (including how to make the rabbit and the top hat). See everything Betsy used in her Supply List.


Hooray for the Miniature Steamer Trunk Giveaway!
I picked out a big bunch of things from Teri's Supply List:
– Chipboard Steamer Trunk – 4 Inch
– Meeting the Wolf Collage Sheet (did you notice that portrait of Red Riding Hood on the wall?)
– Nonbreakable Mirror Material
– Red Wide Lace
– Die-Cut Black Cats
– Miniature Flying Bats
– 1-5/8 Inch Suitcase
– 4 Inch Steamer Trunk – Damask Collage Sheet
– Corner Room Box
Just click on this Supply List link for photos and links to everything in Teri's artwork, including all of the Giveaway items listed above!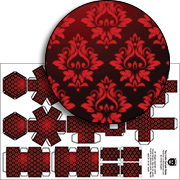 Bonus: One of the Tiny Boxes & Suede Trim FREE Gift Kits!

To enter the Miniature Steamer Trunk Giveaway drawing all you have to do is leave a comment BELOW on this blog post TODAY OR TOMORROW (the deadline is 11:59 pm PST, MONDAY NIGHT, August 22, 2016). And tell me: How will you decorate your Miniature Steamer Trunk?
Don't forget to leave your (hello! correct) email address, too, so I can contact the winner; your email address does not need to be made public. Note: I'm offering free shipping, too, but only within the USA. International shipping will still apply.
Please be patient! Spammers try to post crap here a lot so comments are moderated. So if you don't see your post in the comments section, be patient and check back in a few hours before re-posting it, please!
After midnight, I'll randomly pick the winner (via Random.org). So check your mailbox on Thursday morning to see who won and for the next Giveaway and Newsletter!
Hey, who won Time for a Safari Giveaway? That would be Diane Lewandowski! Congratulations!
Posted by Leslie, August 21st, 2016