Design Team Member Nichola Battilana is such a gem! Just look at those delightful lanterns! (Including pretty dragons… not a phrase I often use.)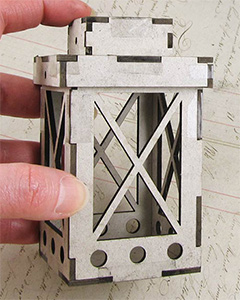 Starting with the new Industrial Lanterns: I love these! A flat kit, laser cut from heavy chipboard, to make a little lantern with a separate lid. It just fits a tea light and has holes through the lid and 2 sides of the top so you can string them.
And note how tiny they are in the little photo with my hand (just 2-1/4″ x 2-1/4″ at the base, and 4-1/4″ tall including the lid).
Here's some intro text from Nichola's blog post:
They're really cute, like small railroad lanterns, but of course I've filled mine with dragons and fairies 😉
Each side of the lanterns has an 'X' across it, but it's easily chopped off if you want to show off a mini dragon or fairy silhouette.
Which brings me to: new chipboard sets of silhouettes, designed for using in the Industrial Lanterns (easier to punch out… and less expensive than the earlier dragons and fairies).
More info and photos of the lantern artwork (and some tips on backing the windows and hanging) are in Nichola's blog post.
See everything Nichola used in her Supply List.

Highlights of Today's New Goodies – ALL on Sale!

Hooray for the Tiny Industrial Lantern Giveaway!
I picked out a big bunch of pretty things from Nichola's Supply List:
– Industrial Lantern
– LED Tea Light
– Miniature Fairies Silhouettes
– Miniature Dragon Silhouettes
– Thin Fleur Dresden Borders – Black
– Mini Floral Dresden Borders – Antique Gold
– Fluted Ring Pull
– Mini Fern Garland
– Mini Red Pip Berry Garland
– Antique Bronze Bird Skull Pendant
– Black Mini Paper Blooms
Just click on this Supply List link for photos and links to everything in Nichola's artwork, including all of the Giveaway items listed above!

To enter the Tiny Industrial Lantern Giveaway drawing all you have to do is leave a comment BELOW on this blog post TODAY OR TOMORROW (the deadline is 11:59 pm PST, MONDAY NIGHT, August 15, 2016). And tell me: How will you decorate your lantern?
Don't forget to leave your (hello! correct) email address, too, so I can contact the winner; your email address does not need to be made public. Note: I'm offering free shipping, too, but only within the USA. International shipping will still apply.
Please be patient! Spammers try to post crap here a lot so comments are moderated. So if you don't see your post in the comments section, be patient and check back in a few hours before re-posting it, please!
After midnight, I'll randomly pick the winner (via Random.org). So check your mailbox on Thursday morning to see who won and for the next Giveaway and Newsletter!
Hey, who won Nature Background ATCs Giveaway? That would be Kat Cashwell! Congratulations!

Posted by Leslie, August 14th, 2016