Such a treat today! Design Team Member Laura Carson has created a lovely Formal Garden (and that it is! with marble columns and railings, wrought iron benches and trellis, and a babbling fountain). But wait! Those are all made of paper!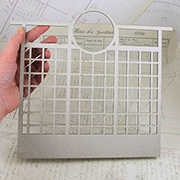 Lucky for us Laura has provided a video tutorial to show how to turn simple terracotta pots into fancy Victorian ones using paperclay and molds. And how to paint the new Garden Trellis with Round Window (and clever benches made from parts of the Chipboard Wrought Iron Flourishes Set) to look like aged green wrought iron.
AND that fountain! Look below for a top view, with the koi and waterlilies (and both of those images are provided free on Laura's blog post, too!
Laura also created FOUR new collage sheets for the Formal Garden and as backgrounds for some coordinating ATCs (see the wide photo of the Formal Garden for a broader view, showing ladies and gents from the 1830s. And see a photo of one of the SIX (!) ATCs below in the Giveaway.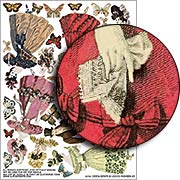 See everything Laura used to create her Formal Garden in her Supply List. And visit Laura's blog for lots more tips, photos, and that tutorial! (Don't forget to come back and enter today's Giveaway, which is based around the pretty ATCs that Laura also made from her new collage sheets).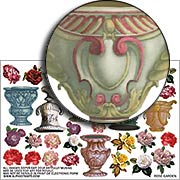 FREE GIFT! In honor of 6 ATCs by Laura, using all four of her new collage sheets, ALL ORDERS on Thursday and Friday, August 11th and 12th (2016) will receive a Rose Garden FREE Gift Kit including one of the new Rose Garden Collage Sheets, AND:
– a mix of 4 coordinating colors of seam binding
– 4 paper flowers!

Hooray for the Nature Background ATCs Giveaway!
This prize package includes all these goodies used in Laura's SIX Nature Background ATCs:
– Nature ATC Backgrounds Collage Sheet (new!)
– 1830s Gents & Ladies Fashion Collage Sheets: one and two (both new!)
– Fern Garland
– Mini Rose Buds – Red Yellow Variegated

– Chipboard Wrought Iron Flourishes Set (see close-up at left for a bit of this set used on another of Laura's ATCs… plus this is the set Laura used to create benches)
Bonus: One of the new Rose Garden FREE Gift Kits (which will give you another collage sheet and more mulberry paper flowers!)

To enter the Nature Background ATCs Giveaway drawing all you have to do is leave a comment BELOW on this blog post TODAY OR TOMORROW (the deadline is 11:59 pm PST, FRIDAY, August 12, 2016)!
And tell me: What is your favorite technique from Laura's tutorial? Bonus if you can explain combining that technique with the goodies in the prize package.
Don't forget to leave your (hello! correct) email address, too, so I can contact the winner; your email address does not need to be made public. Note: I'm offering free shipping, too, but only within the USA. International shipping will still apply.
Please be patient! Spammers try to post crap here a lot so comments are moderated. So if you don't see your post in the comments section, be patient and check back in a few hours before re-posting it, please!
After midnight, I'll randomly pick the winner (via Random.org). So check your mailbox on Sunday morning to see who won and for the next Giveaway and Newsletter!
Hey, who won Halloween in Wonderland Giveaway? That would be Peggy! Congratulations!
Posted by Leslie, August 11th, 2016