NEW Floorings Sampler FREE Gift Kit – Wood, Bricks & Stone! Inspired by the paper roofing shingles that Design Team Member Nichola Battilana used on her Potteresque A Little Burrow…, these kits are FREE for ALL orders, now through Monday night, August 8th, 2016 (or until the kits are gone)! Learn more.
AND (bonus sale!) , I've just put the Die-Cut Shrines & 3D Items on sale — a BIG section (80 items!) and that includes the new Mini Size of the Cabana Row House Set! Catch it quick, as this 25% off sale also ends TOMORROW night, Monday night, August 8th!


Perhaps it's a happy accident: TWO Design Team Members thought to stack the houses from the Cabana Row House Set — with different results but I love both of their projects! And check the new items below, as there's now a Cabana Row House MINI Set!
Beginning with Nichola's A Little Burrow: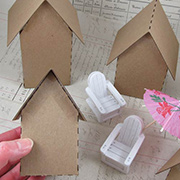 Although I'm not a beachy sort, I did manage to make those Cabanas work for me. I made a little burrow. This isn't exactly the Weasley abode (it's far too tidy and not nearly wonky enough) but it is inspired by the home of my favourite magical family.
I simply took the Cabana Row House Set and stacked the wee buildings together, chopping out any bits that were in the way, to make everything fit neatly.
The roofing tiles, although applied in rows, are totally wonky. I think it's kind of charming though… neatness isn't everything after all. You'll also notice here a little Thin Fleur Dresden Borders around the edge and peaks of the roof which I think add a nice touch. And there are people peeking through the windows from the Seaside Victorian Children Collage Sheet
I'm particularly fond of the next bit:
If you look on the bottom left here you'll see some Wooden Spreaders. They don't actually hold anything in place (yay hot glue!) but they make sense visually. You can absolutely cheat when it comes to miniature construction. Build the impossible! BUT adding little details like fake supports and whatnot adds a smidge of 'reality' to your nonsense.
More info and photos of the project are in Nichola's blog post.
See everything Nichola used to make A Little Burrow in the Supply List.

Mermaid Cabana Totem by Caroline Ouzts-Hay
Mermaids don't have their cabanas all in a row, theirs go up, like sea grass and coral reefs.
Inside their cabanas they not only change their tops but also put on their legs. That's right, this cabana is run by Ursula!
The entire piece is built on top of a piece of wood covered in sand. Pieces from the Seaside Doors and Windows Set help make these little houses look like they are being used.
Surrounding the entire piece are palm trees. Yes, I know there are no palm trees on the bottom of the Ocean but in Ursula's world there are.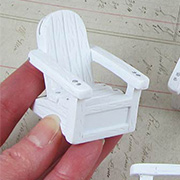 Of course there are! I believe every word from Caroline about this Mermaid Cabana Totem!
Visit Caroline's blog post for more photos and info on the mermaids. Or click here for Caroline's Supply List.


Hooray for the Halloween in Wonderland Giveaway!
Well, this one was easy-peasy. The winner will receive ALL TWELVE 12″ x 12″ scrapbook papers from the Halloween in Wonderland Collection!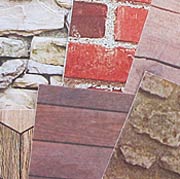 Bonus: One of Floorings Sampler FREE Gift Kit – Wood, Bricks & Stones!

To enter the Halloween in Wonderland Giveaway drawing all you have to do is leave a comment BELOW on this blog post TODAY OR TOMORROW (the deadline is 11:59 pm PST, MONDAY NIGHT, August 8, 2016). And tell me: What will you make with the papers? A spooky Alice in Wonderland Halloween scene?
Don't forget to leave your (hello! correct) email address, too, so I can contact the winner; your email address does not need to be made public. Note: I'm offering free shipping, too, but only within the USA. International shipping will still apply.
Please be patient! Spammers try to post crap here a lot so comments are moderated. So if you don't see your post in the comments section, be patient and check back in a few hours before re-posting it, please!
After midnight, I'll randomly pick the winner (via Random.org). So check your mailbox on Thursday morning to see who won and for the next Giveaway and Newsletter!
Hey, who won Vintage Bathing Machine Giveaway? That would be Lou Anne Colodny! Congratulations!
Posted by Leslie, August 7th, 2016