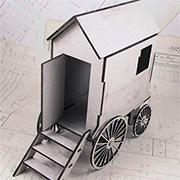 Very pretty! We have TWO bathing machines today by 2 Design Team Members! Starting off with Laura Carson's Vintage Bathing Machine, here's some info about the beautiful color effects she added to the mermaids on the roof:
"I used chipboard mermaids to jazz up the roof. First, I glued the chipboard to the two roof pieces then painted the roof with blue acrylic paint.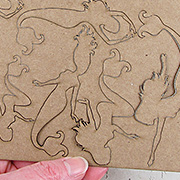 "Finally, I used a bristly paint brush to lightly brush on white acrylic paint. I used one of the mermaids (painted the same way) for the center front of the roof."
Many more photos and tips (like creating the custom beaded fringe covering the doorway) are on Laura's blog post.
See everything Laura used to create her Vintage Bathing Machine in her Supply List. (And don't forget to come back and enter today's Giveaway — as ALL of the items from Laura's Supply List are included!)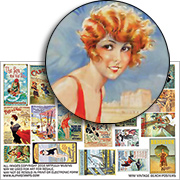 FREE GIFT! Note: In honor of Laura's lovely Vintage Bathing Machine using this new Mini Vintage Beach Posters Collage Sheet (also designed by Laura, with tiny posters to decorate your own bathing machine), ALL ORDERS on Thursday and Friday, August 4th and 5th (2016) will receive one of these collage sheets FREE!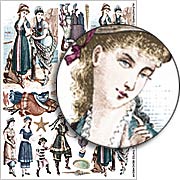 Next up: another lovely bathing machine, this time by Rhonda Secrist Thomas! I love the nostalgic feel to the colors and woodgrain patterns that Rhonda used (and all the historic photos and info about bathing machines spinkled throughout her blog post!)
"In Georgian and Victorian times (roughly 1714 to 1901), entire fleets of bathing machines were designed to prevent anyone from seeing a woman in her swimsuit before she slipped into the waves. They resembled wooden changing booths, with wheels and wooden steps that led inside.
"I know, my building looks like it's actually aged wood. But it's not. I just used this wood designed paper from the French Riviera Paper Collection. For the stairs and wheels I used the perfect matching Distress Paints and some crackle paint. It looks perfect!"
Check out Rhonda's Supply List and be sure to visit her blog post for more beautiful photos!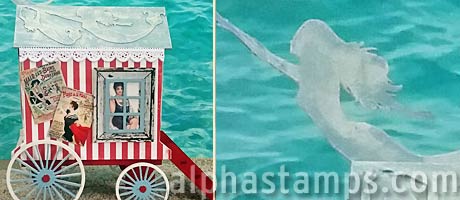 Hooray for Vintage Bathing Machine Giveaway!
This prize includes EVERYTHING in Laura's Vintage Bathing Machine Supply List!! That's 10 items!!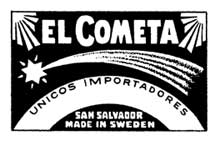 And a Comet Matchbox Label Rubber Stamp (on cling foam! see photo at left. And: ooh… these were just put on clearance! See the clearance section here.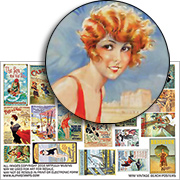 Bonus: One of the new Mini Vintage Beach Posters Half Sheets.

To enter the Vintage Bathing Machine Giveaway drawing all you have to do is leave a comment BELOW on this blog post TODAY OR TOMORROW (the deadline is 11:59 pm PST, FRIDAY, August 5, 2016)!
And tell me: What will you do with your Bathing Machine? Check out the comments from last Sunday's post, as there were some great ideas!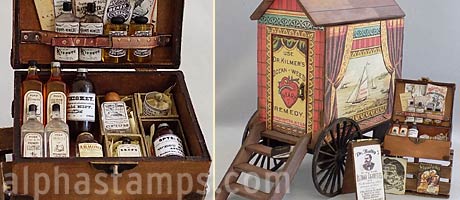 Don't forget to leave your (hello! correct) email address, too, so I can contact the winner; your email address does not need to be made public. Note: I'm offering free shipping, too, but only within the USA. International shipping will still apply.
Please be patient! Spammers try to post crap here a lot so comments are moderated. So if you don't see your post in the comments section, be patient and check back in a few hours before re-posting it, please!
After midnight, I'll randomly pick the winner (via Random.org). So check your mailbox on Sunday morning to see who won and for the next Giveaway and Newsletter!
Hey, who won Snake Oil Caravan Giveaway? That would be Deanne! Congratulations!
Posted by Leslie, August 4th, 2016