Quick announcement before the new Tiny Suitcase Kit (!) and fabulous artwork by Design Team Member Shannon Cooper: not only is the Lace Sale that started on Thursday continuing, but there's a new FLASH SALE!
ALL Lace is on sale at 50% off! See Thursday's newsletter for the inspiration for this sale. Note: the sale ends MONDAY NIGHT, August 1st 2016.
NEW! 40% off Sale on ALL Game Pieces & Miscellaneous Items through TOMORROW NIGHT (also ends August 1st)! Well over 100 quirky items! (Feathered birds, Mardi Gras beads, playing cards, Christmas ornaments…)

Tiny Suitcase Kit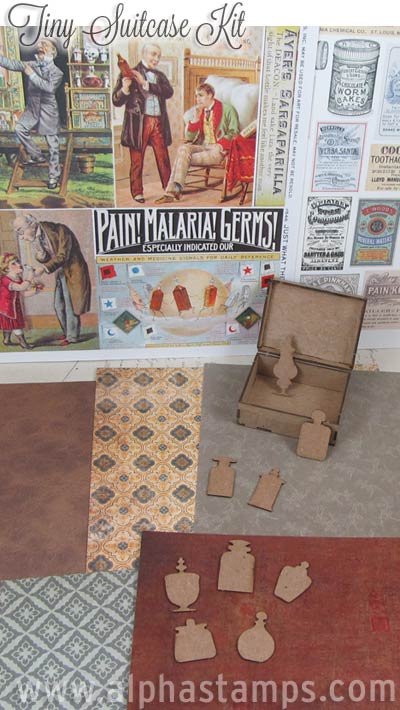 It all started with this tiny suitcase. Quite practical (as with most items we've been using for 100s of years), from a vintage vacation project to an African safari, I think it will be a useful little prop. Then… one thing led to another (big thanks to Design Team Member Shannon Cooper!) and this kit took a turn toward Victorian quack medicine.
So this little suitcase has become a salesman's sample case (see Shannon's fab artwork shown below). Shannon covered the suitcase in faux leather and lined it with Asian Calligraphy Scrapbook Paper (that paper is included in this kit, along with 4 other designs, all chosen as they look like leather or vintage lining fabric prints). Note: the 5 papers in the kit are 6″ x 6″. More than ample for a tiny suitcase.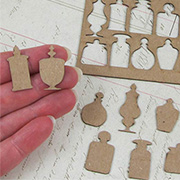 Shannon also used tiny straps and hinges (turned into corners) from the Vintage Travel Tags & Hardware Collage Sheet. Then filled the suitcase with bottles and jars of products (see her supply list for all of the bottles she used, and also the teeny tiny labels from collage sheets).
The tiny trunk lock (new!) Shannon used on the suitcase would be perfect for a tiny steamer trunk, too.
But back to this kit! The kit also includes a set of Small Chipboard Apothecary Jar Shapes. So cute! They can fit in the suitcase if you wish (you could use them behind a row of 3D resin or glass bottles or just decorate them by themselves). And the classic shapes would work well for urns, candy jars, cookie jars… all kinds of things.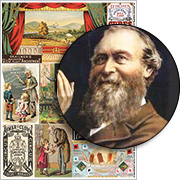 Plus a new collage sheet with labels for those jars: Snake Oil Labels. I used only vintage labels (none of these concoctions were created for effect), but they are quite a read. Sized to fit the large and small chipboard apothecary jar shapes (and they'll also fit glass or resin bottles from 1″ to 2″ tall).
AND another new collage sheet: Just What the Doctor Ordered. These are great (in a creepy kinda way): adverts for quack medicines from the Victorian age. Amazing anyone survived. Note: the curtains at top left fit the height of the Bathing Machine (the Bathing Machine is not included in this kit, but it is a cool new item and used as a traveling medicine show wagon in Shannon's artwork).
More info, photos and artwork are on the Tiny Suitcase Kit page.


Shannon Cooper's Snake Oil Caravan
Wow! Shannon did an amazing job turning the Bathing Machine into a traveling medicine show wagon (and filling that tiny suitcase with snake oil). I'll let her explain: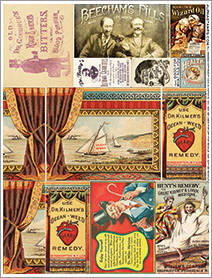 "The wagon is actually a repro of a vintage bathing machine, but I think it worked out well for a traveling snake oil salesman and his wares. It's covered entirely with just two papers: the new Good For What Ails You Collage Sheet and the Wood Flooring Scrapbook Paper. Having the digital download enabled me to crop and copy the parts needed, like the red stripes on the side with the door.
"The suitcase is a mere 2″ x 1.5″ but holds a whole slew of items. I managed to squash in 14 bottles of various tonics, restoratives, strengtheners, liveners, and an ointment! Tucked behind the snake oils in the lid are adverts and such from various collage sheets."
Shannon also provides a tutorial on how to add an invisible pins placed in the top and bottom of the door!
See all of the parts in the Snake Oil Caravan Supply List. Visit Shannon's Blog for more details and photos.

Highlights of Today's New Goodies – ALL on Sale!

Hooray for the Snake Oil Caravan Giveaway!
Today's Giveaway starts with… THE NEW KIT:
Tiny Suitcase Kit (includes NINE items!)!
And then I bunches of items used by Shannon:
– Bathing Machine Kit (New!)
– Good For What Ails You Collage Sheet (New!)
– Tan Faux Leather Paper
– Vintage Travel Tags & Hardware Collage Sheet
– Secret Spell Book Labels Collage Sheet
Just click on this Supply List link for photos and links to everything in Shannon's artwork, including all of the Giveaway items listed above!
And I also included these 3 things beyond what Shannon used:
– 3mm Brass Flat-Back Studs (20ish? Tons if you're just thinking of using them as tiny suitcase feet)
– Black Window Pulls (just one)
– Small Antique Brass Suitcase Handles (New!)

To enter the Snake Oil Caravan Giveaway drawing all you have to do is leave a comment BELOW on this blog post TODAY OR TOMORROW (the deadline is 11:59 pm PST, MONDAY NIGHT, August 1, 2016). And tell me: What will you make with the Bathing Machine Kit and/or 2 Inch Suitcase (both in the Giveaway)?
Don't forget to leave your (hello! correct) email address, too, so I can contact the winner; your email address does not need to be made public. Note: I'm offering free shipping, too, but only within the USA. International shipping will still apply.
Please be patient! Spammers try to post crap here a lot so comments are moderated. So if you don't see your post in the comments section, be patient and check back in a few hours before re-posting it, please!
After midnight, I'll randomly pick the winner (via Random.org). So check your mailbox on Thursday morning to see who won and for the next Giveaway and Newsletter!
Hey, who won the Summer at the Shore Giveaway? That would be Chris! Congrats! Check your email for more info.
Posted by Leslie, July 31st, 2016