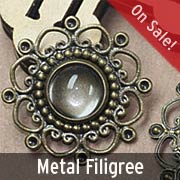 What a fun (and bargain filled) newsletter! New artwork by Laura Carson (with lots of tips on repurposing and recoloring items for the underwater city of Atlantis), plus FOUR sale sections (based on items in Laura's artwork) AND a new FREE Gift Kit!
ALL Metal Filigree, Silk Ribbons, Fringes/Fibers, AND Solid-Color Ribbons are 50% off — NOW through Monday night, July 25th! That's a BIG sale… over 200 products!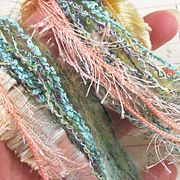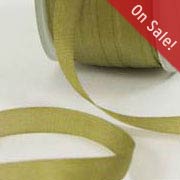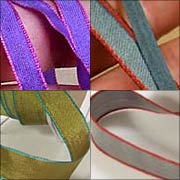 NEW Mermaid Tails FREE Gift Kit! These kits are FREE for ALL orders, now through SATURDAY NIGHT, July 23, 2016 (or until the kits are gone)! This kit includes a lovely little collage sheet by Laura (that's available exclusively in this kit) with lots of little mermaid tails, plus filigree and fibers to start your own version of Laura's Atlantis! Learn more.


Wow! Design Team Member Laura Carson has made a beautiful set of 3 large framed collages (see the wide photo below for small images of all 3). I love the colors, (of course) the creativity, and how Laura mixes found objects and metal pieces into the collages and into the bodies of sea creatures.
"I've depicted the remnants of the fabled city of Atlantis, lying at the bottom of the ocean, now the domain of mermaids and mermen. This underwater world has a steampunk twist as I imaged the merpeople would adopt the Atlanteans technology.
"A statue of Poseidon stands guard over the ruined city while mechanical fish and crustaceans swim through the water and walk on the ocean floor."
See that image of Poseidon at right, along with one of the fish made from jewelry findings; all united by color and a patina of Gilder's Paste.
"Swimming in front of
the columns is a steampunk fish. The
body of the fish is a piece of brass filigree. I used filigree fans as fins, a skate key as the
tail, a rondelle (painted silver) and an olivine cat eye bead for the eye and watch parts for the nose and face."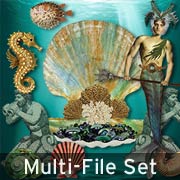 Laura created a new Mermen Collage Sheet, to accompany the four previous Mermaid Garden sheets, and now there is a large (110 images) digital set of all of these mermen and mermaids (plus some extra images not found in the collage sheets… like that image of Poseidon).
Many more photos and tips are on Laura's blog post.
See everything Laura used to create ATLANTIS – Mermen & Mermaids with a Steampunk Twist in her Supply List. (And don't forget to come back and enter today's Giveaway — as many items from Laura's Supply List are included!)


Hooray for Atlantis with a Steampunk Twist Giveaway!
This prize includes all of these goodies from Laura's ATLANTIS – Mermen & Mermaids with a Steampunk Twist Supply List:
– Bronze Octopus Charm
– Bronze Skate Key
– Feathery Flourishes Set
– Large Bronze Fancy Filigree Set
– Liquid Pearls – Petal Pink
– Mermaid Garden #1 Collage Sheet
– Mermen Collage Sheet
– Seahorse and Seaweed Set – 4 pieces
– Steampunk Seahorse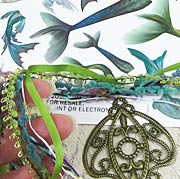 Bonus: One of the Mermaid Tails FREE Gift Kit.

To enter the Atlantis with a Steampunk Twist Giveaway drawing all you have to do is leave a comment BELOW on this blog post TODAY OR TOMORROW (the deadline is 11:59 pm PST, FRIDAY, July 22, 2016)! And tell me: What is your favorite technique or tip from Laura's blog post? And how would you apply it to one of the items in the Giveaway prize?
Don't forget to leave your (hello! correct) email address, too, so I can contact the winner; your email address does not need to be made public. Note: I'm offering free shipping, too, but only within the USA. International shipping will still apply.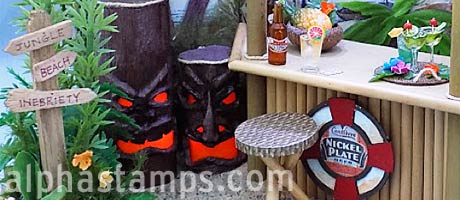 Please be patient! Spammers try to post crap here a lot so comments are moderated. So if you don't see your post in the comments section, be patient and check back in a few hours before re-posting it, please!
After midnight, I'll randomly pick the winner (via Random.org). So check your mailbox on Sunday morning to see who won and for the next Giveaway and Newsletter!
Hey, who won Tiny Tiki Bar Giveaway? That would be Sandra L! Congratulations!
Posted by Leslie, July 21st, 2016