These 3 sections have been rearranged a bit:
– Blank Books & Boxes (including Paper Mache),
– Die-Cut Shrines & 3D Items, and
– Die-Cut (Mainly Chipboard) Silhouettes — AND this section is on 25% off sale today and tomorrow! Woohoo! Still 177 items, even in it's new streamlined form! Note: there are a couple of chipboard clearance items in that section… and those are 50% off! See all the clearance items here.

Next up: a new FREE Gift Kit! You'll be tickled by all the miniature cocktails and tiki bars below (by THREE Design Team Members!) so I thought you might also like some tiny beads to make cocktail garnishes… so a Cocktail Garnish FREE Gift Kit.
It's a small packet, but filled with lots of tiny things! A bead mix of reds and greens, plus some tiny eye pins to turn those little beads into olive or cherry picks! And I also included a couple brass washers for drink coasters! (Note: the glasses in the photos are (sadly) not included.) These mini kits are FREE for ALL orders, now through MONDAY NIGHT, July 18, 2016!


Oh my. Oh my, oh my, oh my… Design Team Member Shannon Cooper is a crazy person and that is a very good thing! You might not guess at first glance that that incredible tiki bar is in half inch scale. That means the bay window she used as the base of her bar is 5 inches tall!
I'll let Shannon explain some details before I dive in…: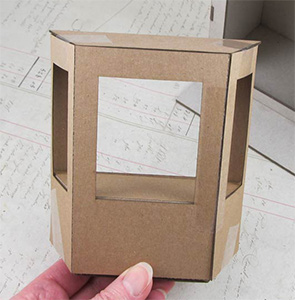 I converted the little Half Scale Bay Window that Alpha Stamps carries into a little bar by cutting off the front two supports and replacing them with bamboo poles. The bar top is a piece of heavyweight card that I cut to extend past the window. Holes were made to accommodate the bamboo poles, and the edges got covered with trimmed reeds. I guess they are reeds, I don't really know. While thrifting one day, I happened on a set of eight "bamboo" placemats and bought them thinking they may come in handy, and they proved to be just that. (I reused the twine that held a mat together to make the glass boat float. Use everything!) The chipboard palms have crepe paper bark and silk leaf fronds, and I topped the hut with a raffia roof.
"Here's the reason I built the bar in the first place… cute cocktails! [Aside: see the Giveaway below for a close up of the cocktails.] There is a great tutorial for making your own Cosmo, and I altered those instructions a teeny bit to make a Midori Sour with a seed bead cherry. The straw in the tumbler is masking tape rolled around a sewing needle."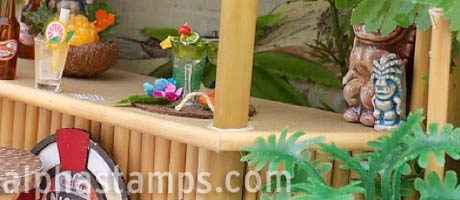 See? crazy girl! Now, I do need to point out a few of my favorite things:
– the direction sign that includes "inebriety"
– did I mention this whole scene is TINY? it's built in a Corner Room Box (which means the entire depth is 4″)!
– the new ceramic tiki beads! (both sizes shwon at left)
– the tiki heads (under the palm trees, to the left of the bar in that large photo above… again: see below in the Giveaway for another photo: with them lit up!) AND Shannon also shares how she made the tiki heads in her blog post!
See everything Shannon used to make her Tiny Tiki Bar in the Supply List. (And check below because many of these items are also featured in today's Giveaway! But not before 2 more miniature bars!)

Beach Babes and Shots For All
Design Team Member Rhonda Secrist Thomas has created a vintage beachside bar (Bertha's Beach Bar) with some racy bartenders (wearing citrus slices)…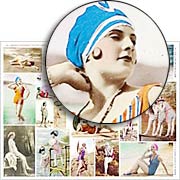 "And of course you HAVE to meet Bertha! She makes an award winning martini and will give you as many olives as you like! Mmmmmm Mmmmmm
"This chick behind the bar is Tequilla Tara and she can drink any man under the table… If tequila isn't your thing, they also have an awesome selection of cold brew and you can even get it served in an ice cold mug, just the way I like it."
See everything Rhonda used in her Supply List. And visit her blog post for more photos and lurid tales from Bertha's Beach Bar.

I know… we already had 3 Beach Cabanas by Design Team Member Kristin Batsel earlier this month… and here she is again with another project!
Kristin did give us a preview of her Ticky Tacky Tiki with her tutorial on how to make a Cosmo. And now the (ahem… creepy) bartender to make the drinks!
You can see in that 3/4 view on the left side of the wide photo (below) that Kristin used one of the houses from the Cabana Row House Set and just propped up one side of the roof to make the awning for her tiki bar (clever)!
See everything Kristin used in her Supply List. And visit her blog post for more photos and a tutorial on the festive lei her bartender is wearing.

Highlights of Today's New Goodies – ALL on Sale! View All (lots more to see!)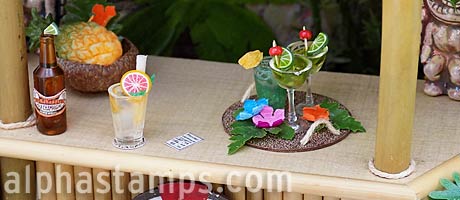 Hooray for the Tiny Tiki Bar Giveaway!
All of these items are from Shannon's Tiny Tiki Bar Supply List (and I'm trying to constrain myself to only items shown in these 2 photos!):
– Half Scale Bay Window
– New 1/4 Inch Bamboo Poles
– Amber Resin Beer Bottle
– Vintage Beer & Soda Labels Collage Sheet
– Mini Citrus Slices
– Mini Pineapple
– Miniature Clear Tumbler Glasses
– New Miniature Plastic Bamboo Trees
– Woven Grass Scrapbook Paper
– New Ceramic Tiki Bead – Large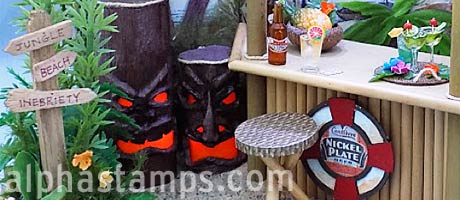 Just click on this Supply List link for photos and links to all of the items in the Giveaway!
Bonus: One of Cocktail Garnish FREE Gift Kits.

To enter the Tiny Tiki Bar Giveaway drawing all you have to do is leave a comment BELOW on this blog post TODAY OR TOMORROW (the deadline is 11:59 pm PST, MONDAY NIGHT, July 18, 2016). And tell me: Hmmm… favorite cocktail? Or a tip on how to repurpose a bead or other found object into dollhouse glasses or kitchenware?
Don't forget to leave your (hello! correct) email address, too, so I can contact the winner; your email address does not need to be made public. Note: I'm offering free shipping, too, but only within the USA. International shipping will still apply.
Please be patient! Spammers try to post crap here a lot so comments are moderated. So if you don't see your post in the comments section, be patient and check back in a few hours before re-posting it, please!
After midnight, I'll randomly pick the winner (via Random.org). So check your mailbox on Thursday morning to see who won and for the next Giveaway and Newsletter!
Hey, who won The Folding Fish House Giveaway? That would be Phoebe Diamond! Congratulations!
Posted by Leslie, July 17th, 2016