Design Team Member Laura Carson has a couple of Alice in Wonderland themed projects for you; and I think you'll find they're very clever indeed.
Down the Rabbit Hole
How cute is this?! Using a Pringles can, Laura cut it up and put it back together wabi-sabi. It was then covered with cobblestone paper, window and door images. Stitched Leaf Ribbon, ferns and mushrooms decorate the outside.
My favorite part, is the inside where Alice is falling down the rabbit hole.
"To create the effect of Alice and other objects free falling down the hole, I used wooden dowels and double stick tape to suspend and anchor the images and items to the back wall. At the top I used sheet moss, leaving a small hole for Alice to fall through.
At the bottom, I've added a door from the Mini Old Windows and Doors Collage Sheet, and the White Rabbit and trees from the We Are All Mad Here Collage Sheet. The base is a round box lid from my stash covered with hedge scrapbook paper."
Down the Rabbit Hole Supply List
Of course, Laura has put together a fabulous step-by-step tutorial for you to create your own version of Down the Rabbit Hole; but first there is still one more project by Laura (with different variations) AND another "Down the Rabbit Hole" project by Caroline Ouzts-Hay!


FOUR Domino Books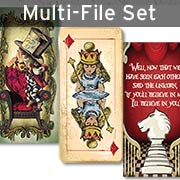 For this project, Laura created the new Alice in Wonderland Dominoes Collage Sheet and Download Set. The Collage Sheet contains 40 Alice in Wonderland themed panels that are sized to fit a standard 1" x 2" domino and the Download Set contains 53 images. These panels are perfect to create domino jewelry and books.
Laura created several different Domino Books, my favorite one of the bunch is the Down the Rabbit Hole Book. Can't help myself — it's one of my favorite themes.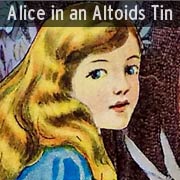 "On the front of this book are acrylic flowers, a key and a clock that surround a hole that Alice is falling into. The flowers and key are from the Alice in an Altoids Tin Kit which is full of Alice themed embellishments."
Love, love, love, half of Alice's body sticking out of the side of the book! Other books Laura created are Tea Time, It's Good to be Queen, and 6 Impossible Things. You can find the supplies that Laura used for all four of her books on her Supply List.
For more details, photos and if you'd like to learn how to make your own Domino Books or Down the Rabbit Hole, visit Artfully Musing.

Highlights of Today's New Goodies – ALL on Sale!


Dominoes – Full Size

Hooray for the Alice in Dominoland Giveaway!
Most all of these items are from Laura's FOUR Domino Books supply list:
– New Alice in Wonderland Dominoes Collage Sheet
– Alice in an Altoids Tin Kit (whoo! that contains a tons of items all by itself!)
– 1/2 Inch Flat-Back Clocks
– Medium Bronze White Rabbit Charm
– Miniature Metal Chair Pendant
– Raw Brass Box Feet – Cones (and on sale!)
– Dominoes – Full Size
– Small Gold Hinges with Screws

To enter the Alice in Dominoland Giveaway drawing all you have to do is leave a comment BELOW on this blog post TODAY or TOMORROW (the deadline is 11:59 pm PST, MONDAY NIGHT, June 13, 2016). And tell me: Will you make an Alice-themed domino book?
Don't forget to leave your (hello! correct) email address, too, so I can contact the winner; your email address does not need to be made public. Note: I'm offering free shipping, too, but only within the USA. International shipping will still apply.
Please be patient! Spammers try to post crap here a lot so comments are moderated. So if you don't see your post in the comments section, be patient and check back in a few hours before re-posting it, please!
After midnight, I'll randomly pick the winner (via Random.org). So check your mailbox on Thursday morning to see who won and for the next Giveaway and Newsletter!
Hey, who won Classical Beauty Giveaway? That would be Debbi Decker! Congratulations!
Posted by Leslie, June 12th, 2016