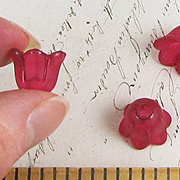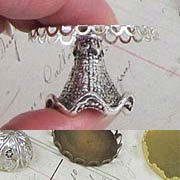 Before the beautiful artwork by Nichola Battilana using the new Half Scale Arch Front Room Box (and 2 more new half-scale items), a new sale! ALL Bead Caps are 25% off now through Monday night, June 13th! Like the Mini Cake Stand Kit and Raspberry Tulip Beads shown at right. And that new 16mm Brass Fancy Bead Cap or Dollhouse Vase shown in the left photo would be perfect for a little vase in that room box Nichola used…


Design Team Member Nichola Battilana has created a lovely, lovely creation called Venus' Grotto.
I bet you're wondering exactly how big is this pretty little shrine? Well I'll tell you. Nichola used the new Half Scale Arch Front Room Box and it is 1/2″ scale (1:24). That is a whopping 5″ wide (with a 1″ apron at the base), 6″ tall including the facade (about 4-3/4″ tall inside the "room") and 2″ deep. Mind boggling, isn't it how Nichola can create such masterpieces that seem to get smaller and smaller?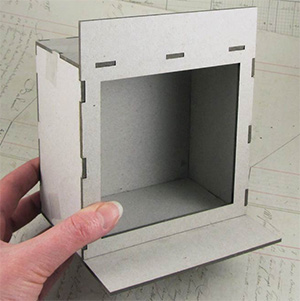 Now if you wanted the same size to work with, but perhaps a bit deeper, and with a square front instead of arched, we have you covered on that! The new Half Scale Window Room Box has the same dimensions as the Half Scale Arch Front Room Box except it is 3 inches deep instead of 2. AND! What's really cool about this particular room box is that you can even add the new Half Scale Bay Window to it. Both boxes are so versatile, especially if you have a small space or wall to display it on.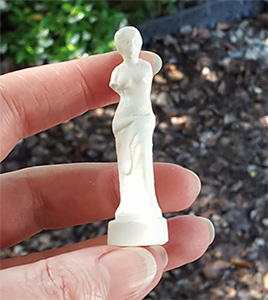 Nichola embellished the top of the grotto by making fancy embellishments out of Creative Paperclay and the Architectural Flourishes Mold. The lovely Venus is standing upon a new White Resin Column Capital (upside-down, how clever) and if you look behind her, there are sweet flowers Nichola made that are resting on White Shelf Brackets. Venus' Grotto is finished off quite nicely with Asparagus Fern draped over the arch, and smatterings of 1/2 Inch Pale Pink Paper Roses here and there.
Venus' Grotto Supply List. For more details and photos, please visit Pixie Hill.


Hooray for the Classical Beauty Giveaway! It's all sooo pretty!
I picked out a bunch of items from Nichola's Venus' Grotto supply list:
– 2.5 Inch Venus Statue
– New Half Scale Arch Front Room Box
– 1/2 Inch Pale Pink Paper Roses
– Asparagus Fern Garland
– Fern Garland
– Flower Soft – Sweet Pea
– Rectangular White Shelf Brackets – Set of 2
Then, I added a couple of the new iems that would be pretty used in the Half Scale Arch Front Room Box:
– New 16mm Brass Fancy Bead Cap or Dollhouse Vase
– New Medium Shell or Acanthus Leaf Charms – Brass Oxide

To enter the Classical Beauty Giveaway drawing all you have to do is leave a comment BELOW on this blog post TODAY OR TOMORROW (the deadline is 11:59 pm PST, FRIDAY, June 10, 2016)! And tell me: What will you make with your Half Scale Arch Front Room Box? Bonus: let me know if half scale is a size you like working with.
Don't forget to leave your (hello! correct) email address, too, so I can contact the winner; your email address does not need to be made public. Note: I'm offering free shipping, too, but only within the USA. International shipping will still apply.
Please be patient! Spammers try to post crap here a lot so comments are moderated. So if you don't see your post in the comments section, be patient and check back in a few hours before re-posting it, please!
After midnight, I'll randomly pick the winner (via Random.org). So check your mailbox on Sunday morning to see who won and for the next Giveaway and Newsletter!
Hey, who won Pixies in the Greenhouse Giveaway? That would be DianeD! Congratulations!

Posted by Leslie, June 9th, 2016