Design Team Member Laura Carson has created the most marvelous, miniature Victorian Conservatory.
Laura had been wanting to create a Victorian conservatory and she and Leslie put their heads together, coming up with the amazing Conservatory 1:12 Scale (that is very easy to put together)! The conservatory is a nice large space (10″ wide x 9″ deep) with double doors for the front and back. The roof can lift off to work inside (or see inside better) — plus there's a ledge around the top of the "room" that you could hang plants from.
The many windows on the side walls are lovely (and have an early 20th c Arts and Crafts feel). The solid wall areas under the windows (on all 4 sides) give a space for extra embellishments, too! (Like the Green Man masks around the sides of Laura's Conservatory.)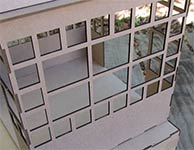 If you choose, there is also with a separate Platform with Steps that you can set the Conservatory on.
(If you want to give yourself a (slightly smaller) challenge, there is also a Small Conservatory. This smaller one is 7″ wide; not quite reduced enough for 1:24 scale, but sized for using with the 9x9x1 platform (so you'll have an inch of platform on either side to put plants, etc.)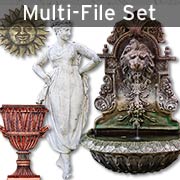 Laura's Victorian Conservatory is filled with lovely plants, a beautiful Large Wall Fountain and a nature-inspired chandelier; and she created a new Conservatory Garden Decor Collage Sheet and a companion Digital Download Set. The Digital Set includes all the images in the collage sheet, plus 5 borders.
You might be looking at this project and thinking "there is no way I could do this", but you are wrong! The entire structure comes as an easy to assemble kit — yeah for kits! All that is required for assembly is that you glue the die-cut pieces together using the tongue and groves cut into the chipboard; then paint, use decorative paper and Collage Sheet or Digital Images to give the piece its architectural details.
Also worth noting is the pretty and ornate 3-Tier Stand with lots of filigree scrollwork. It is 5″ tall x 4″ wide (but only 2″ deep): an oval shape, which gives extra room for potted plants (or hats?) on the sides, but still shallow enough for a room box)
Visit Artfully Musing and you'll find a instructions on how Laura assembled and decorated her Victorian Conservatory, a tutorial on how to cast your own mold from a found object (like the Green Man masks around the sides of her Conservatory); and info on all the items inside!

AND… wait, there's more! If the Small Conservatory still seems too large, there's a new Mini Greenhouse with Stand! So cute! And you can use the greenhouse separate from the stand if you'd like (the greenhouse portion is 3-1/2″ tall, so would be a smaller item to decorate than the "small" conservatory).
That most-diligent Design Team Member, Shannon Cooper, was so gracious to make a fun sample from this greenhouse (in the very short time I gave her… bad me!)
Here's a bit from Shannon's witty post:
"Occasionally, the younger pixies get into a bit more trouble than usual. They might forget to polish the beetles like they were told, or flit too fast through the dandelions and spoil the newly painted ladybirds. They might have even tied one too many knots in the hair of a sleeping child, and that calls for a time out! That is when they get sent off to spend a minute or two in the Pixie Pause Room, where they are supposed to think about what they did (or didn't do) but most likely it is a place to complain about being cooped up unnecessarily for a frightfully long time."
Posted by Leslie, June 5th, 2016