We became aware of Shannon Martinson's whimsical style when she approached us about permission to use some of our Alice in Wonderland digital images for a class that she was going to be teaching. In addition to asking if she could use the images, Shannon also sent a picture of the amazing Mad Tea Party in a Cup that she had created. We were blown away by it and were delighted that Shannon agreed to be a Guest Designer for Alpha Stamps! As you can see, Shannon's tea party is quite fabulous.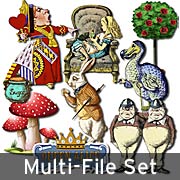 "I'm a Closed Captioner living in Texas with my two kitties, Peanut and Cashew. I really wasn't into any kind of art or craft stuff growing up, it's something I've only started doing in the last decade or so. My love of making stuff really started when a couple of friends and coworkers convinced me to go to an event called Paper Cowgirl with them, even though I insisted I had no experience with any kind of crafts and was convinced I wouldn't be any good at it. That first one was a little overwhelming for someone with no experience and very few supplies, but everyone was nice and I had fun, and after that I was hooked. I keep trying different crafts, taking classes, and learning new things. I'm lucky to have found a group of ladies who are supportive and encouraging, and we try to get together regularly, which helps keep me motivated to work on new things."
Shannon was sent the Alice in An Altoids Tin Kit to work with, and made 2 projects. Her first project is called Alice's Memories (see the wide photo below); created from a Blank Altoids Tin made to look like memories are popping out of a suitcase. Such a cool idea! (And look a bit like yummy chocolate-covered cookies!)


"On the inside, I painted the Alice in Wonderland Silhouettes and a Cheshire Cat Frame from the Altoids Tin Frames – Alice Set all black. Once they were dry I added white, gold, and glitter highlights. The Mushroom Frame is in the very back of the tin lid, and the Cheshire Cat is in front of that separated by pop dots so they'd stand out more."
Shannon's second project is an assemblage doll piece, that is also an Alice in Wonderland shrine. Such a clever idea to have the "torso" open up to mementos from a visit down the rabbit hole.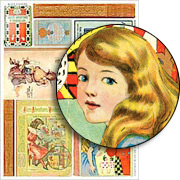 "I used the resin heart tarts and miniature chocolate cake to decorate the deeper (normally bottom) side of the tin. The lid side has a piece of scrapbook paper for the background, and then the picture, the quote, and the top hat are cut from different collage sheets, (listed on my supply list) and I used a Bronze Stopwatch.
I punched holes in the Blank Altoids Tin to attach her arms, which are some little glass flower beads I had in my stash, wire wrapped together, ending in a Bronze Teacup and Saucer Charm on one arm, and a round metal filigree for a saucer on the other."
Alice's Memories and Assemblage Doll Supply List
For more details on Shannon's projects, to see more photos (or to sign up for her class that's THIS Saturday!), please visit Shannon's blog.

Posted by MizBella, June 2nd, 2016