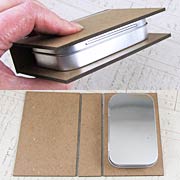 What could be a better inspiration for a cute little project than Alice in Wonderland and Blank Altoids Tins?
Alice in Wonderland, Blank Altoids Tins AND Altoids Tins Book Covers, with 2 projects from Design Team Members Rhonda Secrist Thomas and Caroline Ouzts-Hay, that's what!
The Altoids Tins Book Covers are little set of heavy chipboard covers and spine that will make quick work of turning a Blank Altoid's Tin (or 2) into a book! These covers can be used with 1 tin or 2 tins (if you use the bottoms of 2 tins for a fat book, just omit the spine… or check out Caroline's artwork below for a special extra-wide spine she cut and embossed to work with 2 tins). The creative possibilities are endless using the covers with the tins, from the single gift to creating a slew of holiday themed books and dioramas.

Queen of Hearts Deck of Cards Case by Caroline Ouzts-Hay
"
I love Alice in Wonderland and right now so does Alpha Stamps with their Alice in an Altoids Tin Kit. I've done Alice tins before but this one is my favorite, because it is functional.
"
Inside there are two Blank Altoids Tin bottoms hinged together using the Altoids Tin Book Covers with a minor alteration to the spine to make it wider. A mini collage of all things Queen of Hearts fills one tin that is looked over by miniature playing cards."
Queen of Hearts Deck of Cards Case Supply List
Fall down the rabbit hole to Caroline's blog for more pictures and to read Caroline's story about a very irritated Queen of Hearts. And check out the Giveaway below for a chance to win lots of the goodies in Caroline's artwork!


Alice Hinged Tin Book by Rhonda Secrist Thomas
"I love new art challenges! This month, with Alpha Stamps Alice in an Altoids Tin Kit, there were too many cool items to leave out. I had this crazy goal in my head to do a hinged tin book that also opened in the middle and had pediments. I was shocked to have succeeded.

"The Oddities Box Doors and Windows is one of my favorite Collage Sheets that Alpha Stamps offers. Imagine my delight when this new version, Doors & Windows Book Covers, was made. It fits perfectly on the Altoids Tin Book Covers which I used two sets of on my hinged Tin Book."
Alice Hinged Tin Book Supply List
Visit Rhonda's blog to find out what she used to make a secret opening for her book, to see more photos and for further details.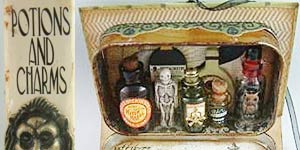 Wait, because there is even more inspiration for you to check out! A few years ago, Laura Carson used 1 tin in a Halloween project and 2 tins for a thicker book. Here are links to more info about both of those projects: Potions and Charms and Hinged Tin Book (and both links with tutorials)!


Hooray for the Queen of Hearts Tin Book Giveaway!
I decided to choose items from Caroline's Queen of Hearts Deck of Cards Case supply list and I think it makes a versatile Alice in Wonderland group!
– Alice Book Covers 2 Collage Sheet
– Altoids Tin Book Covers
– Blank Altoids Tin
– Fancy Latch Set
– Large Imperial Crown Charm or Pendant
– Mini Alice in Wonderland Chipboard Silhouettes
– Small Playing Card Deck

To enter the Queen of Hearts Tin Book Giveaway drawing all you have to do is leave a comment BELOW on this blog post TODAY OR TOMORROW (the deadline is 11:59 pm PST, FRIDAY, May 27, 2016)! And tell me: What will you make?
Don't forget to leave your (hello! correct) email address, too, so I can contact the winner; your email address does not need to be made public. Note: I'm offering free shipping, too, but only within the USA. International shipping will still apply.
Please be patient! Spammers try to post crap here a lot so comments are moderated. So if you don't see your post in the comments section, be patient and check back in a few hours before re-posting it, please!
After midnight, I'll randomly pick the winner (via Random.org). So check your mailbox on Sunday morning to see who won and for the next Giveaway, Newsletter, AND THE JUNE KIT!
Hey, who won Alice & Tea & Cube Boxes Giveaway? That would be Ina M Good! Congratulations! Check your email for more info!

Posted by Leslie, May 26th, 2016