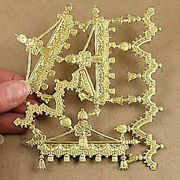 A SALE announcement before I hand over this newsletter to Bella: the Dresden sale that started on Thursday ends TOMORROW NIGHT, Monday, May 16th (2016).
ALL 38 of the Metallic Dresden trims are on sale! AND that sale includes 3 beautiful trims that have just come back in stock:
Fringed Gold Dresden Curtains (at far right), Gold Dresden Altar Set and Small Gold Dresden Shrines or Arched Windows!


Design Team Member Laura Carson has created a stunning, Georgian Ladies Parlor that is filled with beautiful women and furnishings.
"Standing on the side of the Georgian house is a lovely lady from the Outdoor Fashions of the 1780s Collage Sheet. Inside the house is a ladies parlor filled with beautiful furniture and décor. Three women from the Indoor Fashions of the 1780s Collage Sheet are enjoying the parlor; perhaps they are sisters.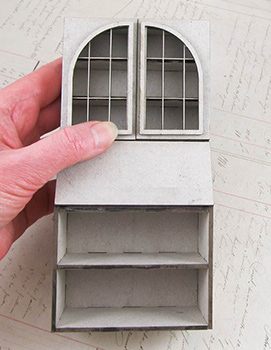 The star of the room is a handsome secretary and it happens to be the inspiration for the entire project! (See the wide photo below, and a photo of the secretary with the doors open down in the Giveaway.) The secretary is full of books, a trinket box, a candlestick to write by, and more. When Leslie at Alpha Stamps asked me if I would like to design a Secretary Collage Sheet to work with my project, I said of course and got busy creating. Deciding on how best to showcase it, one thing led to another and I decided to create a Georgian style facade using a Deep Open Front Room Box kit and a parlor room to show off the secretary.
Of course the ornate fireplace isn't too shabby either! Would you believe that the top and bottom are Blank Altoids Tins? (See the left side of the wide photo below.) Ah the magic of Altoids tins. One of the women is sitting on an elegant velvet settee, and notice the elaborate decorative top of the curtain? It is cast from the Baroque 3 – Medallion & Filigree Silicone Mold and Creative Paperclay. So simple!
To go with this project are a series of new Collage Sheets and Digital Image Sets that are all listed out on my Supply List. As usual I have a detailed tutorial (and many more pictures!) that explains how I made the house and all of the pieces in the parlor. Even if you don't want to tackle a project this large, you might find individual elements like the secretary or something of interest. "
For the detailed tutorial and more pictures of the Georgian Ladies Parlor, please visit Laura's blog, Artfully Musing.
A note from Leslie regarding the new Indoor and Outdoor Fashion Collage Sheets: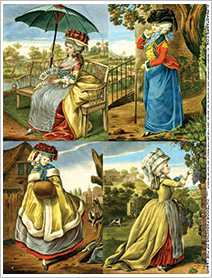 "I am bemused by these illustrations. The style of skirt seems a transition from the excesses of pannier skirts to… well, they did not know how soon corsets and petticoats would be making a (brief) exit entirely from fashionable ladies' closets (in the early 19th century).
And in some of these skirts, it seems they had all this extra fabric that used to be over side hoops that they just didn't know what to do with… so they just pulled in back into a huge wad in the back (too early for a true bustle style). And then there are the giant mob-cap hats over grey-powdered hair. And the fantasy that a well dress lady would be out harvesting grapes (or fishing!) in one of these heavy gowns.
Anyway… I love the deep colors in these illustrations. And the different poses should give you good options for using them in a collage."


Hooray for the A Lady's Secretary Giveaway!
I decided to focus on just the secretary itself (as there are so many pretty things in Laura's artwork… if I didn't contain myself to one small section I'd lose my mind)! So here are items I chose (and a repeat of Laura's full supply list for links to these and to everything she used):

– Chipboard Secretary 1:12 Scale (new)
– Gold Candlestick Holder w Handle (new)
– Miniature Square Metal Box with Lid (new)
– Secretary 1:12 Scale Collage Sheet Set (new)
– Portraiture Collage Sheet
– Little Library Collage Sheet
– Miniature Vase Set
– Set of Miniature Books
– Tiny Black Hinge Set (that Laura painted gold)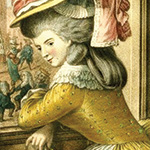 And not shown in that big grid at right: a set of the lovely Window Pediment – Deerfield
And the new collage sheets with the costumed ladies:
– Indoor Fashions of the 1780s Collage Sheet
– Outdoor Fashions of the 1780s Collage Sheet
– Georgian Fashion Collage Sheet!
To enter the A Lady's Secretary Giveaway drawing all you have to do is leave a comment BELOW on this blog post TODAY or TOMORROW (the deadline is 11:59 pm PST, MONDAY NIGHT, May 16, 2016).
AND to enter the drawing, please tell me: How will you decorate your secretary? What will you put inside it? And/or what room or scene will you put the secretary into?
Don't forget to leave your (hello! correct) email address, too, so I can contact the winner; your email address does not need to be made public. Note: I'm offering free shipping, too, but only within the USA. International shipping will still apply.
Please be patient! Spammers try to post crap here a lot so comments are moderated. So if you don't see your post in the comments section, be patient and check back in a few hours before re-posting it, please!
After midnight, I'll randomly pick the winner (via Random.org). So make sure to check back to see who won! And check your mailbox on Thursday morning for the next Giveaway and Newsletter!
And…. who won Thursday's Was Lewis Carroll a Secret Crafter? Giveaway? That would be Traci! Congratulations! Check your email for more info.
Posted by Leslie, May 15th, 2016