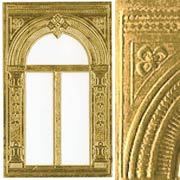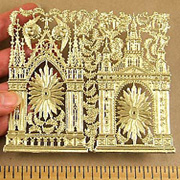 Greetings, on what I hope is a beautiful day wherever you may be. Today we have three projects to inspire your Muse, by three different Design Team Members! But first: in honor of 2 new Gold Dresden trims being announced today, ALL Metallic Dresden is 20% off now through Monday night, May 16th!
AND that sale includes 3 beautiful trims that have just come back in stock:
Fringed Gold Dresden Curtains, Gold Dresden Altar Set and Small Gold Dresden Shrines or Arched Windows!


Lonely Heart Shrine by Lora Mahaffey
"It's deceptively simple, this little shrine. But if you take a closer look, there are hundreds of individual polymer clay tiles in the background.
There was no pattern followed to make the individual tiles. Instead I used black polymer clay, cut lots of sticks and then painted each stick of clay with lots of different iridescent acrylic paints. Once that was done, the sticks were cut into various sized squares and then baked them off in a toaster oven.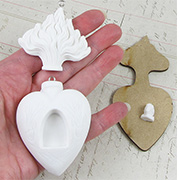 The frame for my shrine is the Open Front 4.5 x 5.5 Shadowbox. The inside back was primed with gesso to give some good tooth for the glue to stick to. I lined the sides of the inside of the shadowbox and the entire outside (including the back) with paper from the Double Dot Vintage Paper Collection.
While the papers were drying, I painted the new Relics & Artifacts Flaming Heart that is the big centerpiece, with more iridescent paints and set it aside. After the papers dried on the shadowbox, I randomly stated gluing in the tiny tiles. My placement decisions were based on colors and how things fit together.


When things were dry, I painted white details on the tiles and around the flaming heart. I attached a Large Red/Gold Glass Heart Bead to an old doll's hand and glued it into the flaming heart; then glued the piece into the shadowbox, making sure it was centered. To finish it off, I glued some pretty gold ribbon on the sides of the box for hanging and attached a finding on the bottom of the ribbon ends.
Lonely Heart Shrine Supply List
To find out how Lora grouted her tiles, and for more pictures please visit her at Cackle and Hoot.

Alice's Altoid Manor House by Nichola Battilana
The first of TWO adorable houses, both made with the Alice in an Altoids Tin Kit.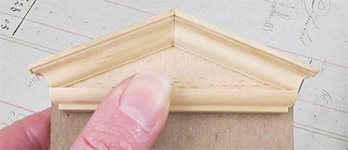 "I simply applied the Altoids Tin Book Covers to the front and back of the tin. I didn't even bother with the book spine (though I'm sure it'll come in handy for something). Then a new Window Pediment – Federal was added to the front top edge and the new Window Pediment – Yorktown to the bottom front edge (upside down). A snip of Thin Fleur Dresden Border is applied under the top pediment, then whole shebang is painted grey.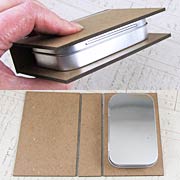 The windows are just little paper frames I cut out. I placed some Alice charaters from the Wonderland Rabbits and Hares Collage Sheet in the squares and added a layer of Diamond Glaze to make the 'windows' glossy. The door is framed with some snippets of wood and topped with little bit of filigree that broke off something-or-other that I kept for just such an occasion. Finally I finished the exterior with a Bronze Stopwatch Clock Charm and some Flower Soft.
I promise, this was a practically painless project! Sure the sides aren't covered… but the tin opens and I didn't have a meltdown attempting to apply hinges. (I often have hinge related meltdowns.)"
Alice's Altoid Manor House Supply List
For more photos (and info about the images inside the tin), please visit Nichola at Pixie Hill.

Was Lewis Carroll a Secret Crafter?–an Alice in Wonderland Altered Tin by Betsy Skagen
Betsy made an adorably wonky Alice in Wonderland Tin (another idea for a house using a tin with one of the new pediments — see photos below) and she wonders if Lewis Carroll was really a secret crafter?? More like he may have fallen down a little psychedelic rabbit hole of his own if you ask me… heheh. But I digress!
Betsy's tin depicts the scene when Alice grew too big for the White Rabbit's House, and the little house is definitely full of character. To read all about Betsy's tin, and find out which one of the Design Team Members is a Dollar Store Barbie hoarder (and info on how small to print the Boudoir Furniture Collage Sheet to make that teeny tiny furniture), visit her at Paper Calliope.
Alice in Wonderland Tin Supply List


Hooray for the Was Lewis Carroll a Secret Crafter? Giveaway!
I am giving away EVERYTHING in Betsy's Was Lewis Carroll a Secret Crafter? — an Alice in Wonderland Altered Tin supply list (though you'll have to supply your own Barbie doll leg)! That's 16 items including TEN collage sheets (and a set of those cute new pediments)!
And, since Betsy reduced the size of many of the collage sheet images to make tiny characters and furniture in her tin, IF you so choose, you can have all the collage sheets in this prize package delivered as digital files!

To enter the Was Lewis Carroll a Secret Crafter? Giveaway drawing all you have to do is leave a comment BELOW on this blog post TODAY OR TOMORROW (the deadline is 11:59 pm PST, FRIDAY, May 13, 2016)! And tell me: Will you make a tiny house from your prize package? And what will you do with the other peaked-roof-shaped pediment in your set?
Don't forget to leave your (hello! correct) email address, too, so I can contact the winner; your email address does not need to be made public. Note: I'm offering free shipping, too, but only within the USA. International shipping will still apply.
Please be patient! Spammers try to post crap here a lot so comments are moderated. So if you don't see your post in the comments section, be patient and check back in a few hours before re-posting it, please!
After midnight, I'll randomly pick the winner (via Random.org). So check your mailbox on Sunday morning to see who won and for the next Giveaway and Newsletter!
Hey, who won Birdie Darling Tin Giveaway? That would be Parisa Javidi! Congratulations! Check your email for more info!

Posted by Leslie, May 12th, 2016