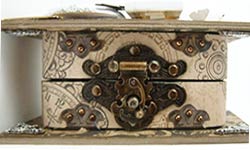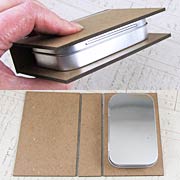 NEW! Sale on ALL Metal Hardware TODAY & TOMORROW ONLY (MONDAY, May 9th 2018)! Woohoo! That's functional items like buckles, hooks, clasps (including some new ones announced today!)… and the hinges and box feet in Design Team Member Laura Carson's artwork…
AND just in time: new Altoids Tin Book Covers! Perfect size for a project using an Altoid's Tin, like Laura's project shown below! A little set of heavy chipboard covers and spine that will make quick work of turning an Altoid's Tin (or 2) into a book!


You may remember from last Sunday, Design Team Member Laura Carson created a whimsical Alice in Wonderland Book – Using Altoid Tin Lids. This week Laura has another style of Altoids Tin book, Birdie Darling (this time using the bottoms of 2 tins). The advantage to using the bottoms of Altoids Tins is that there is a deep area that can hold dimensional items.
"For this project I used die-cut chipboard pieces for the base of the front and back covers; which were assembled separately from the tin. After assembly was complete, I glued them to the front and back of the tins.
On the front cover I started with a lovely Doodled Cage backed with Serendipity Chronicle Paper and an image from The Garden Collage Sheet. On top of the cage, there are Curly Paper Roses, a Bronze Swallow Charm, a Bronze Bird on A Branch, Calla Lily Leaf Charms, and the words "Birdie Darling" which are from the Bees, Birds and Butterflies Collage Sheet. Notice that there are flowers on the top, they are glued to the top of the back tin. From the front of the tin you can also see the Wrought Iron Archway (attached to the back tin) peaking over the top.
On the back cover starting with the Wrought Iron Archway, there are Leafy Corners, White Mulberry Blossoms and birds from the Bees, Birds and Butterflies Collage Sheet, which is also where you'll find the urn and the paper bee.

Open the book and you'll see that the left side is decorated with Leafy Corners, a 3 Inch Cage, roses sniped from a Pink Rose Garland, a Wrought Iron Filgree Connector, and a bird from the Bees, Birds and Butterflies Collage Sheet. Propping up the items with foam tape gives the piece more dimension.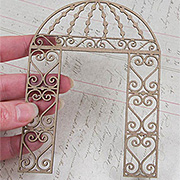 On the right side, I used more of the Leafy Corners and roses, plus the lovey little girl image from the The Garden Collage Sheet The final step is to attach the Brass Box Feet which I think makes the piece more interesting and gives it height."
Birdie Darling Supply List
For further details on how Laura connected the tins together and for more photos, please visit Artfully Musing.

Also using the Wrought Iron Archway, is the romantic Juliet Mini Art Plaque below, by Design Team Member Shannon Cooper.
"I started with an image of love-struck Juliet with her beau and a handful of 3mm Brass Flat-Back Studs (I'm quite obsessed with those things) and then just went with the glue-stuff-to-stuff approach. The chipboard archway got a quick coating of gesso, then paint, then ink, and finally a coloring from Copic markers here and there before I glued the images to the back.

Thin Looped Gold Dresden Borders made an appearance, as did some roses and leaves cut from a handsome length of garland. I didn't really need to remove the roses from the wired stem, they would look quite lovely climbing the archway, but as I was speed-crafting I had lopped off the rose heads without thinking. That's okay, there is still a bunch left for another day! After a few fussy cut birds were stuck on with foam dots, I was left with a blank spot on the right. I contemplated this for a second, knowing my alone time was coming to a fast end, when it came to me to include some fitting lyrics from The Carpenters. A small loop of ribbon was added to the back and… done!"
Juliet Mini Art Plaque Supply List and more info in Shannon's blog post. (And I do believe she added a last-minute Mother's Day art idea, too, using those new Scalloped Altoids Tin Insert Frames!)


Hooray for the Birdie Darling Tin Giveaway!
I picked out a mix of items that are used in today's featured artworks to make this Giveaway (most from Laura's project, but I had to get the 3mm brass studs in there for Shannon's sake!):
– Doodled Cage with Solid Back
– Blank Altoids Tin
– 3mm Brass Flat-Back Studs
– Bees, Birds and Butterflies Collage Sheet
– 3 Inch Cage with Solid Back
– Calla Lily Leaf Charms
– Pink Rose Garland
– Set of Long Butterfly Hinges
– Silver Swirly Connector Charms
And not shown at right: the Wrought Iron Archway used in both of today's projects. AND a set of the new Altoids Tin Book Covers!
To enter the Birdie Darling Tin Giveaway drawing all you have to do is leave a comment BELOW on this blog post TODAY or TOMORROW (the deadline is 11:59 pm PST, MONDAY NIGHT, May 9, 2016).
AND to enter the drawing, please tell me: What will you make with these goodies (one or more projects)?
Don't forget to leave your (hello! correct) email address, too, so I can contact the winner; your email address does not need to be made public. Note: I'm offering free shipping, too, but only within the USA. International shipping will still apply.
Please be patient! Spammers try to post crap here a lot so comments are moderated. So if you don't see your post in the comments section, be patient and check back in a few hours before re-posting it, please!
After midnight, I'll randomly pick the winner (via Random.org). So make sure to check back to see who won! And check your mailbox on Thursday morning for the next Giveaway and Newsletter!
And…. who won Thursday's Flowers, Croquet & Hedgehogs Giveaway? That would be Jo! Congratulations! Check your email for more info.
Posted by Leslie, May 8th, 2016