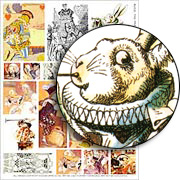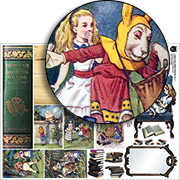 Not only is there an adorable new Alice in Wonderland project today, I've just put the ENTIRE Alice in Wonderland Collage Sheets section on sale!
58 collage sheets!! From tea parties to miniatures for dollhouse-scale scenes! And the sale section includes the new collage sheet announced today!


Design Team Emeritus Teri Calia has joined up in all of the fun with this month's Alice in Wonderland theme with a whimsical Caged Alice project.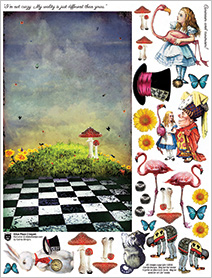 "May 4th, is Alice Liddell's birthday. If you are an Alice in Wonderland fan, then you know who Alice L is; for those of you who don't know, she is the little girl who inspired Lewis Carroll to write Alice's Adventures in Wonderland. Alice L would have been 164 today if she had not died in 1934 at the ripe old age of 82. In honor of Alice L's birthday I have created a silly version of the Queen's croquet ground… complete with hedgehog balls and flamingo mallets.
"Using the new, wonderful shabby chic Antique White Metal Birdcage as the base of my croquet ground, and then made a perfect playing area with a bit of moss.
"Some of the characters and other elements were fussy cut images from the new Alice Plays Croquet Collage Sheet, and others were cut from collage sheets on my supply list.
"I layered tiny paper roses, pansies and bright yellow roses all over, and then painted the wonderful Flowers with Resin Faces were painted with artist pastels."
I love the little cards bent over to be croquet wickets on that new collage sheet!
Visit Teri's blog for more pictures.


Hooray for the Flowers, Croquet & Hedgehogs Giveaway!
I picked out a mix of items from Teri's Caged Alice supply list to make this sweet Giveaway (psst! that link is to the supply list, with photos and links to all of the goodies Teri used):
– Alice Plays Croquet Collage Sheet
– 1-1/2 Inch Bright Yellow Paper Roses
– Flowers with Resin Faces
– Red Mushrooms on Wires
– Tiny 3D Hedgehog
– Mixed Red Tiny Paper Roses
– Victorian Overmantle
– Mushrooms – Turquoise
– Twiggy Leaf Garland
Plus the collage sheet below that really has nothing to do with Alice in Wonderland, but it does have Flower Faces.

To enter the Flowers, Croquet & Hedgehogs Giveaway drawing all you have to do is leave a comment BELOW on this blog post TODAY OR TOMORROW (the deadline is 11:59 pm PST, FRIDAY, May 6, 2016)! And tell me: What will you make with that Victorian Overmantle?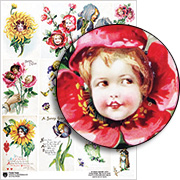 Don't forget to leave your (hello! correct) email address, too, so I can contact the winner; your email address does not need to be made public. Note: I'm offering free shipping, too, but only within the USA. International shipping will still apply.
Please be patient! Spammers try to post crap here a lot so comments are moderated. So if you don't see your post in the comments section, be patient and check back in a few hours before re-posting it, please!
After midnight, I'll randomly pick the winner (via Random.org). So check your mailbox on Sunday morning to see who won and for the next Giveaway and Newsletter!
Hey, who won May Kit with Extras Giveaway? That would be Judith Shanahan! Congratulations! Check your email for more info!

Posted by Leslie, May 5th, 2016