Note: most of the links on this post no longer work, as we moved to a new Web site in 2018. However, you can see the supply list items from Shannon's and Rhonda's projects that are still available on the new site.
TWO BIG announcements before the new items and witty artwork: not only is the Scrapbook Paper sale that started on Thursday continuing, but there's a new ONE DAY FLASH SALE!
ALL of the Scrapbook Paper (single sheets) are on sale at 50% off! (And the sale also includes the papers in the Time To Flourish Collection section.) 200 designs! Grab 'em quick cuz a lot of these will be gone once the current stock sells out! Note: the sale ends TOMORROW NIGHT, Monday, April 25th.
NEW! 25% off Sale on ALL Die-Cut Chipboard TODAY ONLY (SUNDAY, April 24th)! Woohoo! That includes flat shapes and little shrine kits.. and that cute new Flower Cart Wheelbarrow in Design Team Member Shannon Cooper's artwork…


What? Shannon is a talanted artist and a poet, too? The Fox, The Crow And The Cookie is a fun little scene, with a rewriting of one of Aesop's Fables!
Shannon started with the NEW Flower Cart Wheelbarrow… perfect for a fairy garden, filled with potted flowers. But, check out Shannon's adorable artwork, instead using the wheelbarrow for a pastry cart!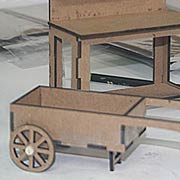 "I was so excited to get this 1:12 scale miniature wheelbarrow from Alpha Stamps! There are umpteen possibilities for it — flower cart, gardening wheelbarrow, a wheelbarrow full of puppies, peddler's cart, or even use it as a base for an even tinier themed scene inside… oh, I have to get another one. Or three.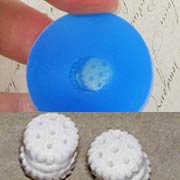 The idea for a cookie cart came quick because I had wanted to do a project based off a kooky song titled The Fox, The Crow and the Cookie for a long time and having the cart made it an easy decision. It was fortunate to find Alpha Stamps had Aesop's Fables Foxes and Birds and Crows collage sheets, as well as pages of miniature sweeties to stuff in the cart!
An excerpt from the song:
Through mostly vacant streets a Baker from the outskirts of his town
earned his living peddling sweets from a ragged cart he dragged around.
The clever Fox crept close behind, kept an ever watchful eye
for a chance to steal a Ginger spice cake or a Boysenberry pie.

The Fox, The Crow And The Cookie Supply List and more info (including the rest of her poem!) in Shannon's blog post.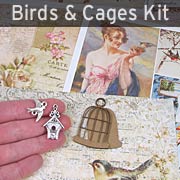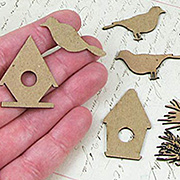 Wrapping up the artwork in today's newsletter is an imaginative wall hanging from Design Team Member Rhonda Secrist Thomas, Blue Bird, Blue Bird.
I love the use of the antique spoon to hold the birds and nest, with the added holes for hanging dangly chains with charms, and for hanging the piece itself. And the rhinestone bling really changes the look of the 2″ birdcage (from the current month's kit) and 3″ birdcage.
(Psst! Both of those birdcages (and the chipboard set with that nest nesting in the spoon) are included in today's FLASH SALE!)
Blue Bird, Blue Bird Supply List and more info in Rhonda's blog post.


Hooray for the Cookies, Chipboard and a Cart Giveaway!
I picked out a mix of items that are new or used in today's featured artwork (or both) to make this Giveaway:
– Flower Cart Wheelbarrow
– Mini Silicone Mold – Cookie or Biscuit with Filling
– Wooden Tea Tray
– Tiny Cookies – Set of 12
– Aesop's Fables – Foxes & Birds Collage Sheet
– Lamp Post with Light
– Square Shrine – Gatefold
– Square Shrine Windows Collage Sheet
– Mini Birds & Nests Shape Set
To enter the Cookies, Chipboard and a Cart Giveaway drawing all you have to do is leave a comment BELOW on this blog post TODAY or TOMORROW (the deadline is 11:59 pm PST, MONDAY NIGHT, April 25, 2016). Where has this month gone?
AND to enter the drawing, please tell me: What will you make with these goodies (one or more projects)?
Don't forget to leave your (hello! correct) email address, too, so I can contact the winner; your email address does not need to be made public. Note: I'm offering free shipping, too, but only within the USA. International shipping will still apply.
Please be patient! Spammers try to post crap here a lot so comments are moderated. So if you don't see your post in the comments section, be patient and check back in a few hours before re-posting it, please!
After midnight, I'll randomly pick the winner (via Random.org). So make sure to check back to see who won! And check your mailbox on Thursday morning for the next Giveaway and Newsletter!
Before I forget: who won Thursday's Birds, Book Box & Frames Giveaway? That would be Angelic! Congratulations! Check your email for more info.
Posted by Leslie, April 24th, 2016