Design Team Member Lora Mahaffey is going to show you how she used the same product to make two different projects with.
Lora used the new ATC Sized Faux Book for her creations. This is a beyond adorable faux book to put together with a wrap-around cover and a box area inside for housing ATCs or for building a little shrine. (Are you already thinking of the many possibilities with this?!)

We are having a lot of fun over at Alpha Stamps with our bird-themed April! I came up with a couple of fun and fairly uncomplicated projects noodling around with ATC Sized Faux Books. What I came up with are two very different styles, but both with lots of blue. Same theme, same boxes, but so very different from each other!
The Blue Bird Book Box was constructed using all the pieces that come with the kit, including the spine hinge that enables the book to open and the top to lie flat. The front of the box is covered with a gorgeous vintage book cover from the new Bird Book Covers Collage Sheet that Leslie designed to fit the new book boxes; and the back and side of the box is covered in Double Dot Vintage Orange Citrus Scrapbook Paper. The blue and orange contrast is stunning! Instead of a title for the side of the book, I attached the Fancy Bronze Mirror Frame Setting. Inside you'll find a sweet set of bird ATC's to browse through…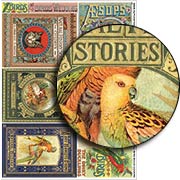 "For the Trellis Book Box (see photo below), I omitted the spine hinge and attached the cover directly to the box. (I love having options!) Inside the Trellis Book Box is a (surprise!) trellis that I painted white and use as a mid-ground piece between the nest of eggs in the background and the bird sitting in the front. You'll also find Tiny Roses, Mini Rosebuds, and bits of fern.
I really enjoyed using the same platform for two very different pieces!"

I also love how Lora used portions of the Doodled Cage with Solid Back on her ATCs, to give the idea of a bird cage around the birds, without enclosing them completely in a cage (and finishing off the designs with little dots of Liquid Pearls). The same dotted decoration (in Platinum) is so pretty against the light blue Frolic Petits Moments Scrapbook Paper on the Trellis Book Box.
Speaking of that pretty paper, Leslie had just put ALL of the Scrapbook Paper (single sheets) on sale! Over 100 designs! Grab 'em quick cuz a lot of these will be gone once the current stock sells out! Note: the sale ends Monday night, April 25th (2016).
Blue Bird Book Box Supply List
Trellis Book Box Supply List
For more pictures and to find out how Lora hinged the front and back covers to the book spine, please visit Cackle and Hoot.

Wrapping up today's newsletter is a quick project from Design Team Emeritus Teri Calia, Sweet Peas Floral ATC Pocket.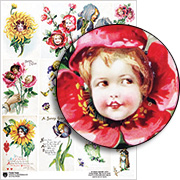 Teri designed two new Collage Sheets, the nostalgic Vintage Flower Seed Packets and the absolutely adorable Flower Faces. She made ATCs using the Flower Faces Collage Sheet and then put them into pockets that were cut out and glued together from the Vintage Flower Seed Packets Collage Sheet.
What a fast and easy project; they'd make super cute gift tags or or you could write a note on the back of the ATC for Mother's Day!
Sweet Peas Floral ATC Pocket Supply List


Hooray for the Birds, Book Box & Frames Giveaway!
I picked out a mix of items that are new or used in today's featured artwork (or both) to make this Giveaway:
– ATC Sized Faux Book Box
– Vintage Flower Seed Packets Collage Sheet
– Victorian Garden Collage Sheet
– Flower Faces Collage Sheet
– Bird Book Covers Collage Sheet
– Fancy Bronze Mirror Frame Setting
– The 3 Graces Celadon 25x18mm Cabochon
– Ivy ATC Frame
– Doodled Cage with Solid Back

To enter the Birds, Book Box & Frames Giveaway drawing all you have to do is leave a comment BELOW on this blog post TODAY OR TOMORROW (the deadline is 11:59 pm PST, FRIDAY, April 22, 2016)! And tell me: What will you make with all these pretties?
Don't forget to leave your (hello! correct) email address, too, so I can contact the winner; your email address does not need to be made public. Note: I'm offering free shipping, too, but only within the USA. International shipping will still apply.
Please be patient! Spammers try to post crap here a lot so comments are moderated. So if you don't see your post in the comments section, be patient and check back in a few hours before re-posting it, please!
After midnight, I'll randomly pick the winner (via Random.org). So check your mailbox on Sunday morning to see who won and for the next Giveaway and Newsletter!
Hey, who won Dry Sink for a French Kitchen Giveaway? That would be Rosemarie Grant! Congratulations!

Posted by Leslie, April 21st, 2016