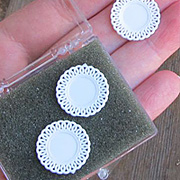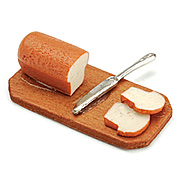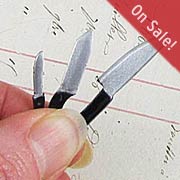 Quick announcement before the amazing artwork: the Kitchen Miniatures sale includes lots of the goodies in Rhonda's artwork!
The 25% off Sale on ALL Kitchen & Sewing Miniatures ENDS TOMORROW NIGHT (Monday, April 18th)!


Design Team Member Rhonda Secrist Thomas has created a most magnificent, miniature kitchen scene you're all going to swoon over. Better get your smelling salts out before you have a visit at "Une place dans mes rêves" (A Place in My Dreams)
"For the past few months, I've had this reoccurring dream that I lived in a little cottage in the woods by Petit Trianon. I was the lead cook for Marie Antoinette and she treated me with such respect and care. It was so peaceful there in the woods with all of my animals around (notably a beagle, a siamese cat and chickens in the yard). I loved the smell of the air and the way moss grew all around.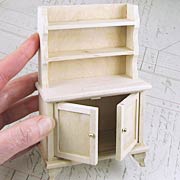 "And I always felt so wonderfully alive in my kitchen that was stocked with the best quality of foods and every type of copper pots, pans and utensils that I would ever need to create a delicious dish with. I spent many hours in comfort in front of my large fire place, baking breads and making pots of stews on a Wood Stove.

The best red ticking fabrics were available to me to make my table cloths and towels; they fit quite nicely in the Wooden Hutch that I finished myself. My kitchen was one of the few that had a Dry Sink that included its very own Hand Pump and a massive stone sink. Many happy memories were made at my little home, my beautiful kitchen, at "Une place dans mes rêves."


Wow, Rhonda really went all out on recreating the kitchen of her dreams! With it being a large piece, (Rhonda used 2 Deep Open Front Room Boxes for it) there's a lot to take in; so I'll point out a few really fabulous items.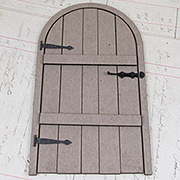 The large Rustic Door gives the kitchen entrance a nice, authentic look the way Rhonda painted it; then added an Old Fashioned Latch and Black Strap Hinges to it.
You'll love this… there is a 25% off sale on Kitchen Minis (including the new kitchen items)! Better hurry though, the sale ends Monday night. Some of the items include the NEW Vintage and Large Mixing Bowls, (as well as a set of 3 Metal Mixing Bowls). Wait, I'm not done! ALL of the resin pre-made breads are also on sale!
Even after pointing out a few items, there is still much more to discover; including how Rhonda made the amazing brick and stone walls. Rhonda created TWO Snapguides to walk you through the design & inspiration for her kitchen, and also a tutorial for the textured walls.
Une place dans mes rêves Supply List (be forewarned! not for the faint of heart!)
To see many more pictures and for more details (including tutorials on how she created the fireplace and how she used faux-woodgrain paper to cover the Dry Sink), please visit Rhonda's blog.
Note: see the Giveaway below for a chance to vote on which technique or area of Rhonda's kitchen will be featured in another post in future weeks.


Hooray for the Dry Sink for a French Kitchen Giveaway!
Wow. I really had to focus on a small area or I would lose my mind. So, I chose the corner with the Dry Sink (including the dry sink — see a little photo below).
I picked all the items on the Dry Sink from Rhonda's "Une place dans mes rêves" (a place in my dreams) (crazy) supply list to make this Giveaway (psst! that is a link to the supply list, with photos and links to all of the goodies used):
– Dry Sink – 1:12 New!
– Water Hand Pump New!
– Mini Mason Jars – Set of 3
– Egg Beater Set
– Miniature Vase Set
– Black Window Pulls – Set of 6 New!
– Tiny Black Hinge Set
– Miniature Red Apples
– Set of Mini Wooden Buckets
To enter Dry Sink for a French Kitchen Giveaway drawing all you have to do is leave a comment BELOW on this blog post TODAY or TOMORROW (the deadline is 11:59 pm PST, MONDAY NIGHT, April 18, 2016).
AND to enter the drawing, please tell me: What would you like the topic of a follow-up blog post by Rhonda to be about? Here are some ideas to get you mulling (but I bet you already have some questions of your own):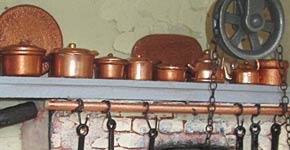 – Technique for copper antiquing on pots (note: all of those pots did not start out copper!)
– How did Rhonda stain and/or antique the furniture?
– How did she create the roof?
– How did she create those full-room-width wall shelves?
– the English Tudor half-timbering on the outside of building?
– stone work around door?
– brick around windows?
– that fireplace pulley?
Is your head spinning?
Don't forget to leave your (hello! correct) email address, too, so I can contact the winner; your email address does not need to be made public. Note: I'm offering free shipping, too, but only within the USA. International shipping will still apply.
Please be patient! Spammers try to post crap here a lot so comments are moderated. So if you don't see your post in the comments section, be patient and check back in a few hours before re-posting it, please!
After midnight, I'll randomly pick the winner (via Random.org). So make sure to check back to see who won! And check your mailbox on Thursday morning for the next Giveaway and Newsletter!
Before I forget: who won Thursday's Mother's Day Card Supplies Giveaway? That would be Pauline! Congratulations! Check your email for more info.
Posted by Leslie, April 17th, 2016