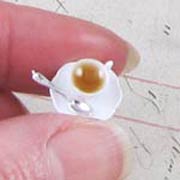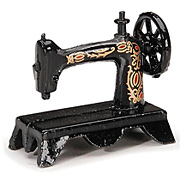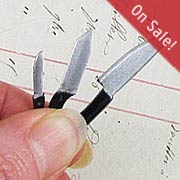 Wow! Not only are there pretty art projects by THREE Design Team Members today, I've just put the ENTIRE Kitchen & Sewing Miniatures Section on sale now through Monday night, April 18th! Yes, yes… "Hearth and Home" is an obvious tie-in to mom's day… I know not all moms are cooks, but I still bet you'd like some sweet little kitchen (and sewing) props! Plus there are some new items just announced today also included in this sale!


Need some inspiration for a quick Mother's Day project or card? It's coming up on May 8th — it will be here before you know it! Design Team Members Nichola Battilana, Rhonda Thomas and Betsy Skagen have some projects to inspire you with for Mother's Day. (Or any day you'd like to make your mom feel special, don't just wait to do it once a year!) Let's start off with Nichola…
Mother's Day Pocket Letter
"Who wants to make some ATC's?"
ME! ME! ME! (I'm a keener) (Bella's Note: That's Canadian for eager, enthusiastic, zealous… we just call it crazy.)
And maybe I'd like to make some sort of Mother's Day thing-a-ma-doodle? You know, for people who like to plan ahead and not do everything last minute. I have no idea who these 'think ahead' people are, but sure!
That's how I ended up making this pretty batch of Artist Trading Cards for my friends at Alpha Stamps! The cards were a cinch to whip up, but here are a few of the steps you may find useful
– Using House of Roses Collection (and Tales of You & Me Papers from the Tales of Roses Add-On Kit), I cut out the appropriate ATC size 2.5″ x 3.5″. (OR 5″ x 3.5″ for folded ATC cards.) Once everything was cut out I rounded all of the corners.
– I applied some acrylic gel medium using a doily as a stencil and sprinkled some gold embossing powder sparingly on top and set it with a heat gun. I really liked the way these worked together!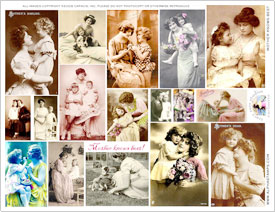 – I applied fussy cut images from Mother Knows Best Collage Sheet (which I printed in black and white)
– All of the winged things are from the Butterflies & Moths Collage Sheet. I printed one sheet full size and a second sheet at 50% to give me an even wider variety of sizes.
– When gluing the butterflies into place, I only glue the centre body part. This way the wings can be folded back, giving a 3D effect.
There's 9 of the pretty things all together which means you could make your favourite motherer a Pocket Letter. Be sure to include a gift certificate, a sweet note, photograph, mementos or charms in there if going this route."
Mother's Day Pocket Letter Supply List
Visit Pixie Hill for more photos and details.


The Lovely Garden by Rhonda Thomas
"I made this a while back for Alpha Stamps and recently came upon it. It seemed like the perfect pick me up Mother's Day card for my mom. Instead of the usual card, this one has several spots to include little notes of love, appreciation and a spot to share a favorite memory or two.
This "book" is made from chip board cards, and assorted Collage Sheets (that are listed individually on my Supply List) but you could just as easily attach a few ATCs together, punch a hole in each corner and tie with a lovely ribbon.
Another option would be to use an ATC Book Box. The box could be decorated or even just wrapped like a sweet gift. Some excellent examples by Alpha Stamps Design Team Members Kristin Batsel and Lora Mahaffey can be seen here."
The Lovely Garden Supply List
Visit Rhonda's blog for more photos.

Mother's Day Cards & Tags by Betsy Skagen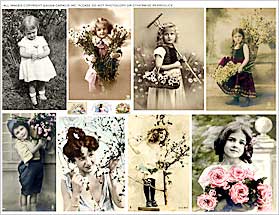 Betsy Skagen has made adorable Mother's Day Cards that any mom would love to receive!
For the first sweet card, I painted and added texture to Leafy Corners with a couple shades of green paint. Then I created a background with Tales of You & Me Jardin de Fleurs Scrapbook Paper and inked the edges of a photo from The Garden Collage Sheet with Vintage Photo Distress Ink. After adhering the Leafy Corners, I simply added some Tiny Paper Roses."
Betsy's Supply List.
Visit Betsy's blog to find out how she made all the cards shown below (including the chipboard Bird Cage and Ivy ATC Frame).

New Collage Supplies & Highlights – ALL on Sale!
Posted by Leslie, April 14th, 2016