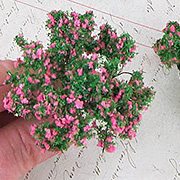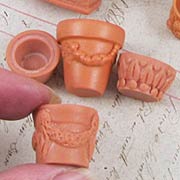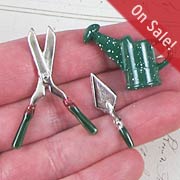 Wow! Happy coincidence! Not only are there TWO colorful floral projects to oggle today, but I've just put the ENTIRE Fairy Garden Miniatures Section on sale for 20% off now through Monday night, April 11th! Now I know… some of you are still having snow, but I am not pleased by the 88 degree temperature here yesterday, only 2 weeks into Spring…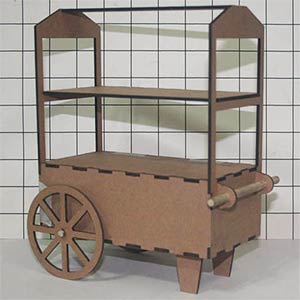 Design Team Member Rhonda Thomas is rolling in on this beautiful Spring day with Memories of Holland's Flowers.
"It is so therapeutic to me to have time to create. Lots of us find joy in flowers, adding beauty and warmth to our life. I decided that my latest therapy session called for creating my own flowers once I saw the new Peddler's Cart from Alpha Stamps.
It was like taking a trip down memory lane when my husband and I visited Holland. The train station had a flower vendor and there were massive amounts of flower bundles. My husband was there on business and would bring me a bundle almost every day of our trip. We even brought some home to the states.
So what could be better than using the Peddler's Cart to create a mini flower cart of your own, full of everlasting flowers? I think this cart is absolutely charming and it was so easy to put together and decorate.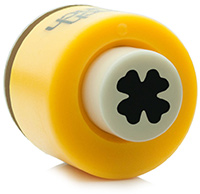 My favorite flowers are hydrangeas. Every year, my family gives me a hydrangea plant for Mother's Day. I have nine healthy hydrangea bushes in front of my house now and love it when they bloom. Naturally I love the tiny Miniature Blue Hydrangeas in Flower Pot, so when I saw the Hydrangea Mini Punch that can help me create my own, I flipped out! Not only is there there the hydrangea punch, but there is a huge selection of these wonderful paper punches. You can create actual flowers found in nature or create your own in any color combination!
I really loved working with the Leafy Green Underbrush; as it was perfect for the center of some of my flowers (see photo below). I dipped the floral wire in glue, the underbrush, then squeezed it tight with my fingers. For the yellow and rust centers I used the Clump Foliage – Fall Mix. Also, if you wanted to use different colors, Flower Soft would work as well and comes in a variety of different colors.
It does takes a little practice to create and punch your flowers. I used an extra wide needle to make larger holes so that I could use a variety of items to make my stems. To wrap my finished flowers, I used pages from a vintage french book. After getting the shape I wanted, I used one cutout as a stencil; then all it took was a twist, a dab of glue, and a clothes pin to hold it in place for a couple of minutes. (Don't let it dry completely though, the paper will stick to the pin and then you will have to start all over.)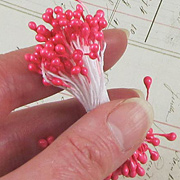 By the way, how 'bout the nifty idea that popped into my head to use flower stamens that come in a huge variety of colors for the middle of the flowers?! I simply cut the bottom end off and threaded my paper flowers on with a dab of glue. Using Forest Moss Distress Paint to dab my "stems" worked perfectly. What do you think?"
I think they turned out beyond adorable! Also worth noting are the other super sweet flowers that Rhonda used in stocking her flower cart. Mini Rose Buds, Calla Lilies, Lavender Gypso, Pink Geraniums, Potted Roses, and more!
Memories of Holland Supply List
Visit Rhonda's Blog for more details on how she created the Memories of Holland and for more photos.

Design Team Emeritus Teri Calia has created a quick project to bring a little fairy garden wonderment down to a portable size; with the Miniature Fairy Garden Specimen Under Glass
It seems like everybody and their sister has gone nuts over fairy gardens lately. I'm not complaining as I think they are a lovely way to decorate your garden but, how about shrinking it down a bit so you can display it on your desk, shelf or table?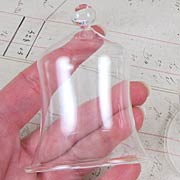 It may look complicated but it was really very easy to do… although there are a lot of steps to doing it. I wanted to share my process with you so I created a Snapguide to show you how you can make your own miniature fairy garden under glass."
Love, love, love that tiny tree with sweet blossoms under the Large Glass Bell Dome. Which really, coming in at a whopping 3 1/2″ tall I can see that it is quite ginormous…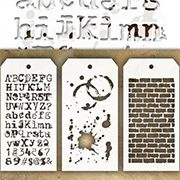 I also love the tiny garden patio Teri created by use the Texture Paste – Cement with a Tim Holtz Mini Brick Stencil (the grey area on left side of the close-up pic).

Miniature Fairy Garden Under Glass Supply List
You can visit Teri's Blog for more photos and don't forget to check out her super easy Snapguide tutorial!


Hooray for the Flower Cart Giveaway!
I picked out a mix of items from Rhonda's expansive Memories of Holland's Flowers supply list to make this sweet Giveaway (psst! that link is to the supply list, with photos and links to all of the goodies Kristin used):
– New Peddlers Cart
– Blush Charmed Scrapbook Paper
– Leafy Green Underbrush
– Hydrangea Mini Punch
– Set of Miscellaneous Flower Pots
– Pink Rose Garland
– Women & Flowers Collage Sheet
– Trailing Ivy Border
– Tiny Rusted Metal Pails

To enter the Flower Cart Giveaway drawing all you have to do is leave a comment BELOW on this blog post TODAY OR TOMORROW (the deadline is 11:59 pm PST, FRIDAY, April 8, 2016)! And tell me: What will you make the Peddler's Cart?
Don't forget to leave your (hello! correct) email address, too, so I can contact the winner; your email address does not need to be made public. Note: I'm offering free shipping, too, but only within the USA. International shipping will still apply.
Please be patient! Spammers try to post crap here a lot so comments are moderated. So if you don't see your post in the comments section, be patient and check back in a few hours before re-posting it, please!
After midnight, I'll randomly pick the winner (via Random.org). So check your mailbox on Sunday morning to see who won and for the next Giveaway and Newsletter!
Hey, who won April Kits Giveaway? That would be Glennis F! And we had a 2nd prize for the two 6×6 pads that coordinate with this month's kits… and that winner is Marykay Chisum! Congratulations!

Posted by Leslie, April 7th, 2016