Inspired by her own secret garden and The Garden Kit (and Door Album Add-On Kit), Design Team Member Laura Carson has created a gorgeous tunnel book.
Note: The Arched Windows Set is a good substitute for the sold out album.
"Spring is here in the desert where I live. The little walled in courtyard in the front of my house is my secret garden and I plant all kinds of things that you don't normally see in the desert. Using my own special place as the springboard for a project, I created a Secret Garden Tunnel Book. This fantasy garden is hidden away behind a door and through a tunnel of ever smaller openings, and as you look through the door you'll see images peeking out through the openings on each page. Standing on the stairs are two children, wondering whether or not to enter.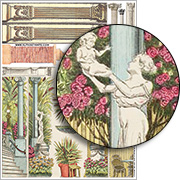 "Beautiful columns from the Garden Columns Collage Sheet are on either side of the stairs. The background is the negative of a Vine Frame; (using the frame on another page). A gorgeous garland filled with berries abound, making it a perfect home for butterflies and a stern looking owl. Needing some sort of architectural element above the garden door, I went with the very useful (for many upcoming projects I'm thinking about!) and versatile Medallion & Filigree Silicone Mold.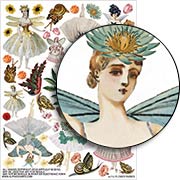 "Each part of the garden is unique and filled with flower fairies, flying snails, fantasy winged birds and flowers, many which come from my new Flower Fairies Collage Sheet."
What I am really loving are all of the 3D elements that Laura has used throughout the book. Garden fountains, greek columns, climbing roses, sweet blossoms, and more! In addition to using the Medallion & Filigree Silicone Mold, Laura has also used the Finial & Borders Silicone Mold for other embellishments. Notice the finials on the side of her book? They came out looking most fabulous.
Secret Garden Tunnel Book Supply List
Laura, being the peach that she is, has also created a step-by-step tutorial for the Secret Garden Tunnel Book. Visit Artfully Musing for more photos and the tutorial.

But wait… we have another beautiful project today! Design Team Member Shannon Cooper has created the tiniest, cutest little flower box, overflowing with bright spring posies! Based on the new Planter Box with Trellis – Half Scale (and note: there's a larger version, too) and using some of the dollhouse flowers announced earlier this month, Shannon made a beautiful little (1:24 scale) piece.
(And look how small that Half Scale Planter Box with Trellis and the new Workshop Table – 1:24 are! I couldn't help but photograph them with a tiny pot and a hedgehog to show the sizes!)
This was such a rewarding project for many reasons. The first being how incredibly easy the assembly of the mini flower box and trellis was. I had it glued together, painted, and aged in about 20 minutes (with the help of a heat gun). The flat back brass studs were added to the corners and I freehanded some scroll work to the front with a gold pen. It was also gratifying to be able to have a completed project in under an hour. All I had to do after the flower box dried was tuck a bit of floral foam in the box and arrange all of the beauties inside. And I still have a handful — tons in miniature terms — of leftover flowers for another project. Now all I need is a dollhouse garden to go around it!
There is even a wee fairy taking a rest amongst the flowers. His mother better not catch him, he's supposed to be polishing the beetles' shells!
Miniature Flower Box Supply List. And if you're in the mind to make your own wee flowers, remember Shannon's earlier tutorial on making dollhouse flowers from paper punches.
Read more (and see more photos) on Shannon's blog.

New Goodies & Highlights – ALL on Sale!


Miniature Pink Geraniums


Tiny Mossy Clay Pots – 7mm Tall

Hooray for the Flower Fairies & Planter Box Giveaway!
I picked out a mix of items from Laura's Secret Garden Tunnel Book AND Shannon's Miniature Flower Box supply lists to make this Giveaway (psst! those are links to the supply lists, with photos and links to all of the goodies used):
– 3mm Brass Flat-Back Studs
– Fancy Lavender Berries Mix
– Album with Arched Door
– Flower Fairies Collage Sheet
– Garden Columns Collage Sheet
– Planter Box with Trellis – Half Scale
– 2 Step Stairs
– Twiggy Leaf Garland
– Winged Things Collage Sheet
To enter Flower Fairies & Planter Box Giveaway drawing all you have to do is leave a comment BELOW on this blog post TODAY or TOMORROW (the deadline is 11:59 pm PST, MONDAY NIGHT, March 28, 2016).
AND TO ENTER THE DRAWING, please tell me: What would you make with your prize? A tunnel book like Laura's? A Tiny Planter Box (maybe with handmade flowers)? Something that uses items from both projects?
Don't forget to leave your (hello! correct) email address, too, so I can contact the winner; your email address does not need to be made public. Note: I'm offering free shipping, too, but only within the USA. International shipping will still apply.
Please be patient! Spammers try to post crap here a lot so comments are moderated. So if you don't see your post in the comments section, be patient and check back in a few hours before re-posting it, please!
After midnight, I'll randomly pick the winner (via Random.org). So make sure to check back to see who won! And check your mailbox on Thursday morning for the next Giveaway and Newsletter!
Hey, who won the An Album or a Floral Folly Giveaway? That would be Carol!
And she replied to my query "What will you make? Something with the Album with Arched Door? Or a project with the new Fortune Teller Booth? Is there a way to merge both?"
I think i would make the folly part of a secret garden or fairy house. Or a fortune telling booth to put with my gypsy wagons. I can't decide.
Congratulations! Check your email for more info.
Posted by Leslie, March 27th, 2016