Ooh! We have a special treat today! Not only some new chipboard collage items (and a beautiful folly by Lora Mahaffey), but also artwork by Guest Designer Marilyn Hughes! So much to show that there's a separate blog post all about Marilyn's artwork!
And there's something that unites both art projects: Mulberry Paper Flowers! Yes! In honor of both projects, ALL Paper Flowers & Leaves are on sale! now through Monday night, March 28th 2016!


Design Team Member Lora Mahaffey has been inspired by The Garden Kit to create a lovely piece of architecture, The Old Folly. As with many things that Lora has made, things are not always as one thinks they appear to be; so you must take a closer look…
Out in the countryside far away from the noise of the village, nestled in it's own copse of woods is a very large, very grand house. She's a beautiful, if a bit shabby house and is well loved by the family that lives there. There is no gardener, but the flowers and lawns are cared for as best the family can.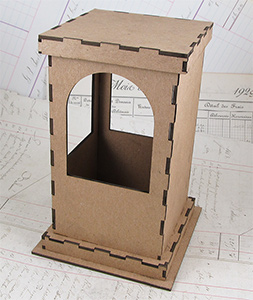 In the copse of woods (the 21st century children of the house have named Follywood) lies, you guessed it, an Old Folly, a tumbledown and overgrown roof; but still beautiful with its quaint Pineapple Finial.
The Old Folly has long remained empty, covered in its climbing vine of roses and ferns, yet when the children come upon it to play, it always feels as if someone has just left.
Once in a while late at night, one child will wake the others and they silently watch the light that gently shines from the wood. It's friendly, gauzy warmth embraces them until they begin to feel quite drowsy and stumble back to their beds. Morning brings sunshine and adventure and the magic moment of the night before is dismissed for a pirate theater and frog catching in the pond.
If they'd followed the friendly light into the wood they might have seen that the light was shining through the shingles of the roof. Looks like someone has a comfy little hiding place where they stash their books and read into the night. Perhaps a child of another sort likes The Old Folly for the same reason the others do? Maybe the big old house is home to more than meets the eye!
The Old Folly Supply List
Such a clever girl, that Miz Lora! Creating a secret hiding place under the roof, and also hinging the door to the Folly. The new Fortune Teller Booth that Lora used to make the Folly does not come with a door; but if you head on over to Lora's blog, she will tell you exactly how she hinged the door!


Hooray for the An Album or a Floral Folly Giveaway!
I picked out a mix of items from Lora's The Old Folly AND Marilyn's Coming Up Roses supply lists to make this flower-filled Giveaway (psst! those are links to the supply lists, with photos and links to all of the goodies used):
– Fortune Teller Booth
– Mansard Roof for Fortune Teller Booth
– Album with Arched Door
– Ivy ATC Frame
– Fern Garland
– Bacchus #2 Collage Sheet
– Blush Charmed Scrapbook Paper
– Frolic Adorn Scrapbook Paper
– 1 Inch Curly Paper Roses – Pale Pink

To enter the An Album or a Floral Folly Giveaway drawing all you have to do is leave a comment BELOW on this blog post TODAY OR TOMORROW (the deadline is 11:59 pm PST, FRIDAY, March 25, 2016)! And tell me: What will you make? Something with the Album with Arched Door? Or a project with the new Fortune Teller Booth? Is there a way to merge both?
Don't forget to leave your (hello! correct) email address, too, so I can contact the winner; your email address does not need to be made public. Note: I'm offering free shipping, too, but only within the USA. International shipping will still apply.
Please be patient! Spammers try to post crap here a lot so comments are moderated. So if you don't see your post in the comments section, be patient and check back in a few hours before re-posting it, please!
After midnight, I'll randomly pick the winner (via Random.org). So check your mailbox on Sunday morning to see who won and for the next Giveaway and Newsletter!
Hey, who won Peter Rabbit's Favorite Garden Giveaway? That would be Evelyn Reyes! Congratulations!

Posted by Leslie, March 24th, 2016